-Orangutan Sponsored Debate Held in Jakarta

-OURF President's Latest Trip to Indonesia

-Orley, the Orangutan, Jumps for this Species

-Fall & Winter Fundraisers Planned

- Volunteer Program a Success

-Shopping & In-kind Donations Support OURF


---
Orangutan Sponsored Debate Held in Jakarta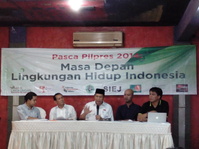 Indonesia's presidential candidates expressed aspects of their environmental agenda through their representatives during an evening gathering of news media reporters and nongovernmental organizations. Sponsored by five orangutan advocacy groups (Orang Utan Republik Foundation, The Orangutan Project, Orangutan Conservancy, Orangutan Outreach, and Orangutan Land Trust), the discussion/debate took place at Café Resto, Complex Ismail Marzuki, Cikini, Central Jakarta, Thursday (03/07) and featured Wahyu Widodo, representing the presidential candidate team of Joko Widodo/Jusuf Kalla, and Syamsul Bahri, representing the presidential candidate team of Prabowo Subianto/Hatta Rajasa.
For more on this debate, click here: http://orangutanrepublik.org/become-aware/stay-informed/news-mainmenu-9-31878/372-representatives-of-presidential-candidates-discuss-environmental-agenda-in-forum-supported-by-five-orangutan-advocacy-groups
UPDATE: Joko Widido was elected president of the Republic of Indonesia on July 9th. Even after the election commission's recount, Prabowo has rejected the election results.
---
OURF President's Latest Trip to Indonesia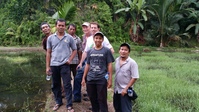 OURF President Gary Shapiro visited Java, Kalimantan and Sumatra in May and early June to coordinate with OUREI Indonesia management, present 16 scholarships to college bound students, and to meet with the MECU team and the villagers of Lau Dama.
President Shapiro met with OUREI Indonesia leaders, Ridhwan Effendi and Marison Guciono in Jakarta to discuss operations and financial matters. OUREI Indonesia manages the operations of the Orangutan Caring Club in Jakarta and in Medan, N. Sumatra. The Indonesian headquarters faces capacity building challenges in the coming years.
President Shapiro then traveled to Kalimantan to participate in the Bornean Orangutan Caring Scholarship ceremonies in Ketapang, West Kalimantan. First, he transited in Pangkalan Bun and had an opportunity to meet with Mr. and Mrs. Adju, the owners of the Grand Kecubung Hotel, who were responsible for constructing the Rimba Lodge in the early 1990s. Later he continued on to Ketapang where he joined Mariamah Achmad and Tito Indrawan of Yayasan Palung at the venue for the evening ceremony. The following day, President Shapiro flew to Medan, Sumatra met with Panut Hadisiswoyo of OIC to prepare for his flight to Banda Aceh, where the Sumatran Orangutan Caring Scholarships were presented.

More information on the Orangutan Caring Scholarship ceremonies can be found at: http://orangutanrepublik.org/become-aware/stay-informed/news-mainmenu-9-31878/369-sixteen-students-from-borneo-and-sumatra-receive-orangutan-caring-scholarships

OURF President Shapiro later returned to Medan to meet with the Orangutan Caring Club of N. Sumatra, traveled to Bukit Lawang, met with villagers of Lau Dama to discuss a future agricultural project, and returned to Medan.
He also met with Ian Singleton of SOCP and Panut of OIC to discuss other projects including Orangutan Haven. Orangutan Haven will be a refuge for orangutans who cannot be returned to the wild and a place where local residents and foreigner can visit less than 1 hour outside of Medan. One of Shapiro's last activities was paying a site visit to where Orangutan Haven will be built in the coming years (see photo). For more information on Orangutan Haven, visit
sumatranorangutan.org/orangutan-haven
.
---
Orley, the Orangutan, Jumps for his Species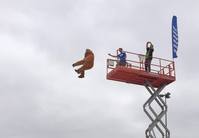 Some people will do almost anything to call attention to the plight of the orangutan. Ian Singleton climbed Mount Kilimanjaro for orangutans, Ian Redmond has skydived as an orangutan to raise awareness and funds. OURF President Gary Shapiro recently donned the orangutan costume as Orley, the orangutan, and jumped off a scissor lift raised to over 30 feet in an effort to raise awareness and funds as well as to have fun.
The occasion was the launch of "Dare Me for Charity's" tour across America to help organizations raise awareness and funds for their respective cause. $1,000,000 in prize money was being offered to groups who could accumulate the most jumps and footage for a proposed reality TV show in the Fall. While the funds were tempting, the chance to momentarily "fly" in an orangutan suit was too much to pass up.
Orley, was also supported by the OURF jumping team: Dave Rasmussen (team leader),
Beatris Karaoglanyan, Ellen Pates, Phil Blum, Kim Perkins (supported by Roger Kintz), and
Jason Shapiro (supported by
Luisa Velez). All the team had a chance to jump off the platform and call attention to the orangutan and its plight.
If the TV program actually gets put together and scheduled to air, we will notify our supporters about it. For more information about "Dare Me for Charity", go to: http://dareme4charity.com/campaign/1118
---
Announcement: Fall & Winter Fundraisers Planned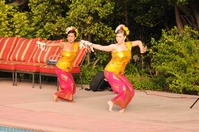 To do the work of any organization like the Orang Utan Republik Foundation, fundraising is a necessary part of organization's activities. As a publicly supported organization, we can obtain funds in a variety of ways but grants and donations are the biggest source of funds. We can also hold fundraisers where supporters can have a fun time as well as make donations to the organization. Like last year, OURF will be holding two fundraisers, one in the Fall in Beverly Hills and another in the Winter but in Bali, Indonesia.
Our Fall fundraiser in Beverly Hills will be in a private home and will feature actor/environmental activist, Ed Begley, Jr. and NBC weatherman, Fritz Coleman. Both gentlemen have been consistent supporters of our annual events for many years and give the fundraiser a taste of the classier side of Hollywood. We also plan to have other celebrities (classy themselves) in attendance so plan to attend if you are able to be in Southern California on October 19. In addition to our celebrities, we will have vegan/vegetarian food, ethnic entertainment, a silent and possibly a live auction, and the presentation of the Pongo Awards.
Our Bali fundraiser is in the planning process and should be a very enjoyable and memorable event. OURF supporter Henrica Tramboo is organizing the event and she has already lined up some marvelous entertainment including local DJs, dancers, and musicians. An auction of orangutan paintings will be one way funds will be raised from the expat community in Bali.
Henrica and her husband Max, are supporting OURF in a number of ways, including encouraging other businesses in Europe and Asia to support OURF. OURF is very appreciative of the Tramboo's activities to support orangutan conservation.
For more information on both events, visit www.orangutanrepublik.org.
---
Volunteer Program a Success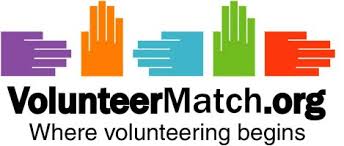 OURF receives numerous offers from various websites and services with the promise or the implied promise of increasing funds or productivity. Frankly, we are not capable of accepting all offers without the staff to manage the services. Occasionally, we do try something out to see how well it works. Such was the case of VolunteerMatch.org, a portal for linking volunteers and organizations like OURF.
Since their inception in 1998, they have paired over 8.2 million volunteers with organizations.
We started with a campaign to seek writers who wanted to help us "communicate about orangutans". Since the volunteer work could be done by people of all ages and from anywhere with an internet connection, it was sent out throughout the VolunteerMatch.org system. But of course there are thousands of different groups seeking help. Eventually we were noticed, and people young and mature have answered the call. Upon receiving an inquiry, we do a bit of assessing, then volunteers are given various assignments. While most volunteers drop out during the assessment phase (many think we handle orangutans), others take on assignments and deliver work products for the website or other purposes. We even have a work group looking at doing video projects and contests.
If you look at the OURF website, you will find that volunteers have been instrumental in developing the website and its content. John Page, our webmaster, is a volunteer, Chris Wiggs, from the UK, is also a volunteer website contributor. Both came to OURF before VolunteerMatch.org but we hope that through this collaboration, we can give anyone with a commitment to volunteer an avenue of expression. Thanks to the following VolunteerMatch.org volunteers for creating content for our website and more: Tiffany Richard, Donna Clifford-Jones, Zoe Grabow, Todd Cravens and Matt Truedell.
---
Shopping & In-kind Donations Support OURF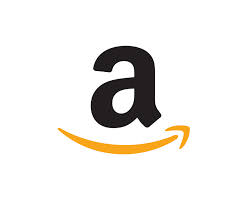 Take a look at our website and you will see we have banners for businesses and services that are poised to help you and help OURF. This is one way you can help us without making a donation directly. We understand it might be difficult during certain times of the year to make a charitable donation. But if you need to shop online or you have items of value you wouldn't mind donating, we have a number of affiliate partners who can help.
Many people shop on Amazon.com. They also have something called Amazon Smile where Amazon will give 0.5% of your purchase to a charity who is registered with
Amazon Smile
.
i
Give.com
is another website that enables you to shop online and a percentage determined by the merchant will go to the charity of your choice.
If you have items of value you would like to eBay or donate, OURF is working with
eBay Giving Works
and iDonate to allow you to reduce clutter and get a tax deduction.
So consider making a donation, but do not forget there are ways to support OURF without giving cash.




We are always looking for caring people with time and talent to contribute to our mission. We need people to help staff tables and spread the message.

OURF is registered with the IRS as a 501(c)(3), public charity enabling donors to take a full tax deduction for the amount of their contribution.
Why Give?
Click here
. We are also set up to accept recurring donations. Give a bit each month... it adds up and makes it easier for us to predict donation income.
Ready to give?: