Join us for
Demonstrations, Food, Fun, and Networking!
Tuesday, December 10th 6:30 – 9:00PM
8969 Complex Drive, Suite A, San Diego, CA 92123
* * * * * * * * *
With the holidays just ahead, many of us are already thinking of others with the thought of giving. Therefore, I'm hoping you will join MIOH in our fund-raising effort to help support those in the Philippines who have lost loved ones and are without food, water, shelter, and medical supplies.
The name of our project is The Gift of Hope and our goal is to raise a minimum of $4,000 by February 14, 2014 for the Philippines Relief Fund through three 501(c)3 charities: Doctors Without Borders USA, Save the Children Federation, and the International Rescue Committee.
There will also be a Silent Auction to help raise additional funds. Those donating to the Silent Auction will be highlighted in our website and in the next newsletter. (Items to be donated to this Silent Auction must be received in our center by Thursday, December 5th.)
Entrance Donation: $10 or more (cash or check) going to the Philippines Relief Fund. (Designate which of the above charities you wish to donate to.) For those who are unable to attend and still want to donate, please visit http://givalike.org/b/MIOH
All proceeds from this evening's donations and Silent Auction will go directly to the Philippines Relief Fund charities.
* * * * * * * * *
Topic for the evening: PlayShop – Designing Your 2014!
Presented by MIOH's very own Marla Brucker and Andrew Utley!
This exciting PlayShop will teach you how to:
1. Create New Year's Resolutions that STICK!
2. Leave the old habits behind!
3. Overcome the pitfalls of procrastination!
A great way to market yourself or your business is to donate a product, service, or gift to our raffle. When your prize has been won, you will get the chance to share about your business and services. There will be plenty of time to network with other professionals. Bring plenty of business cards!
Date: Tuesday, December 10th 6:30 - 9pm
Location: 8969 Complex Drive, Suite A, San Diego, CA 92123 (Kearny Mesa)
RSVP: So we can provide enough food and beverages.
Everyone is welcome!
Call Marla Brucker (858) 587-0422 or http://sdhypnosistraining.com/aboutus/open-houses/
CE credits available for MFTs, LCSWs, RNs, and others.
Saturdays and Sundays from 9:00AM – 6:00PM
January 25 – 26
February 1 – 2
February 15 – 16
This course will provide you with powerful communication techniques and rapport skills designed to effectively influence positive change with integrity.
To find out more about the NLP training or to register online, go to our website:
To receive a $100 discount, register on or before January 18th. Due to popular demand, these certification trainings sell out quickly. Seating is limited–call to reserve your space now!
Contact Information: Marla Brucker - (858) 587-0422 or Marla@SDHypnosisTraining.com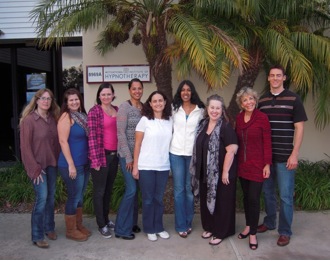 Energy Psychology Graduates – November 2013
Janine Palmer, Cynthia Clark, Heidi Beckenbach, Sandra Olmos, Paty Carrillo, Tara Badwal, Darcy McLean Aguilar, Marla Brucker and Travis Begay
*All courses are subject to change
*All courses are taught Saturdays and Sundays 9:00am to 6:00pm
January 25-26, February 1-2, February 15-16
March 22-23, March 29-30, April 12-13
May 31-June 1,
June 7-8,
June 21-22
August 2-3, August 9-10, August 23-24
October 18-19, October 25-26, November 8-9