In This Issue:
- Upcoming Certification Training

- $30 Hypnosis Sessions are back!
- Office Space Available
- Training Schedule
---
MIOH Staff



Marla Brucker, DCH, R.HA
Executive Director
---

Elaine Andreoli
Admin. Services Coordinator
Elaine@SDHypnosisTraining.com
---

Andrew Utley
Administrative Assistant
---
Dessert may taste just as good in your head. Craving something calorie laden? Closer your eyes and imagine eating the whole thing, bite by bite, a few times. This type of visualization can minimize your appetite for the food. (Research from Carnegie Mellon University)
Increase Productivity by Making Your Bed: Only about 40% of people make their bed everyday. But extensive research suggests that this simple action, which takes just a few minutes, has a high correlation with increased productivity. It may be that inherently highly productive people are more apt to make their beds because they are so productive. But it works in other directions as well. Making one's bed helps start a chain reaction each day that spurs better motivation and decision making. It creates an immediate and visual sense of accomplishment and momentum at the start of the day that enhances your ability to achieve other goals. (BottomLine, September 2016)
Look Four Years Younger:
Smile! In a recent study, 2,000 people were asked to estimate the age of women in photos. A smile took two to four years off, while people with sad faces looked one year older.
---
Inspirational Quotes
"Wherever you go… there you are; therefore take responsibility of where you're at and where you're going."
"Courage doesn't always roar. Sometimes courage is the little voice at the end of the day that says I'll try again tomorrow." ~Mary Anne Radmacher
"The best lesson I've learned so far is that being exactly who I am, and comparing myself to others only robs the world of my uniqueness." ~Marc Chernoff
"Happiness is the determination to be happy always, rather than wait for outer circumstances to make you happy." ~J.D. Walters
---
Testimonials
My internship with the Motivational Institute of Hypnotherapy was a wonderful and satisfying experience. I never realized the astounding possibilities this program would offer me—having the opportunity to utilize my skills through hands-on experience with clients. In the beginning I was scared and felt somewhat inadequate, but working with supportive instructors and being in a real office environment helped me feel more secure. The course structure was similar to having your own practice. The clients who came in to see us were there because they needed some guidance and support, and we were there helping them to achieve their goals. When I saw the insights I presented resonate with the clients, like a light switch just flicked on, it became an exhilarating, profound, and powerful experience for me. I'm very grateful for all the expertise, insights, and knowledge our instructors shared with all of us. I feel very satisfied and fulfilled with the experiences I have encountered and the challenges I have overcome thanks to the leadership provided by the Motivational Institute of Hypnotherapy. ~Trisha E.
---
---
Letter from the Executive Director

Hi Everyone,

There is no future in your past.
In our inner lives we build houses of many rooms. Some of the rooms are kept carefully locked, holding our personal secrets.

As this year comes to an end and the new year approaches, I invite you to go into those private rooms that you may have been avoiding - the ones that hold valuable lessons and wisdom.

Now is the time to make the changes in your life's journey to create what you want, let go of what no longer serves you, and begin to live your life with a purpose and for a purpose. What better gift can you give yourself?
"The future belong to those who believe in the beauty of their dreams."
~Eleanor Roosevelt

Enjoy the holidays,
Marla Brucker, DCH, R.HA
(858) 587-0422

---
Upcoming Certification Training: Energy Psychology
3 weekends: Saturdays and Sundays from 9:00am - 6:00pm
January 21, 22, 28, 29, February 11, & 12
Learn powerful energy therapy techniques to create permanent changes in your life and in the lives of others by helping to eliminate anxieties, fears, self-sabotage programming, past traumas, and limiting beliefs.
In this hands-on comprehensive training you will also learn to balance the body's energy system by creating rapid and profound change.
This training is beneficial for alternative and mental health professionals as well as anyone in quest of personal self-growth. It's a great complement to hypnosis and other therapeutic modalities.
For more information about the Energy Psychology training or to register, go to:
Energy Psychology

Receive a $100 discount by registering on or before January 14th.
Seating is limited. Due to popular demand, these certification trainings sell out quickly. Call to reserve your space now!


Contact Marla Brucker: 858-587-0422
or email: Marla@SDHypnosisTraining.com with any questions.
---
Open House Social Networking Evening
Free Demonstrations, Food, Networking, and Fun!
Thursday, December 8th from 6:30PM – 9:00PM
Topic
:
Heal The Energy, Heal Your Reality
Presenter: Reggie Mckiver

Join us for a powerful interactive workshop that has rarely been seen up until now. As an intuitive teacher, Reggie Mckiver helps others as he ignites instant life transformations to create a new Life Vision filled with clarity, purpose, and possibilities. He's the only person that can look at a person's nails and determine what energy is holding them back in life.
In this unique interactive workshop, Reggie will demonstrate how to identify aura colors and breathing patterns (and what they mean to our soul make-up) along with sicknesses that may live in the energy field and how to release them to create wellness.
Marla Brucker will also demonstrate some Energy Therapies techniques to help build your immune system over the holiday season.
This will be an interesting, fun-filled evening complete with demonstrations, wine, appetizers, networking, raffle prizes (bring something to raffle), and good company. Learn more about Reggie Mckiver and his unique work on on our website or RSVP here.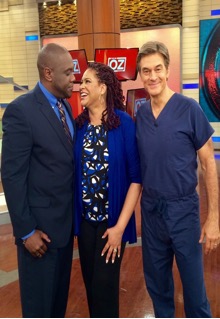 Reggie Mckiver with wife/actress Kim Coles and Dr. Oz
We're looking forward to seeing you! Invite friends!
When: Thursday, December 8th, from 6:30pm – 9:00pm
Where: 8969 Complex Drive, Suite A, San Diego, CA 92123
---
Congrats Cognitive Behavioral Hypnotherapy Graduates!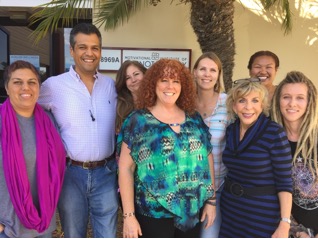 Mousqa Kawasaki, Jacob Moya, Martine Wilson, Christa Oftedal, Daniela Haller, Marla Brucker, Riva Jenkins, & Jessica Kliger
---
$30 Hypnosis Sessions!
I'm excited to announce that as of January 26th, three of our graduates will begin their supervised internship and will be seeing clients for only $30 a session. These sessions are by appointment only on Thursday evenings through April 6th, 2017. Part of the proceeds will be donated to charity.
If you would like to schedule a hypnosis session for only $30, please contact Sarah at 619-786-2690.
Call now to book your session!!! These $30 sessions book up quickly. If you know anyone who would like to reap the benefits of hypnosis, please forward this information to them.
The Motivational Institute of Hypnotherapy is just one of two schools nationwide to offer a supervised clinical internship, which is a part of our 300-hour certification program.
---
Office Space Available - Hourly or Part Time
Attention health care practitioners!!! If you are looking to build your private practice and want to increase a referral base with other like-minded clinicians, we have the space for you. We have a fully furnished room for hourly or part-time rental.
This inviting atmosphere of warmth and wellness at the Motivational Institute of Hypnotherapy is perfect for anyone who also wants to join a team of other health care professionals. The common area is quite large which includes a kitchenette, storage room, bathroom, and a large waiting room that can also be converted into a space for workshops and training. The Institute is handicapped accessible, and is located in the Kearny Mesa area with plenty of free parking.
For more information or to schedule a tour, contact Jennie Abito, Licensed Clinical Therapist, at
Jennie@CrystalCounselingCenter.com
---
*All courses are taught Saturdays and Sundays from 9:00am - 6:00pm
Energy Psychology 2017:
(Early registration January 14, 2017)
January 21-22
Sat. and Sun 9:00am to 6:00pm
January 28-29
Sat. and Sun 9:00am to 6:00pm
February 11-12
Sat. and Sun 9:00am to 6:00pm
March 18-19 Sat. and Sun 9:00am to 6:00pm
March 25-26 Sat. and Sun 9:00am to 6:00pm
April 8-9 Sat. and Sun 9:00am to 6:00pm
Ericksonian Hypnosis 2017:
(Early registration May 13, 2017)
May 20-21
Sat. and Sun 9:00am to 6:00pm
(Early registration July 29, 2017)
August 5-6
Sat. and Sun 9:00am to 6:00pm
August 12-13 Sat. and Sun 9:00am to 6:00pm
August 26-27 Sat. and Sun 9:00am to 6:00pm
Energy Psychology 2017:
(New cycle of classes)
(Early registration October 7, 2017)
October 14-15
Sat. and Sun 9:00am to 6:00pm
October 21-22 Sat. and Sun 9:00am to 6:00pm
November 4-5 Sat. and Sun 9:00am to 6:00pm
---
Get ready for 2017!
Your new life is waiting!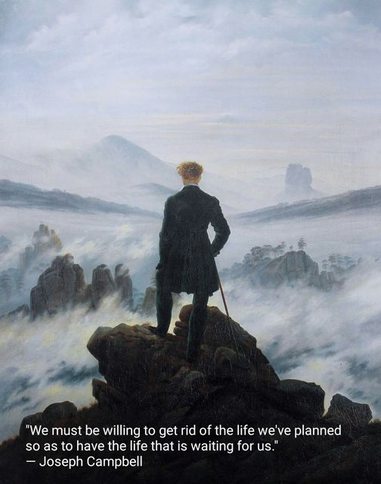 ---