---
MIOH Staff



Marla Brucker, DCH, R.HA
Executive Director
---

Elaine Andreoli
Admin. Services Coordinator
Elaine@SDHypnosisTraining.com
---

Andrew Utley
Administrative Assistant
---
Benefits of Medicinal Spices:
Cilantro is high in the vitamins A and K and beta-carotene, and like any dark leafy green, it's full of beneficial phytochemicals including the natural antibiotic called dodecenal. In the UC Berkeley laboratory study, dodecenal killed the bacteria Salmonella more effectively than a powerful prescription antibiotic.
Ginger is widely used to treat nausea due to a variety of reasons. Ginger can also help relieve arthritis pain. With its aspirin-like effects, ginger inhibits two enzyme substances involved in the production of inflammatory hormones. Typical dose: 1/4-1/2 teaspoon of ginger daily. Be creative.
Turmeric (and curcumin, turmeric's main active ingredient) is one of the most potent of naturally occurring anti-inflammatory agents and a very strong antioxidant. It may be one of the best all-around spices for disease protection and anti-aging. Inflammation plays a central role in most chronic diseases. Turmeric can also be considered as a 'brain health food.' Research studies have found that turmeric reduces the buildup of plaque in the brain that is associated with Alzheimer's disease and cognitive decline. It also has potent anti-cancer properties. Consume some form of turmeric powder daily. (NOTE: people with gallbladder problems should avoid this herb. Also, people taking blood thinners should take these spices in moderation as they can thin the blood.)
---
Inspirational Quotes
"Happiness cannot occur when we place its source outside of ourselves." ~Richard Carlson
"…human beings by changing the inner attitudes of their minds can change the outer aspects of their lives." ~William James (1842 - 1910)
"Embrace and love all of yourself – past, present, and future. Forgive yourself quickly and as often as necessary. Encourage yourself and rejoice in your accomplishments."
---
Testimonials
"I feel at peace when I'm at the Motivational Institute of Hypnotherapy with Marla Brucker. She is amazing. I've learned so much since I first met her at The School of Healing Arts a few years ago. The entire class was mesmerized by her energy therapy work. You won't believe it until you witness what is possible with this amazing lady. Awesome, absolutely awesome!!!" ~Bonnie
"If you want to quit smoking, Marla Brucker is the best!! I smoked 2-1/2 packs per day and was able to quit in just one session. I had tried to quit so many other times, but no one else knew how to help me. It's been 6 years since I last smoked, and I feel better than I have felt over the last 26 years I had smoked. Thank you Marla; you saved my life." ~Scott
---
---
Letter from the Executive Director

Hi Everyone,
Of all the things you wear, your smile is the most important…
"The beauty of a woman is not in the clothes she wears, the figure that she carries, or the way she combs her hair. The beauty of a woman is seen in her eyes, because that is the doorway to her heart, the place where love resides.
True beauty in a woman is reflected in her soul. It's the caring that she lovingly gives, the passion that she shows, and the beauty of a woman only grows with passing years." ~Audrey Hepburn
The essence of who we are today is because of our mothers. Happy Mother's Day to all moms, and to those moms that are no longer with us as they are always within our hearts.♥
"The best and most beautiful things in the world cannot be seen, nor touched...but are felt from the heart." ~Helen Keller
To Your Success,
Marla Brucker, DCH, R.HA
(858) 587-0422

---
Upcoming Certification Training: Ericksonian Hypnosis
Three weekend training: Saturdays and Sundays from 9AM – 6PM
May 20 & 21 and June 3, 4, 10 & 11, 2017
If you've ever wanted to learn hypnosis for your own personal or professional benefit, NOW is the time to start!
You will learn powerful hypnosis techniques and applications designed to create permanent changes in your life and in the lives of others. This comprehensive course in Ericksonian Hypnosis provides hands-on demonstrations and experiential training.
In these three 'powerful and information packed' weekends you will develop skills to achieve the success you (and your clients) desire!
Receive a $100 discount by registering on or before May 13th with a $250 deposit.
For more information about the Ericksonian Hypnosis training or to register, click here.
Contact Marla Brucker at 858-587-0422
or email: Marla@SDHypnosisTraining.com with any questions.
---
Congratulations Graduates!!!
Certified Clinical Hypnotherapists in
Integrative Hypnotherapy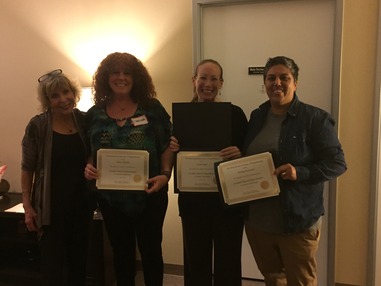 Congratulations to Christa Oftedal, Sarah Siegel, and Mousqa Katawazi for completing their 300-hour certification training with MIOH.

I am truly honored to call them colleagues.
---
A Special Thanks...
Our April Open House and Social Networking Evening was a great success filled with lots of fun, laughter, and learning. I want to thank Wil Diecks for his inspiring presentation on "Ordinary People, Extraordinary Life…"
I hope you were captivated with his knowledge, wisdom, and insight and that you walked away with many tools on how to create your own Extraordinary Life.
Please enjoy some of the Open House pictures below and on our website.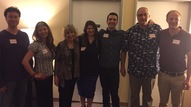 MIOH amazing instructors: Michael Galluzzo, Nancy de Andrede, Marla Brucker, Cynthia Clark, Andrew Utley, Edwin Peterson, and Tim Steele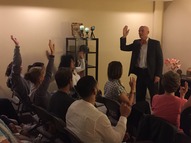 Our Presenter: Wil Dieck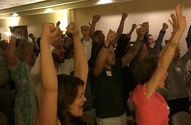 Inspired Attendees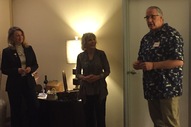 Edwin Peterson sharing his raffle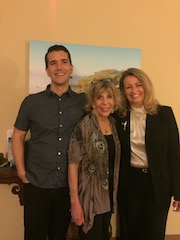 MIOH Team: Andrew Utley, Marla Brucker, and Elaine Andreoli
---
Congrats Therapeutic Neuro-Linguistic Programming Graduates!!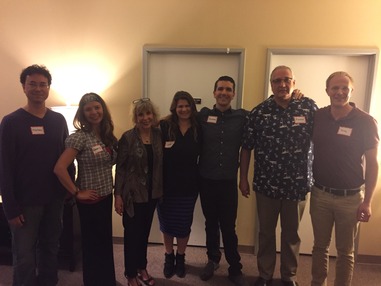 NLP Graduates: (Marla Brucker), Julie Steve, Holly Tremblay, Lauren Blizzard, Rani Campbell, Tess Meissner, and Riva Jenkins
---
Read Our Blog:
---
*All courses are taught Saturdays and Sundays from 9:00am - 6:00pm
Energy Psychology 2017: (Completed)
(Early registration by January 14, 2017)
January 21-22
Sat. and Sun 9:00am to 6:00pm
January 28-29
Sat. and Sun 9:00am to 6:00pm
February 11-12
Sat. and Sun 9:00am to 6:00pm
March 18-19 Sat. and Sun 9:00am to 6:00pm
March 25-26 Sat. and Sun 9:00am to 6:00pm
April 8-9 Sat. and Sun 9:00am to 6:00pm
Ericksonian Hypnosis 2017:
(Early registration by May 13, 2017)
May 20-21
Sat. and Sun 9:00am to 6:00pm
(Early registration by July 29, 2017)
August 5-6
Sat. and Sun 9:00am to 6:00pm
August 12-13 Sat. and Sun 9:00am to 6:00pm
August 26-27 Sat. and Sun 9:00am to 6:00pm
Energy Psychology 2017:
(New cycle of classes)
(Early registration by October 7, 2017)
October 14-15
Sat. and Sun 9:00am to 6:00pm
October 21-22 Sat. and Sun 9:00am to 6:00pm
November 4-5 Sat. and Sun 9:00am to 6:00pm
---
Kindness is in our power even when fondness is not.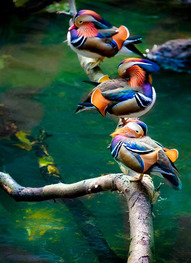 ---