---
MIOH Staff



Marla Brucker, DCH, R.HA
Executive Director
---

Elaine Andreoli
Admin. Services Coordinator
Elaine@SDHypnosisTraining.com
---

Andrew Utley
Administrative Assistant
---
A 20-Minute Coffee Nap Makes You More Alert:
Drink a cup of caffeinated coffee–it takes about 20 minutes for caffeine to affect your brain. Then immediately take a nap or rest calmly if you can't fall asleep. The combination of brief rest and the caffeine in coffee makes you more alert when you get up. (Bottom Line, October 2015)
Coffee Reduces Stroke Risk:
Recent finding - drinking one or more cups of coffee daily was associated with a 22% to 25% reduction in stroke risk. Theory: coffee beans contain antioxidants and other disease-fighting chemicals that reduce inflammation and improve insulin activity. Moderate coffee consumption has also been linked to decreased risk for diabetes, colon cancer, heart disease, liver disease, and Parkinson's disease. (Institute of Environmental Medicine, Stockholm Sweden)
Coffee's Many Uses:
Neutralizes odor - Ground coffee absorbs moisture and replaces an offending order with the smell of coffee. Hang a cheesecloth pouch filled with cooled used coffee grounds in a cabinet where garbage is kept.
Stress buster - Inhaling the scent of roasted coffee beans eases stress and produces a natural relaxation response.
Skin exfoliate - Mix one cup of ground coffee, ½ cup of sugar, and one ½ tablespoon of jojoba oil. Apply the mixture to your body, and gently rub in a circular motion; rinse and pat dry. (Bottom Line)
Caffeine May Make You More Easily Persuaded:
A recent study showed that students were more likely to change their opinions about controversial topics when they were drinking coffee than when they were drinking orange juice. Possible reason: drinking caffeine increases people's emotional arousal or improves their mood, making them more likely to agree with a different opinion. Watch out coffee drinkers! (European Journal of Social Psychology)
---
Inspirational Quotes
"How wonderful it is that nobody need wait a single moment before starting to improve the world." ~Anne Frank
"When one door closes, another opens; but we often look so long and so regretfully upon the closed door that we do not see the one which has opened for us." ~Helen Keller
"Memory is the power to gather roses in the winter…Listen to your inner voice, and trust your intuition."
---
Testimonials
"I've been using EFT in my practice as a psychologist at Kaiser, as well as "on the outside" in a small part-time practice. I am combining both hypnosis with energy psychology techniques you taught in the training, and find that the changes in my patients are rapid and permanent. Thank you for offering such a comprehensive training along with your thorough and well-informative training manual." ~F. Lombardo, PhD
"In my estimation, Emotional Freedom Technique (EFT) is one of the most powerful treatment tools available. I have successfully helped people overcome fears, phobias, depression, and addictions. It is rapid, dramatic, and deep." ~Fred Gallo, PhD, author of "Energy Psychology"
---
---
Letter from the Executive Director

Hi Everyone,
"Wherever you go…there you are. Become one with your journey of magnificence."
So many people come to me in search of finding themselves without knowing what (or who) they are actually looking for.
One of the greatest personal challenges people face is the struggle to accept, embrace, and love oneself even with all of their imperfections. We need to stop discrediting ourselves for everything we aren't, and start acknowledging ourselves for everything we are.
Our mission is not just about discovering self-love, but about breaking down the walls we have built against it. When we have the courage to push through these walls–to know and embrace ourselves despite our humanness and flaws–we open the door to connecting in more caring, empathic, and intimate ways with others who are truly worth loving.
Here are a couple of tools that will enhance your journey into your magnificence:
· - Focus on writing your story instead of reading, watching, and hearing about everyone else's. If you catch yourself comparing your life to someone else, remember that people often only showcase their highlight reel (especially online), not their reality.
· - Pay close attention to your life as you live it. One of the greatest gifts you can give yourself and your loved ones is to be in the present moment and appreciate yourself and your life with love and gratitude.
~ Learn to become your own best friend ~
Marla Brucker, DCH, R.HA
(858) 587-0422

---
Upcoming Certification Training: Energy Psychology
3 weekends: Saturdays and Sundays from 9:00am - 6:00pm
March 19, 20, April 2, 3, 9 & 10
Learn powerful energy therapy techniques and applications designed to create permanent changes in your life and in the lives of others. These techniques help to eliminate anxieties, fears, self-sabotage programming, past traumas, and limiting beliefs.
Energy Therapies address the same energy system as acupuncture or acupressure by using simple tapping procedures. These therapies aim to release negative emotions caused by a disruption in the body's energy system. Energy therapies are a group of mindful and natural modalities that help to facilitate profound positive changes.
This comprehensive course in Energy Psychology provides experiential training and hands-on demonstrations.
You will also learn to use your body's own feedback to balance the body's energy system by creating rapid and powerful change.
This training is
also beneficial for alternative and mental health professionals as well as anyone in quest of personal self-growth.
For more information about the Energy Psychology training or to register, go to:
Energy Psychology

Receive a $100 discount by registering on or before March 11th.
Seating is limited. Due to popular demand, these certification trainings sell out quickly. Call to reserve your space now!
Contact Marla Brucker: (858) 587-0422 or Marla@SDHypnosisTraining.com with any questions.
---
Open House Social Networking Evening
Free Demonstrations, Food, Networking, and Fun!
Wednesday, February 24th from 6:30PM – 9:00PM
Topic: How to Heal the Body
The best acupuncturist, chiropractor, or medical doctor can help heal any physical injury. But at some point the body seems to no longer respond. Why? At some level the whole person can have an emotional block that is causing a person to stay in pain and/or unbalanced. Dr. Bret Mosher will teach you how to help your body to remain balanced and maintain wellness. He will also be addressing the aspect of forgiveness—forgiveness of oneself and forgiveness of others—which helps to accelerate healing and one's well-being.
A leader in his field, Dr. Mosher has been an expert in natural medicine for 40 years. He has been a Doctor of Oriental Medicine since 1987 and a licensed acupuncturist.
This will be an interesting and informative evening complete with demonstrations, wine, appetizers, networking, raffle prizes, and good company. Learn more about Dr. Mosher and his work at our website or to RSVP.
We're looking forward to seeing you! Invite friends!
When: Wednesday, February 24th, from 6:30PM – 9:00PM
Where: 8969 Complex Drive, Suite A, San Diego, CA 92123
---
Fire Walking Event and Workshop
The Fire Walking Event and Workshop was a great success and was enjoyed by all! I want to thank Andrew Utley and Tim Steele for joining me as presenters on "Manifesting 2016 ~ The Best Year Yet!" They inspired and motivated the attendees to create excitement around their goals for this year as well as create powerful breakthroughs.
Another special thank you goes out to Julian Bergquist for making the fire walk possible. The experience created powerful moments in helping make us unstoppable–realizing that it is possible to do things that once seemed impossible.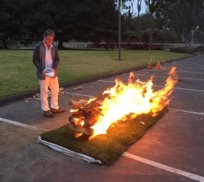 Julian lighting the fire!
Watching the start of the burn.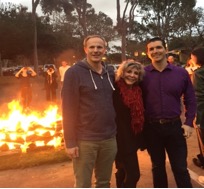 The fire, Tim, Marla, & Andrew.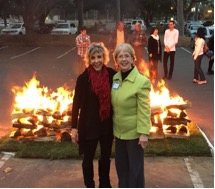 Marla and Dottie.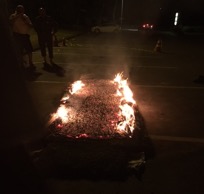 Embers - ready to begin walking!
Check out our website for more pictures!
---
Family Constellations: Uncovering Hidden Interferences in Our Lives
Thursday, February 25, 2016
6:45PM to 9PM
Hosted by:
The Motivational Institute of Hypnotherapy
8969 Complex Drive, Suite A, San Diego, CA 92123
If you are interested in personal growth, creating a deeper awareness of life, and having transformational experiences, then this meetup group is for you!

Your facilitator,
Tim Steele, is a trained constellation facilitator and consultant. He is a
change specialist
in adult learning and development who helps individuals that are committed to building successful, purposeful AND fulfilling relationships, businesses, and life experiences.
We will be asking for a $15 donation at the door. You can attend or participate in a constellation; the choice is yours!
Donation: $15
When: Thursday, February 25th, 7PM to 9PM
Where: 8969-A Complex Drive, San Diego, CA 92123
Registration:
Call Tim Steele
at (
415) 407-4073
---
In Memory of a Great Colleague - Conrad Adams
The hypnosis community, both in the US and internationally, lost a wonderful colleague and friend. Conrad Adams had a hypnotherapy institute in Baton Rouge, Louisiana and was a great hypnotherapist and mentor to many.
Conrad was on our Board of Directors and was a great source of information and wisdom. He was known for his kindness and desire to help others.
Conrad, you will be missed by many. Rest in peace my Dear Friend…
---
(
Note:
All dates are subject to change)
Cognitive Behavioral Hypnotherapy 2016 (Completed):
(Early registration by January 11, 2016)
January 16-17 Saturday and Sunday
January 23-24 Saturday and Sunday
February 6-7 Saturday and Sunday
(Early registration by March 11, 2016)
March 19-20 Saturday and Sunday
April 2-3 Saturday and Sunday
April 9-10 Saturday and Sunday
Therapeutic Neuro-Linguistic Programming 2016:
(Early registration by May 13, 2016)
May 21-22 Saturday and Sunday
June 4-5 Saturday and Sunday
June 11-12 Saturday and Sunday
(Early registration by July 31, 2016)
August 6-7 Saturday and Sunday
August 13-14 Saturday and Sunday
August 27-28 Saturday and Sunday
Cognitive Behavioral Hypnotherapy 2016: (New cycle of classes)
(Early registration by October 7, 2016)
October 15-16 Saturday and Sunday
October 22-23 Saturday and Sunday
November 5-6 Saturday and Sunday
---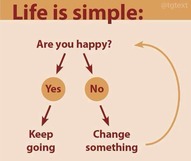 ---