In This Issue:
- Official Grand Opening

- 2014 Schedule

---
MIOH Staff



Marla Brucker, DCH, R.HA
Executive Director
(858) 587-0422
---

Elaine Andreoli
Admin. Services Coordinator
Elaine@SDHypnosisTraining.com
---

Andrew Utley
Administrative Assistant
(619) 540-5265
---
Laughing May Be as Good for You as Exercising: Laughing lowers stress hormones and cholesterol, enhances the immune system, and releases hormones and other chemicals that make you feel good. Watching 20 minutes of a funny video can provide these benefits. (American Association of Therapeutic Humor)
Scare off Those Pounds: Recent finding: watching a 90-minute horror movie can burn an average of 113 calories - that's as many calories as you would burn if you run a 10-minute mile. The adrenaline spikes raise your metabolic rate. Researchers found the top calorie-burning flick to be The Shining, scaring 184 calories away…followed by Jaws (161), and The Exorcist (158).
Eat Feel-Good Foods: Zinc-packed options like turkey, barley, and pumpkin seeds help your brain produce the anxiety-easing compound GABA (gamma-aminobutyric acid), while spinach, beans, and artichokes are stocked with depression-fighting magnesium. Cheese, chickpeas, and beef give your body the amino acids it needs to make mood-boosting serotonin and norepinephrine. (Natural Solutions Magazine)
---
Inspirational Quotes
"The toughest thing about success is that you've got to keep on being a success." ~ Irving Berlin
"Man must evolve from all human conflict a method which rejects revenge, aggression, and retaliation. The foundation of such a method is love." ~ Dr. Martin Luther King, Jr.
Intuition has one motive and that's for one's greatest good. Our brain has many motives talking us in and out of things.
Testimonials
"I am amazed at what a difference the training from MIOH has made in my life. Thank you. I'm so grateful that I completed it. I've grown so much and my life is moving forward in small increments, but the internal changes are huge….I'm just very thankful for your great teaching and leadership and for MIOH and the personal growth I've achieved and am marveling in everyday as new things unfold." - Nina S.
* * * * *
"The program was truly inspiring; and was a positive journey of learning and personal growth as I released many of my own fears and doubts. There was a strong balance between practical application and class discussion which made the training even more valuable. The Energy Psychology training was amazing. Thank you." - M.J. Oliver (Sales Manager)
---
---
Letter from the Executive Director

Hi Everyone,
Are you holding on to something you need to let go of?
In my hypnotherapy practice and teaching I talk about the concept of letting go, not only of issues that people are holding on to from the past, but current stresses and worries that are interfering with enjoying their lives now.
This reminds me of a story I heard from Marc and Angel Chernoff about a psychology professor teaching stress management principles to an auditorium of students. As the professor raised a glass of water, everyone expected they'd be asked the typical "is the glass half empty or half full" question. Instead, the professor asked, "How heavy is this glass of water?"
Students shouted out answers ranging from eight ounces to a couple pounds.
She replied, "From my perspective, the absolute weight of this glass doesn't matter. It all depends on how long I hold it. If I hold it for a minute or two, it's fairly light. If I hold it for an hour straight, its weight might make my arm ache a little. If I hold it for a day straight, my arm will likely cramp up and feel completely numb and paralyzed, forcing me to drop the glass to the floor. In each case, the weight of the glass doesn't change, but the longer I hold it, the heavier it feels to me."
As the class nodded their heads she continued, "Your stresses and worries in life are very much like this glass of water. Think about them for a while and nothing happens. Think about them a bit longer and you begin to ache a little. Think about them all day long, and you will feel completely numb and paralyzed–incapable of doing anything else until you let go of holding on to it."
The moral: It's important to remember to let go of your stresses and worries. No matter what happens during the day, let go of all your burdens as early in the evening as you can. If you carry them with you through the night, you will awaken with the same burdens. If you still feel the weight of yesterday's stress, it's a strong sign that it's time to put the glass down.
Your future is in the NOW. Life is like a dance…it's up to you to choose how you will express it. Enjoy every moment.
To Your Success,
Marla Brucker, DCH, R.HA
(858) 587-0422
---

---
Upcoming Certification Trainings
Energy Psychology

October 12-13, October 19-20, November 2-3
Saturdays and Sundays from 9:00am - 6:00pm
CE credits available for MFTs, LCSWs, RNs, and others.
Learn powerful energy therapy techniques and applications designed to create permanent changes in your life and in the lives of others. These techniques help to eliminate anxieties, fears, self-sabotage programming, past traumas, and limiting beliefs.
Energy Therapies address the same energy system as acupuncture or acupressure by using simple tapping procedures. These therapies aim to release negative emotions caused by a disruption in the body's energy system. These gentle, mindful, and natural modalities help to facilitate profound positive changes.
This comprehensive course in Energy Psychology provides experiential training and hands-on demonstrations.
This training is
also beneficial for alternative and mental health professionals, as well as anyone in quest of personal self-growth.
For more information about the Energy Psychology training or to register, go to: www.SDHypnosisTraining.com/courses/Energy-Psychology/
To receive a $100 discount, register on or before October 5th. Seating is limited. Call to reserve your space now.
Contact Marla Brucker:
Phone: (858) 587-0422
Open House & Social Networking Evening
! GRAND OPENING !
Free Demonstrations, Food, and Networking
Monday, September 23rd from 6:30pm – 9:00pm
Topic: The Positive Power of Laughter, Humor, and Learning
Your presenters, Jill Knox and Marla Brucker, are both certified Laugh Leaders.
Jill Knox is president of the American Association of Therapeutic Humor, and has been giving presentations on the benefits of applying humor for health, happiness, and peace for over 20 years. Together Marla and Jill will teach you laughter techniques Jest for the Health of it.
You will also be introduced to the amazing benefits and applications of Energy Therapies in Helping to Support Inner Balance and Health. What would life be like if you could spring out of bed every single morning with more energy and vitality? Imagine how great you'll feel being happier, healthier, and more productive than ever before by tapping into your body's natural resources.
This will be an inspiring and fun-filled evening complete with demonstrations, laughter, wine, appetizers, networking, raffle prizes, and good company! RSVP now...
We're looking forward to seeing you there! A great way to market yourself is to donate a service or product item to our raffle. When your prize has been won, you will get an opportunity to share about your business. Bring plenty of business cards.
We will also be sharing information about our next training in Energy Psychology.
When: Monday, September 23rd from 6:30pm – 9:00pm
Where: ***NEW LOCATION*** 8969 Complex Drive, Suite A, San Diego, CA 92123 (in Kearny Mesa, just east of the 163 and south of Clairemont Mesa Boulevard)
---
Congratulations Graduates!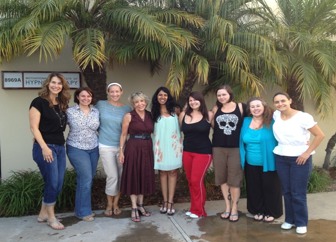 August 2013 Graduates of Cognitive Behavioral Hypnotherapy:
Debbie Kroner, Martha de Forest, Kelli Olds, Marla Brucker, Tara Badwal, Cynthia Clark, Heidi Beckenbach, Darcy McLean Aguilar, and Paty Carrillo
---
Special Workshop!
We are offering a series of mini workshops beginning November 6th. I, along with Patricia Ranck, one of our instructors, have created personal development courses through the Center for Self Discovery. Our first workshop will be on: Increasing Confidence While Breaking Out of Shyness.
WHEN: November 6th from 6:30pm - 10pm.
INVESTMENT: $49.00
Seating is limited. Call to reserve your space: Marla (858) 587-0422 or Patricia (858) 459-1291
More information will be provided on our website and in next month's newsletter.
Other workshops offered in 2014:
Creating Romantic Vibrations to Attract Your Soul Partner

Keeping the Passion Alive

Stepping into Your Feminine Power

How to Romance a Woman

How to Raise Confident Kids
---
Office Space - for People in the Helping Field

The Motivational Institute of Hypnotherapy has a new home and Wellness Center. We've created an inviting atmosphere of warmth and wellness. There are two clinician rooms available for full or part-time use, and a large lobby for workshops and trainings. It's easily accessible with plenty of free parking.
This newly renovated space is perfect for anyone who wants to build a referral base among other like-minded clinicians. If you are interested, contact Marla at (858) 587-0422.
---
2013 Calendar - Certification Trainings!

October 12–13, October 19–20, & November 2–3
---
2014 Calendar - Certification Trainings!
*All courses are subject to change
*All courses are taught Saturdays and Sundays 9:00am to 6:00pm
Therapeutic Neuro-Linguistic Programming
January 25-26, February 1-2 & February 15-16
March 22-23, March 29-30, & April 12-13
Cognitive Behavioral Hypnotherapy
May 31-June 1,
June 7-8 &
June 21-22
Energy Psychology
August 2-3, August 9-10 & August 23-24
Therapeutic Neuro-Linguistic Programming
October 18-19, October 25-26 & November 8-9
---
Please share this with others!
---