MIOH Blog:
Recognize a Stroke and Save a Life! Read blog

In This Issue:
- 2013 Calendar

- Congratulations
---
MIOH Staff



Marla Brucker, DCH, R.HA
Executive Director
(858) 587-0422
---

---

Andrew Utley
Administrative Assistant
(619) 540-5265
---
Did You Know?
Use Whole Milk to Cool Sunburn Pain. The lactic acid in milk reduces inflammation. Dip a washcloth into a bowl of cool milk then gently place it on the burned area for about 20 minutes. Rinse off with cool water.
Use Apple Cider Vinegar For Insect Bites And Athletes Foot. Dab vinegar onto each bite with a paper towel. It will relieve the itching and reduce swelling. Soak infected feet for 20 minutes in a mixture of three parts water and one part vinegar to kill the athlete's foot fungi. This can be done twice daily.
Meditation Reduces Pain: Recent findings: After practicing 20 minutes of meditation daily for just four days, study participants found that their perception of pain was reduced by up to 57% (Fadel Ziedan, PhD, Wake Forest University School of Medicine.)
---
Inspirational Quotes
"The best and most beautiful things in the world cannot be seen, nor touched...but are felt from the heart."
- Helen Keller
"The future belongs to those who believe in their dreams."
- Unknown
"It is well to give when asked but it is better to give unasked, through understanding."
- Kahill Gibran
---
Testimonials
"I consider myself fortunate to have been trained by Dr. Marla Brucker and her team. I remember my very first class and I knew then and there that I was at the right place, learning hypnosis and energy therapies from one of the most insightful, experienced, and fun teachers out there."
-A.T. (Energy Therapist)
"The Energy Psychology training was truly inspiring. It was a positive journey of learning as I was able to release my fears and self-doubts. I was impressed with the way the training was structured; there was a strong balance between practical application and class discussion."
- R.J. Smith (Loan Officer)
---
---
Letter from the Executive Director

Hi Everyone,
I hope you've had a wonderful summer so far.
Would you like to discover tools for permanent change that provide for a life of greater success, inner peace, happiness and joy?
Learn to dance with your energy by balancing your body's energy system for optimum health and vitality.
Your emotional health determines the quality of your life; it is the foundation of self-confidence and the springboard to achievement. Our next certificate training in Energy Psychology helps to unlock the keys to aligning yourself with your passions. These powerful, lasting techniques uniquely combined with other therapeutic and energy modalities, help remove negative blocks stored in the body thereby enhancing one's personal well being.
Discover the link between the mind and body…Step into your personal power to manifest your dreams and help others do the same. Join us for our upcoming training in Energy Psychology beginning Sat. October 13th.
This is the only 60-hour certificate training in Integrative Energy Psychology offered in the U.S. Please take a moment and read the course information below.
Register by Oct. 3rd and receive a $100 discount.
You have a unique role that only you can fulfill…. Sometimes it's a matter of simply remembering who you are. It's not about living a perfect life – it's about living a life that's perfect for you.
To Your Success,

Marla Brucker, DCH, R.HA
(858) 587-0422
---

Upcoming Certification Trainings
(Last Training of 2012!)
CE credits available for MFTs, LCSWs, RNs and others.
2012 Class Schedule – 3 weekends
October 13 – 14
October 20 – 21
November 3 – 4
Saturdays and Sundays from 9:00am - 6:00pm
Course Goals and Objectives:
Learn to use the body's own feedback to balance the body's energy system by creating rapid and powerful change. Energy Therapy modalities treat blockages in the energy flow created by negative thought patterns. These techniques help to eliminate anxieties, fears, self-sabotage programming and limiting beliefs. Energy Therapies address the same energy system as acupuncture or acupressure by using simple tapping procedures. It aims at releasing negative emotions caused by a disruption in the body's energy system. These gentle, mindful and natural modalities help to facilitate profound positive changes. Visit our website to learn more about Energy Psychology.
Energy Therapy modalities are very effective when combined with hypnosis or utilized on their own. Students will learn about the foundation of Energy Therapies along with bio-fields and the body's energy system, including Emotional Freedom Techniques, Energy Medicine, Thought Field Therapy, Chakra balancing, surrogate tapping, and much more. Students will be able to unblock their own issues quickly and easily as well as assist others in doing the same. Each student will have the chance to use and practice these methods in class and on their own.
To find out more about the Energy Psychology, or to register for the class, click here
Receive a $100 discount: Register on or before October 3rd! SEATING IS LIMITED. Due to popular demand these certification trainings sell out quickly. Call to reserve your space now.
Contact Marla Brucker (858) 587-0422 or Marla@SDHypnosisTraining.com with any questions.
---
---
Congratulations!
We would like to send a very special congratulations to our Cognitive Behavioral Hypnotherapy graduates! You've done an amazing job, studied the material, applied the skills and now have an exciting set of tools to use with your clients! We wish you all the best in your endeavors with your newfound wisdom!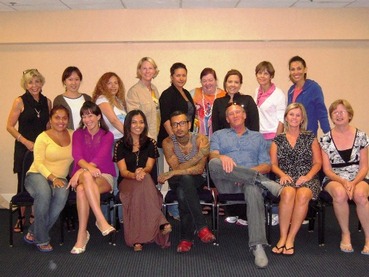 Cognitive Behavioral Hypnotherapy Graduation Class 8/12
Top row: Marla Brucker, Rita Lee, Veronica Olivar, Leah Besen, Rosie Diaz, Susan Gerhart, Priscilla Ossa, Nina Sights, Aviva Betech Bottom row: Jennifer Castaneda, Nicole Cadden, Divine G. Yengo, Rafael Reyes, Felice Izzarelli, Kathleen Gaffney and Barbara Michalec
---
Open House & Networking Social
Sept. 20th, 2012
Note: New Location*
Join us at our upcoming Open House and Networking Social on Thursday Sept. 20th, and learn more about our next training in Energy Psychology. This fun, inspiring event includes demonstrations, wine, appetizers, networking, a raffle & good company!

Our topic will be on: Supporting Inner Balance and Health as the holidays approach.
When: Thursday Sept. 20th, from 6:30pm – 9:00pm
Where: *2375 Northside Dr. Suite 330, San Diego, 92108. (West side of the parking lot; East of Costco and IKEA in Mission Valley.)
Cost: This is a Free Event!
Please RSVP so we can provide enough food and beverages! Click on the link to find more info: http://sdhypnosistraining.com/aboutus/open-houses/ or call Marla at (858) 587-0422 or (858) 414-1614 (cell).
Please share this with others!