---
Upcoming Certification Training: Cognitive Behavioral Hypnotherapy
Three weekend training:
Saturdays and Sundays from 9AM – 6PM
August 5-6 • August 12-13 and August 26-27
Success lies within; invest in yourself…
Learn how to maximize the body / mind / spirit connection with hypnosis.
This training will explore the principles and strategies of Cognitive Behavioral Hypnotherapy in helping others uncover limiting beliefs and forgiveness issues. Additional topics include listening to the subconscious mind, pain management, and medical hypnosis.
This comprehensive course provides experiential training and hands-on demonstrations that lead to becoming certified as a Clinical Hypnotherapist in Integrative Hypnotherapy. It is also beneficial for alternative and mental health professionals as well as anyone in quest of personal growth.
For more information about the Cognitive Behavioral Hypnotherapy training or to register, go to: Our Website
Seating is limited. Call to reserve your space now!
Contact Marla Brucker at 858-587-0422
or email: Marla@SDHypnosisTraining.com with any questions.
---
A Special Thanks...
Our July Open House and Social Networking Evening was a great success filled with lots of fun, insight, and learning. I want to thank Tess Meissner for her inspiring presentation and wisdom on "Drumming Your Spirit Home - An Introduction to Hypno-Shamanism" as she led us on a spiritual journey, guiding us in connecting with our animal spirit.
Due to the great response Tess had with the attendees, she will be leading a series of workshops for us.
Join us on November 17th from 1:00 – 3:00PM, for a Spiritual Journey series
"Higher Self: Kick Your Wisdom up a Notch"
This will be the first offering in a new series with Tess Meissner. In this two-hour workshop you will connect with the most wise and resourceful part of you as a guide to support you on your life's journey. (More information will be on our website and in the September newsletter.)


Please enjoy some of the Open House pictures below and on
our website.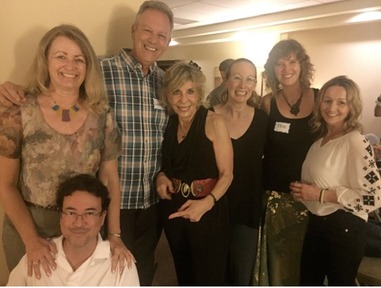 Instructors, friends, and former students having fun!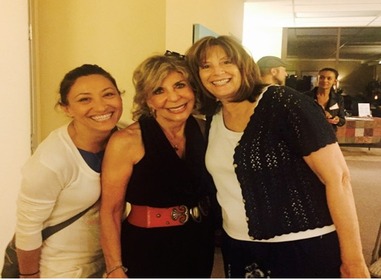 Former students and now great friends: Marla with Aysun & Barbara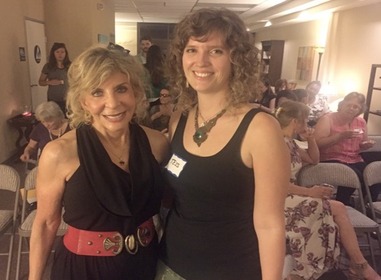 Our presenter: Tess Meissner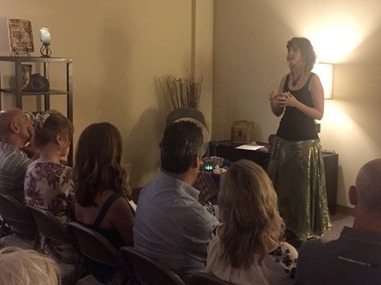 Tess, our presenter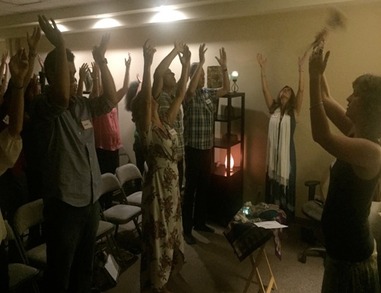 Tess leading the group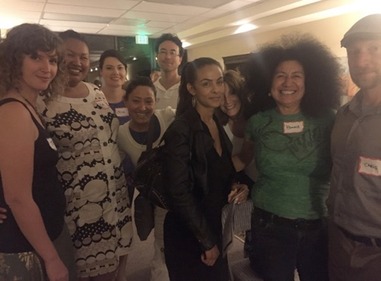 Attendees just having fun!
---
Office Space Available - Hourly / Part Time
If you are looking to build your private practice and want to develop a referral base with other like-minded clinicians, we have the space for you! We have a fully furnished room for hourly or part-time rental.
The inviting atmosphere of warmth and wellness at the Motivational Institute of Hypnotherapy is perfect for anyone who also wants to join a team of other healthcare professionals. The Institute is located in the Kearny Mesa area, is handicapped accessible, and has plenty of free parking.
For more information or to schedule a tour, contact Jennie Abito, Licensed Clinical Therapist, at
Jennie@CrystalCounselingCenter.com
---
Read Our Blog:
---
*All courses are taught Saturdays and Sundays from 9:00am - 6:00pm
Energy Psychology 2017: (Completed)
(Early registration by January 14, 2017)
January 21-22
Sat. and Sun 9:00am to 6:00pm
January 28-29
Sat. and Sun 9:00am to 6:00pm
February 11-12
Sat. and Sun 9:00am to 6:00pm
March 18-19 Sat. and Sun 9:00am to 6:00pm
March 25-26 Sat. and Sun 9:00am to 6:00pm
April 8-9 Sat. and Sun 9:00am to 6:00pm
Ericksonian Hypnosis 2017: (Completed)
(Early registration by May 13, 2017)
May 20-21
Sat. and Sun 9:00am to 6:00pm
(Early registration by July 29, 2017)
August 5-6
Sat. and Sun 9:00am to 6:00pm
August 12-13 Sat. and Sun 9:00am to 6:00pm
August 26-27 Sat. and Sun 9:00am to 6:00pm
Energy Psychology 2017:
(New cycle of classes)
(Early registration by October 7, 2017)
October 14-15
Sat. and Sun 9:00am to 6:00pm
October 21-22 Sat. and Sun 9:00am to 6:00pm
November 4-5 Sat. and Sun 9:00am to 6:00pm
---
*All courses are taught Saturdays and Sundays from 9:00am - 6:00pm
Therapeutic Neuro-Linguistic Programming 2018:
(Early registration by January 13, 2018)
January 20-21 Sat. and Sun. 9:00am to 6:00pm
January 27-28 Sat. and Sun. 9:00am to 6:00pm
February 10-11 Sat. and Sun. 9:00am to 6:00pm
(Early registration by March 17, 2018)
March 24-25 Sat. and Sun. 9:00am to 6:00pm
April 7-8 Sat. and Sun. 9:00am to 6:00pm
April 14-15 Sat. and Sun. 9:00am to 6:00pm
Cognitive Behavioral Hypnotherapy 2018:
(Early registration by May 12, 2018)
May 19-20 Sat. and Sun. 9:00am to 6:00pm
June 2-3 Sat. and Sun. 9:00am to 6:00pm
June 9-10 Sat. and Sun. 9:00am to 6:00pm
(Early registration by July 28, 2018)
August 4-5 Sat. and Sun. 9:00am to 6:00pm
August 11-12 Sat. and Sun. 9:00am to 6:00pm
August 25-26 Sat. and Sun. 9:00am to 6:00pm
Therapeutic Neuro-Linguistic Programming 2018:
(Early registration by October 6, 2018)
October 13-14 Sat. and Sun. 9:00am to 6:00pm
October 20-21 Sat. and Sun. 9:00am to 6:00pm
November 3-4 Sat. and Sun. 9:00am to 6:00pm
---
The best way to predict the future is to create it yourself!
____________________________________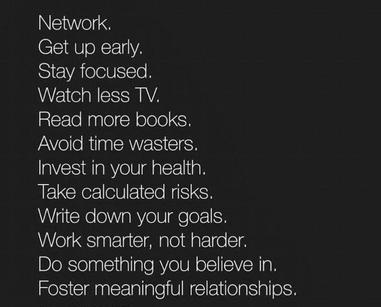 ---