MIOH Blog
Read this month's blog on
Setting Goals for the New Year link
---
MIOH Staff

Marla Brucker, DCH, R.HA
Executive Director
(858) 587-0422


Stephanie Langlais
Administrative Assistant
(858) 587-0422
stephanie@sdhypnosistraining.com
link
---
Inspirational Quotes
"Feeling gratitude and not expressing it is like wrapping a present and not giving it."
- William Arthur Ward
"Make happiness a habit."
- Anonymous
"You are the director of your one life's journey. Live it well."
- Anonymous
"The future belongs to those who believe in their dreams."
- Anonymous
"No act of kindness, no matter how small, is ever wasted."
-Aesop
---
Did You Know?
Food Remedies from the Kitchen to the Bath:
Milk: The alpha hydroxyl acid in milk exfoliates, while the protein nourishes and hydrates. Pour 1 quart into your bath and soak for at least 20 minutes to allow the milk to penetrate.
Olive Oil: Full of antioxidants and vitamin E, olive oil ranks among the best skin softener. Add a few tablespoons to your bath, plus a few drops of your favorite essential oil.
Oatmeal: This unique antioxidant is linked to healthy circulation and helps soothe inflamed skin. Place 2 cups of quick oats in a cheese cloth, close with a twist tie, wet the bundle, and squeeze to release the milky essence.
Green Tea: A detoxifier green tea is full of antioxidant polyphenols that help prevent skin cell damage. Add 10 bags to your bath.
Cinnamon: Research suggests the smell of antiseptic, antifungal cinnamon boost cognition and memory. Add 5 sticks or ¼ cup of ground cinnamon wrapped in a cheese cloth to bathwater, and inhale the vapors
Letter from the Executive Director

Hi Everyone,
Would you like to discover tools for permanent change that provide for a life of greater success, inner peace, happiness and joy?
Learn to dance with your energy by balancing your body's energy system for optimum health and vitality.
Your emotional health determines the quality of your life; it is the foundation of self-confidence and the springboard to achievement. Our next training in Energy Psychology helps to unlock the keys to aligning yourself with your passions. These powerful, lasting techniques uniquely combined with therapeutic and energy modalities, help remove negative blocks stored in the body; thereby enhancing one's personal well being.
Discover the link between the mind and body…Step into your personal power to manifest your dreams and help others do the same. Join us for our upcoming training in Energy Psychology beginning Sat. January 28th.
You have a unique role that only you can fulfill…. Sometimes it's a matter of simply remembering who you are. It's not about living a perfect life – It's about living a life that's perfect for you.
I wish you all a New Year filled with the abundance of wonderful things.
To Your Success,
Marla Brucker, DCH, R.HA
(858) 587-0422
---

Certified Clinical Hypnotherapy Graduates 2011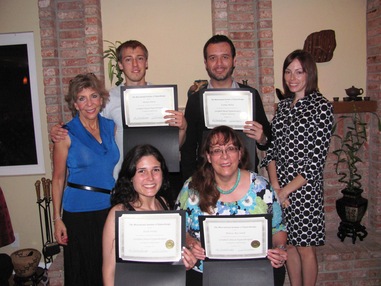 (Marla Brucker), Michael Hunter, Esteban Molina Gonzalez (Jessica Wilson)
Nicole Worley Juliet and Melissa McConnell
---
Upcoming Certification Trainings
Energy Psychology
Jan. 28 - 29, Feb. 4 - 5, and Feb. 18 - 19
Sat. and Sun. 9:00am – 6:00pm
33 hours of CEU credits available
Learn to balance your body's energy system for optimum health, joy and vitality. Energy Psychology techniques help eliminates anxiety, fears and blockages created by self sabotage, and negative thoughts patterns. These gentle, powerful and lasting techniques uniquely combined with hypnosis or utilized on their own help facilitate profound rapid and positive changes.
For detailed information about this certification training, visit:
http://sdhypnosistraining.com/certification-energy-therapies.html
Register by January 16th --

Receive a $100 discount
For more information contact Marla Brucker: (858) 587-0422 or
---
---
Testimonials
"I consider myself fortunate to have been trained by Dr. Marla Brucker and her team. I remember my very first class and I knew then and there that I was at the right place, learning hypnosis and energy therapies from one of the most insightful, experienced, and fun teachers out there." -A.T. (Energy Therapist)
If you have something to say about MIOH, please write us a review on Yelp!