In This Issue:
- Upcoming Certification Training

- Congrats Grads!
- Training Schedule
---
MIOH Staff



Marla Brucker, DCH, R.HA
Executive Director
---

Elaine Andreoli
Admin. Services Coordinator
Elaine@SDHypnosisTraining.com
---

Andrew Utley
Administrative Assistant
---
Best Time to Book Airline Tickets for the Lowest Prices: Fares are usually the lowest six weeks before your trip. Book any sooner or later and you'll end up paying more. Also, book flights on a Tuesday or Wednesday. Reason: special offers tend to be announced late in the day on Monday and matched by other airlines on Tuesday.
Business-Class Bargains: For big discounts on business-class airline tickets, sign up for free e-mails from FlightBliss.com. The emails give each week's top business and first-class deals from more than 30 US and international carriers. During the slowest times for business travel–summer, Thanksgiving, and Christmas–discounts can be as much as 80%.
A Tea That Lowers Blood Pressure: Reduce blood pressure with hibiscus which is commonly found in blended herbal teas. Recent findings show that after drinking eight ounces of hibiscus tea three times a day for six weeks, participants' systolic (top number) blood pressure dropped by an average of seven points - about as much as with standard hypertension drugs. People with higher blood pressure had an even larger drop. (Diane L. McKay, PhD, scientist in the Antioxidants Research Lab., Tufts University, Boston)
Ask for Discounts from Monthly Billers: Want to lower your cable TV, phone, utility, or even gym rates? Call the customer retention department and tell them you are considering switching to new provider to save money. Often, they'll offer a deal rather than lose a customer.
---
Inspirational Quotes
"Be who you are and say what you feel because those who mind don't matter, and those who matter don't mind." ~Dr. Seuss
"Act of kindness…You must give your time to your fellow man, even if it's a little thing, do something for others, something for which you get no pay but the privilege of doing it." ~Albert Schweitzer
"Some people come into our lives and quickly go. Some stay for a while and leave footprints on our heart and we are never the same."
"Cherish your visions and your dreams as they are the children of your soul, the blueprints of your ultimate achievements." ~Napoleon Hill
---
Testimonials
"I did a 5-hour presentation to 64 teachers on NLP for managing difficult behavior in the classroom. It was energizing and it went really well. I got the whole room laughing throughout the training.

I'm enhancing my presentation skills and ability to connect with large groups. NLP has really helped me to do that. I also taught them how to anchor, and how to use it in the classroom to promote positive behavior among children. A volunteer wanting to work on cultivating more inspiration looked like a different person after I had her anchor that in. Her eyes lit up and she kept thanking me and explaining how inspired she felt. It was such a good experience!

I am so glad I took your training and got taught by the best. Thank you Marla!" ~Randi, MFT
---
---
Letter from the Executive Director

Hi Everyone,

Keep your eyes on the horizon, not the road….

A wizard told a man to gather lots of pebbles one day. He then told him that tomorrow he will be both happy and sad. The man hesitated but complied; he didn't understand what that all meant and only gathered a handful. The next day the man put his hand in his pocket where he put the pebbles and pulled out gems. He was both happy and sad. He was happy that he had these beautiful gems, and sad that he didn't gather more than he did.

Take advantage of all opportunities that come your way.

Have you ever hesitated doing something you've always wanted to do, but have put yourself last on your list of priorities? What would your life be like to produce the specific results you desire on a consistent basis?

Join us for our next training in Therapeutic Neuro-Linguistic Programming; the study of excellence. NLP transforms lives with tools and techniques to consistently achieve success both personally and professionally. Increase your ability to achieve optimum results in your work, health, fitness, or in any other area of your life.

Do something today that your future self will thank you for…
Marla Brucker, DCH, R.HA
(858) 587-0422

---
Upcoming Certification Training: Therapeutic Neuro-Linguistic Programming
March 18-19, 25-26, and April 8 & 9, 2017
Saturdays and Sundays from 9:00am - 6:00pm
Do you want to effect change in your personal and professional life, or do you want change to affect you?
Receive a certificate in Therapeutic Neuro-Linguistic Programming (NLP).
Achieve greater lasting success both professionally and personally. Learn easy, simple techniques to expand your mind as you achieve more success, happiness, and prosperity. Develop greater communication skills to tap into your inner potential to behave consistently with your goals. Increase your effectiveness at work and within relationships as you learn to look at life's challenges as opportunities.
This course will provide you with powerful communication techniques and rapport skills designed to effectively influence positive change with integrity.
To find out more about the NLP training or to register online, go to our website: NLP Training.
To receive a $100 discount, register on or before March 11th

with your $250 deposit.
Due to popular demand, these certification trainings sell out quickly.

Seating is limited. Call to reserve your space now!
Contact Marla Brucker at 858-587-0422
or email: Marla@SDHypnosisTraining.com with any questions.
---
Our February Open House & Social Networking Evening was a great success! I want to thank Christopher Taylor
for his inspiring presentation. I hope you were

captivated with his knowledge, wisdom, and insight and that you walked away realizing that no matter what challenges you've had or still may have in your life, you have within you the ability to find the essence of inner strength to create your journey of magnificence.

Please enjoy some of the pictures below and on our website.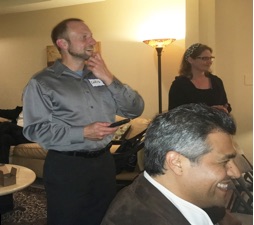 Presenter Christopher Taylor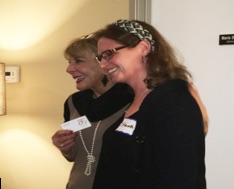 Marla and Shana During the Raffle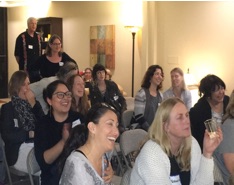 Attendees Having a Great Time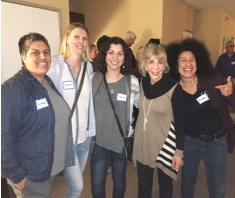 Past and Present Students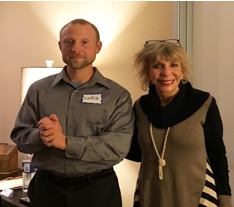 Christopher Taylor and Marla Brucker
---
Congrats Energy Psychology Graduates!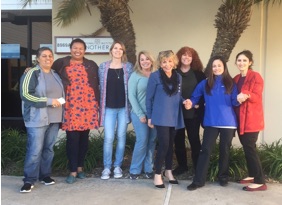 Mousqa Katawazi, Riva Jenkins, Daniela Rahimi, Julie Steve, Marla Brucker, Christa Oftedal, Saori Bezouska, and Farah Naini. (Not pictured: Lauren Blizzard and Martine Wilson.)
---
---
*All courses are taught Saturdays and Sundays from 9:00am - 6:00pm
Energy Psychology 2017: (Completed)
(Early registration by January 14, 2017)
January 21-22
Sat. and Sun 9:00am to 6:00pm
January 28-29
Sat. and Sun 9:00am to 6:00pm
February 11-12
Sat. and Sun 9:00am to 6:00pm
March 18-19 Sat. and Sun 9:00am to 6:00pm
March 25-26 Sat. and Sun 9:00am to 6:00pm
April 8-9 Sat. and Sun 9:00am to 6:00pm
Ericksonian Hypnosis 2017:
(Early registration by May 13, 2017)
May 20-21
Sat. and Sun 9:00am to 6:00pm
(Early registration by July 29, 2017)
August 5-6
Sat. and Sun 9:00am to 6:00pm
August 12-13 Sat. and Sun 9:00am to 6:00pm
August 26-27 Sat. and Sun 9:00am to 6:00pm
Energy Psychology 2017:
(New cycle of classes)
(Early registration by October 7, 2017)
October 14-15
Sat. and Sun 9:00am to 6:00pm
October 21-22 Sat. and Sun 9:00am to 6:00pm
November 4-5 Sat. and Sun 9:00am to 6:00pm
---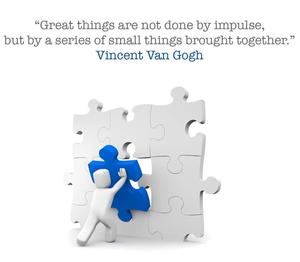 ---