---
Upcoming Certification Training: Therapeutic Neuro-Linguistic Programming
Three weekend training:
Saturdays and Sundays from 9AM – 6PM
January 20-21, 27-28, and
February 10 & 11, 2018
Success exists within; invest in yourself…
Learn cutting edge NLP techniques to help facilitate greatness in your own personal life and with others. NLP is one of the most respectful ways to address the potential of human excellence.
NLP helps you: Achieve greater lasting success both professionally and personally. Learn easy, simple techniques as you achieve more success, happiness, and prosperity. Develop greater communication skills to behave consistently with your goals. Increase your effectiveness at work and within relationships as you learn to look at life's challenges as opportunities.
This course is beneficial to anyone desiring mastery in their personal and/or professional journey.
This hands-on training will provide you with powerful communication techniques and rapport skills designed to effectively influence positive change with integrity.
To find out more about the NLP training or to register online, go to our website: NLP Training.
Receive a $100 discount by registering on or before January 13th with a $250 deposit. Seating is limited. Register Now!
Contact Marla Brucker at 858-587-0422
or email: Marla@SDHypnosisTraining.com with any questions.
"NLP may be the most powerful vehicle for change in existence" -Modern Psychology
---
A Special Thanks
Our December Open House & Social Networking Evening was a great success! I want to thank Andrew Utley for his inspiring and motivating presentation on "Traveling Through Time: Celebrating Success and Creating the Future," and how to apply the tools that will help guide and accelerate your 2018 success. Please enjoy some of the pictures below and more on our website. (Click here to visit the page...)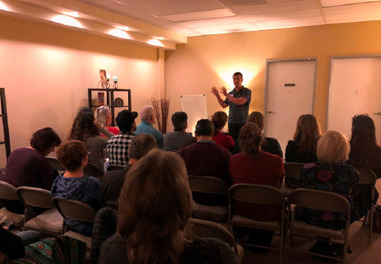 Andrew Utley's Presentation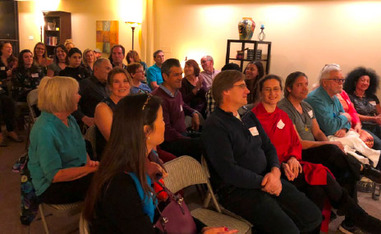 Attentive Attendees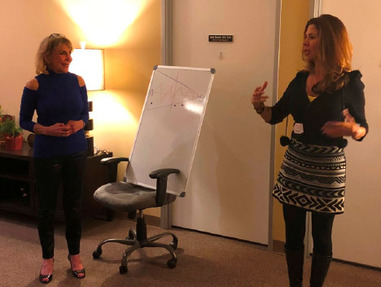 Marla and Nancy--Talk on Self-Empowerment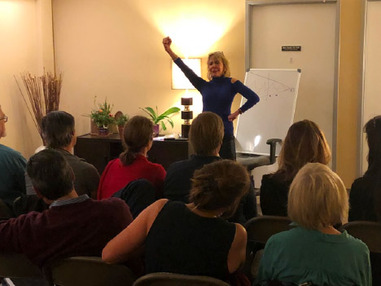 Make your move. Say YES!!!
New Friends
---
Office Space Available Full Time, Part Time, and Hourly
Attention health care practitioners!!! If you are looking to build your private practice and want to increase a referral base with other like-minded clinicians, we have the space for you.
This inviting atmosphere of warmth and wellness at the Motivational Institute of Hypnotherapy is perfect for anyone who also wants to join a team of other healthcare professionals. The common area is quite large which includes a kitchenette, storage room, bathroom, and a large waiting room that can also be converted into a space for workshops and training. The Institute is located in the Kearny Mesa area, is handicapped accessible, and has plenty of free parking.
For more information or to schedule a tour, contact Marla Brucker at (858) 587-0422.
---
Read Our Blog:
---
*All courses are taught Saturdays and Sundays from 9:00am - 6:00pm
Therapeutic Neuro-Linguistic Programming 2018:
(Early registration by January 13, 2018)
January 20-21 Sat. and Sun. 9:00am to 6:00pm
January 27-28 Sat. and Sun. 9:00am to 6:00pm
February 10-11 Sat. and Sun. 9:00am to 6:00pm
(Early registration by March 17, 2018)
March 24-25 Sat. and Sun. 9:00am to 6:00pm
April 7-8 Sat. and Sun. 9:00am to 6:00pm
April 14-15 Sat. and Sun. 9:00am to 6:00pm
Cognitive Behavioral Hypnotherapy 2018:
(Early registration by May 12, 2018)
May 19-20 Sat. and Sun. 9:00am to 6:00pm
June 2-3 Sat. and Sun. 9:00am to 6:00pm
June 9-10 Sat. and Sun. 9:00am to 6:00pm
(Early registration by July 28, 2018)
August 4-5 Sat. and Sun. 9:00am to 6:00pm
August 11-12 Sat. and Sun. 9:00am to 6:00pm
August 25-26 Sat. and Sun. 9:00am to 6:00pm
Therapeutic Neuro-Linguistic Programming 2018:
(Early registration by October 6, 2018)
October 13-14 Sat. and Sun. 9:00am to 6:00pm
October 20-21 Sat. and Sun. 9:00am to 6:00pm
November 3-4 Sat. and Sun. 9:00am to 6:00pm
---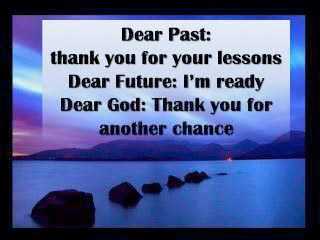 ---