---
MIOH Staff



Marla Brucker, DCH, R.HA
Executive Director
---

Elaine Andreoli
Admin. Services Coordinator
Elaine@SDHypnosisTraining.com
---

Andrew Utley
Administrative Assistant
---
Ways to Boost Your Brain Power:
1) Write in red ink - Researchers found that the color red "binds" into our memory better that other colors making it ideal for recalling, especially those things on your to-do list.
2) Close your eyes - Closing your eyes while recalling an event can help you remember details 23% more accurately. It is thought that once visual distractions are removed, your brain focuses more efficiently.
3) Get moving - Research shows that regular movement breaks increase focus and retention while strengthening cognition in students and adults of all ages.
Walnuts Seem to Triple Melatonin Levels in the Body: Melatonin is one of the body's sleep regulating hormones. So if you're tired of counting sheep at night, maybe a pre-bedtime snack of walnuts would help you get some shut-eye.

People are 50% More Likely to be Dishonest in the Afternoon Than in the Morning: Reason - our ability to exhibit self-control to avoid cheating or lying is reduced over the course of a day. Therefore, when you want the truth out of someone, make sure you ask them in the morning. (Research study: Harvard University - Center for Ethics)
---
Inspirational Quotes
"One looks back with appreciation to the brilliant teachers, but with gratitude to those who touched our human feelings. The curriculum is so much necessary raw material, but warmth is the vital element for the growing plant and for the soul of the child." ~Carl Jung
"We do not quit playing because we grow old, we grow old because we quit playing." ~Oliver Wendell Holmes
"Life is like photography—you use the negative to develop. No matter what adversity you face, be reassured: The Universe has us surrounded. Might as well surrender." ~Swami Beyondananda
"A pessimist is one who makes difficulties of his opportunities, and an optimist makes opportunities of his difficulties" ~Harry S. Truman
---
Testimonials
I have learned so much in this internship and have evolved into a hypnotherapist thanks to all the support of my colleagues and instructors at the Motivational Institute of Hypnotherapy.
One of the most important lessons I've learned is to trust and believe in myself. It took a lot of courage for me to push past my own insecurities and conquer my fears of not being good enough. For some reason I felt that I wasn't prepared enough to begin the internship, and thanks to the gentle shove and encouragement from Marla, I was able to overcome this fear and "Just do it." I've learned that I do have the skills and knowledge to help my clients who will be coming to see me.
I am truly thankful to Marla and the other amazing instructors for all their insights, knowledge, and guidance. What a wonderful example they have set! Like the ripple effect, I too will do my best to help as many people as possible with a loving open heart and hope one day to be a teacher to others. ~T. Ellis
---
---
Letter from the Executive Director

Hi Everyone,
Be grateful for what you have, and you'll end up having more…
With this being the time of year when we focus more on gratitude, I'd like to take the opportunity to tell you just how much you mean to me. Even though we may not have seen much of each other this year (if at all), know that you are still in my thoughts and in my heart.
The gifts of family and friends are reflecting mirrors of the riches in my life. The precious moments and special memories I hold dear to my heart can never be replaced and are only enhanced because of the light you shine back.
Whatever you have planned this Thanksgiving, I hope you are sharing your time with friends, family, or someone who gives meaning to your life.
Life gains meaning because you are walking side by side with me in this journey called life. I am so grateful for your light.
Happy Thanksgiving!
Marla Brucker, DCH, R.HA
(858) 587-0422

---
Upcoming Certification Training: Cognitive Behavioral Hypnosis
Saturdays and Sundays from 9AM – 6:00PM
January 16-17 • January 23-24 and February 6-7
Learn how to maximize the body/mind/spirit connection with hypnosis. This training will explore the principles and strategies of Cognitive Behavioral Hypnotherapy in helping others uncover limiting beliefs and forgiveness issues. Additional topics include listening to the subconscious mind, pain management, and medical hypnosis.
This comprehensive course provides experiential training and hands-on demonstrations that lead to becoming certified as a Clinical Hypnotherapist in Integrative Hypnotherapy. It is also beneficial for alternative and mental health professionals as well as anyone in quest of personal growth.
For more information about the Cognitive Behavioral Hypnotherapy training or to register, go to:
http://sdhypnosistraining.com/courses/cognitive-behavioral-hypnotherapy/
Receive a $100 discount by registering on or before January 11th with a $250 deposit.
Seating is limited. Call to reserve your space now!
Contact Information:
Marla Brucker: (858) 587-0422
Email: Marla@SDHypnosisTraining.com
---
Open House Social Networking
Free Demonstrations, Food, Networking, and Fun!
Tuesday, December 8, 2015
6:30PM – 9:00PM
PlayShop on Acknowledging your Successes of 2015
As the end of the year approaches, we're always looking ahead in hopes that the coming year will be better.
This fun-filled evening will help you identify and appreciate the great changes that you gleaned during the year as you move toward manifesting more of your desired goals. You will learn techniques for acknowledging this past year and how to transform adversities into triumphs and propel that into greater success for 2016.
The PlayShop will be presented to you by MIOH's very own motivational trainers, Marla Brucker and Andrew Utley.
Join us at our Open House for this inspirational evening complete with demonstrations, wine, appetizers, networking, raffle prizes (please bring something to raffle), and good company. There will be plenty of time to network with other professionals who are generally interested in the power of positive thinking. Bring plenty of business cards.
We're looking forward to seeing you. Be sure to invite friends!
When: Tuesday, December 8 from 6:30PM - 9:00PM
Where:
8969 Complex Drive, Suite A, San Diego, CA 92123
---
I'm excited to announce that as of October 20th, three of our graduates began their supervised internship and have been seeing clients for only $30 a session. These sessions are by appointment only on Wednesday evenings through January 20, 2016. (Part of the proceeds will be donated to Doctors Without Borders.)
If you would like to schedule a hypnosis session for only $30, please contact Meredith at (858) 848-7582.
Call now to book your session!!! These $30 sessions book up quickly. If you know anyone who would like to reap the benefits of hypnosis, please forward this information to them.
The Motivational Institute of Hypnotherapy is just one of two schools nationwide to offer a supervised clinical internship, which is a part of our 300-hour program certification program.
---
Fire Walking Event & Workshop!
Manifesting 2016 ~ The Best Year Yet!!
Save the date: Saturday January 30, 2016 (New date)
2:00PM - 7:00PM
TURN FEAR into POWER and create powerful moments to make you unstoppable! Fire walking is an activity for realizing that it is possible to do things that seem impossible. It's a metaphor for turning fear and limiting beliefs into power.
The fire walking experience creates an atmosphere of unity. It fuses the mind, body, and spirit together into one focus. You will experience powerful breakthroughs and renewed energy to move forward in life with an enhanced motivation and desire to achieve greater success.
In addition to this fire walk experience, we are providing you with a 3-hour workshop:
"Manifesting 2016 ~ The Best Year Yet !!!"
Details coming soon!
---
Congratulations Ericksonian Hypnosis Graduates!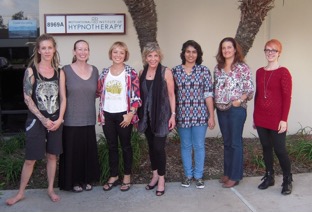 Jessica Kliger, Sarah Siegel, Leslie Juvin-Acker, Marla Brucker,
Preeti Sadhu, Demet Turksoy, and Holly Hart
---
Dr. Brian Weiss - Past Life Regression Seminar
We were privileged to attend
Brian Weiss' seminar "Miracles Happen."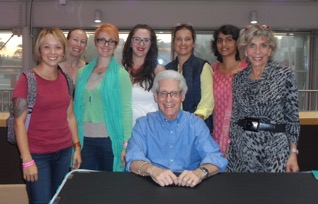 Dr. Brian Weiss with Leslie Juvin-Acker, Sarah Siegel, Holly Hart,
Rachel
Flores, Demet Turksoy, Preeti Sadhu, and Marla Brucker (
13 others from our group left before the picture was taken).
---
Our 2016 schedule is now online!
(
Note:
All dates are subject to change)
Cognitive Behavioral Hypnotherapy 2016:
(Early registration by January 11, 2016)
January 16-17 Saturday and Sunday
January 23-24 Saturday and Sunday
February 6-7 Saturday and Sunday
(Early registration by March 14, 2016)
March 19-20 Saturday and Sunday
April 2-3 Saturday and Sunday
April 9-10 Saturday and Sunday
Therapeutic Neuro-Linguistic Programming 2015:
(Early registration by May 16, 2016)
May 21-22 Saturday and Sunday
June 4-5 Saturday and Sunday
June 11-12 Saturday and Sunday
(Early registration by July 31, 2016)
August 6-7 Saturday and Sunday
August 13-14 Saturday and Sunday
August 27-28 Saturday and Sunday
Cognitive Behavioral Hypnotherapy 2016: (New cycle of classes)
(Early registration by October 9, 2016)
October 15-16 Saturday and Sunday
October 22-23 Saturday and Sunday
November 5-6 Saturday and Sunday
---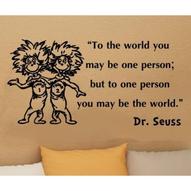 ---