THIS MONTH:
* Ericksonian Hypnosis
* Spoonbending Workshop
* NLP Graduates
* Facebook Updates
MIOH Blog
Turning Procrastination Into Performance!
- Read More
---
---
MIOH Staff



Marla Brucker, DCH, R.HA
Executive Director
(858) 587-0422
---
---

---
---

Andrew Utley
Administrative Assistant
(619) 540-5265
---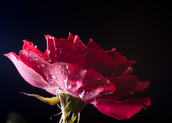 Inspirational Quotes
"A goal is a dream with a timeline."
- Napoleon Hill
"It's a funny thing about life, if you refuse to accept anything but the best, you'll very often get it."
- Somerset Maugham
"You can alter your life by altering your mind. Change your thoughts and you can change your world."
- Normal Vincent Peale
"Acknowledging the good that you already have in your life is the foundation for all abundance."
- Eckhart Tolle
---
---
Testimonials
"I am a former student of the Motivational Institute of Hypnotherapy, and have taken courses in Hypnotherapy, NLP, and Energy Psychology--all were fantastic!
Marla is an EXCEPTIONAL teacher. Her communication style is energetic and informative. She uses real-life examples to educate and illustrate, and she makes learning these modalities very enjoyable.
I recommend Marla and her courses to anyone who wants to learn life-changing skills or how to practice professionally." - Elaine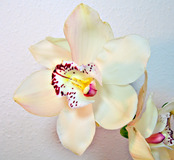 ---
---
Did You Know?
Laughing - As Good for You as Exercising
Laughing lowers stress hormones and cholesterol...enhances the immune system... and releases hormones and other chemicals that make you feel good. Watching 20 minutes of a funny video can provide these benefits. (American Association of Therapeutic Humor)
Cutting Onions without the Tears
When you are cutting onions, just light a candle and set it close to you. The flame eats the 'gas', the onion gives off when you cut, and you won't have the tears. To get rid of the onion smell on your hands after cutting simply rub your hands on a stainless steel item (such as a spoon or fork) while washing and the smell will disappear.
---
---
Letter from the Executive Director

Hi Everyone,
How old would you be if you didn't know how old you are?
This provocative question was posed by baseball Leroy "Satchel" Paige, whose career highlights spanned five decades. It was his way of saying that age isn't always a factor in success or failure, and he certainly was proof of that.
If you ever find yourself thinking, regardless of your age, I am too old for that – to go back to school, change careers, learn to dance, or fall in love… here are some examples that show you that you're never too old:
Actor George Burns won his first Oscar at age 80.

Golda Meir was 71 when she first became Prime Minister of Israel.

Painter Grandma Moses didn't start painting until she was 80 years old. She completed more than 1500 paintings after that, 25% of those when she was past 100.

Michelangelo was 66 when he finished painting the Last Judgment fresco in the Sistine Chapel.

Physician and humanitarian Albert Schweitzer was still performing operations in his African hospital at the age of 89.

S.I. Hayakawa retired as president of San Francisco State University at 70; then earned a seat in the U.S. Senate.
What would you like to do that you have always wanted, but haven't done yet?
Whether you're a therapist, an educator, in sales or marketing, a parent or someone in a relationship our next training in Ericksonian Hypnosis may be the answer to achieving your personal and perhaps professional goals.
As Satchel Paige so brilliantly put it; "Age is an issue of mind over matter. If you don't mind, it doesn't matter."
To Your Success,
Marla Brucker, DCH, R.HA
(858) 587-0422

---

Upcoming Certification Trainings
CEUs available for MFTs, LCSWs, RNs and others.
Class Schedule – 3 weekends
May 19 – 20
June 2 – 3
June 9 – 10
Saturdays and Sundays from 9:00am - 6:00pm
Course Goals and Objectives:
Learn powerful hypnosis techniques and applications designed to install new positive beliefs, behaviors and decision-making strategies, as well as enrich one's own life.

Learn how to communicate directly with the subconscious mind through the use of inductions, deepening techniques, guided imagery and therapeutic metaphors.

Become skilled at uncovering limiting beliefs and forgiveness issues to create permanent improvement in the lives of others.
This comprehensive course in Ericksonian Hypnosis provides hands-on demonstrations and experiential training that leads to becoming certified as a Clinical Hypnotherapist in Integrative Hypnotherapy. It's also beneficial for alternative and mental health professionals, as well as anyone in quest of personal self-growth.
To find out more about the Ericksonian training, or to register for the class,
Click here
Receive a $100 discount if you register on or before May 9th! SEATING IS LIMITED. Due to popular demand these certifications trainings Sell Out quickly. Call to reserve your space now or register online.
---
---
---
---
"Mind Over Metal"
Spoonbending Workshop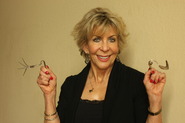 May 24, 2012
6:30p.m. – 9:00 p.m.
Marina Village
Room E12
1936 Quivira Way
San Diego, CA 92109
Unleash your hidden powers through psychokinesis. In this incredible hands-on workshop, you'll learn how to access more of your creativity, intuition and healing abilities as you begin connecting with the 90% of the unused portion of your mind's power. You'll achieve a sense of empowerment and come away with bent spoons and forks to remind you every day of just how powerful you really are!
Cost (includes all materials):
$49** (Receive 20% discount)
$55 at the door
**If you purchase 2 or more tickets at the same time via our website, use coupon code 2+PK2012 to receive a 20% discount!
Workshop description and registration available online:
http://sdhypnosistraining.com/spoonbending-workshop/
Contact Dr. Marla Brucker: (858) 587 – 0422
Email: Marla@SDHypnosisTraining.com
---
---
Congratulations to Our Graduates!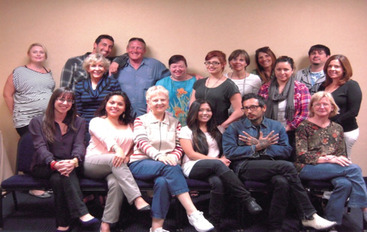 Neuro Linguistic Programming graduates April 2012.
Top Row: Louise Pattie, Marla Brucker, Adam Fogelman, Felice Izzarelli, Susan Gerhart, Brittany Theisma, Nina Sights, Ayelet Tsadeek, Rosie Diaz, Joel Lombera, Priscilla Ossa Front Row: Nicole Cadden, Jennifer Castaneda, Margaret Momparler, Divine Yengo, Rafael Reyes, Barbara Michalec
---
---
Facebook Updates!
For those of you who don't know, MIOH has a Facebook Fan Page! Stay up-to-date on all the upcoming events, inspirational pictures and connect with other like-minded people! If you're not already a fan, be sure to follow this link - Facebook Fan Page
Also, have you ever been interested in the power of hypnosis but don't want to dive right in? Well then keep reading because MIOH has recently launched a Facebook group for those of you who may have questions, interest in or a passion for hypnosis! This is a forum to share ideas, ask questions and meet other people who you may want to meet up with and practice the power of hypnotic communication. Check Out the San Diego Hypnosis Facebook Group!
Please share this with others!