Hi Everyone,
At our last Open House in December we kicked off our "Gift of Hope" campaign raising money for those affected by the typhoon in the Philippines. Our guest speaker, Dr. Edward Terrell, who had four medical clinics that were destroyed, impacted us as he spoke about his work there and the devastation. It is with great sadness to tell you that Dr. Terrell passed away on Christmas Day.
Please take a moment to read the following letter that was written by Martha de Forest. She had introduced me to him so we could team together for our fundraising efforts.
It was a month ago today that Dr. Edward Terrell died. It was a shock and I still find it hard to believe.
Dr. Terrell began his career as a Navy medic. He was among the wounded servicemen injured during the 1983 Beirut barracks bombing. He lost a portion of his intestines and other internal organs, yet continued to serve our country. After recovering from his injuries, he went on to earn a medical degree and did his residency in the Philippines where he was stationed.
Dr. Ed, as he liked to be called, served on large military ships for over 25 years, treating thousands of young sailors who relied on his knowledge and expertise for medical assistance. While in the US he would freelance in the ER at several hospitals; yet his love for the Philippines had him focus his work mainly in Tacloban where he set up several medical clinics. He also volunteered with Doctors Without Borders in that area.
When Marla told me about the Open House on December 10th to kick off "The Gift of Hope" campaign to benefit the Philippines, I called Dr. Ed knowing that he would be a great speaker and he graciously and eagerly accepted the invitation. He impacted us all by his recount of the devastation that took place. He had lost 17 of his doctors and 76 nurses. There were about 2,000 patients from his clinics that perished as well. All of his clinics were ruined and needed to be rebuilt. I had no idea of the extent of his personal losses.
Dr. Ed had also been in contact with American doctors asking them to save unused surgical equipment that would have otherwise been discarded so that he could ship the equipment to the Philippines. He was in constant contact with Doctors Without Borders, helping in every way possible.
At the end of the fundraiser kickoff, he insisted on taking a photo with Marla and me and wanted to send it to the Philippines showing the work that was taking place in San Diego on their behalf. Both Marla and I had been in communication with Dr. Ed to continue with the fundraising efforts to help him rebuild his clinics and continue his work.
On Christmas Day Dr. Edward Terrell passed away as the result of a heart attack. I wonder if, after all he had gone through, he might have died of a broken heart.
Before I knew Dr. Ed, I'd never donated to Doctors Without Borders, but they will always be part of my giving going forward. It will be my way of thanking doctors willing to drop everything they are doing to go to a crisis zone to minimize human suffering. It will be my way of thanking one particular veteran for his decades of service to our soldiers. I'll always be grateful for the brief friendship I had with Dr. Edward Terrell.
~ Martha de Forest (Graduate and Intern)
Dr. Terrell leaves us with heart-felt memories and thoughts of such a beautiful man. If anyone was as touched as we were and wants to contribute to Dr. Terrell's effort, please donate to the "Gift of Hope" campaign to help support those in need. http://givalike.org/b/MIOH.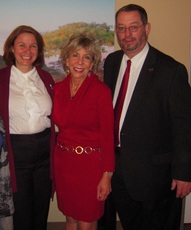 To Your Success,
Marla Brucker, DCH, R.HA
(858) 587-0422