Dear Readers,

The ISSA Show is now less than 6 week away. If you are attending, start planning now.
Your cost to enter the tradeshow can be free if you register as a guest of Multi-Clean. This is only available for a limited time, so get your free pass while it is still available, see below for the registration link.
In addition, this newsletter features some of the new products that we will be featuring at ISSA.
Thanks for reading

Mike Tarvin
MC Youtube MC on Twitter MC on LinkedIn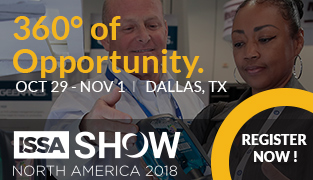 Register as our guest to get your free pass ($100 value).
Trade Show Dates and Hours
Tuesday, October 30, 2018 10AM - 5PM
Wednesday, October 31, 2018 10AM - 5PM
Thursday, November 1, 2018, 10AM - 2PM
Multi-Clean Booth #6217