Dear Readers,

July is National Carpet Cleaning Month, so this month's newsletter is dedicated to cleaning and maintaining carpets.
An effective maintenance program for carpets means the carpeting always looks good. Often, this is not the case. Carpets get cleaned only when soiled traffic lanes become highly visible or unsightly stains become noticeable. WHY? Because extracting carpets is a big job that takes a lot of labor and requires extended downtime.
Your customer is screaming for a better, faster, and easier way to clean carpets. ENCAPSULATION Cleaning is the answer! In our newest Technical Bulletin we discuss how Encapsulation cleaning is so much different than bonnet cleaning. Understanding encapsulation and combining the products with the right equipment can produce amazing results.
Teaming encapsulation chemistry with orbital agitation is proving to produce results beyond what has been achieved before. All while taking less labor and placing carpet back into service faster.

Thanks for reading

Mike Tarvin
MC Youtube MC on Twitter MC on LinkedIn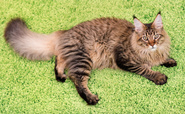 Urine or other biological odors trapped in carpet can be a problem in homes with pets, but also schools, nursing homes and other facilities. Getting rid of these odors requires specialized methods and products.