---
*Scroll down for news about a sale and a giveaway.*
---
Coming October 6th!


Ghost of a Potion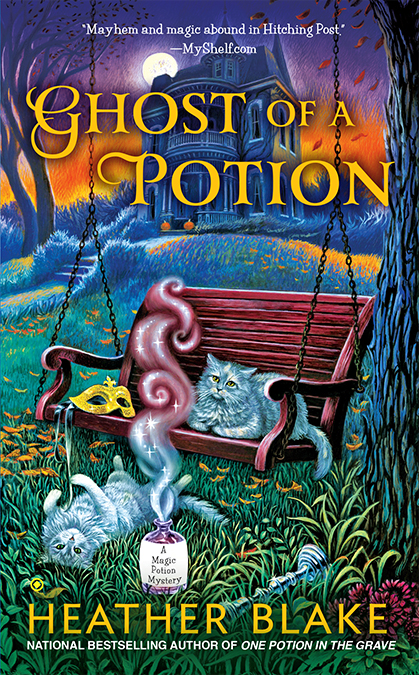 It's Halloween in Hitching Post, Alabama, and potion shop owner Carly Bell Hartwell has an especially spooky customer to handle...
With all the ghosts that haunt her at this time of year, Carly doesn't exactly rush to celebrate Halloween. Even a costume ball organized by her boyfriend Dylan
'
s mother, Patricia Davis Jackson, holds little allure. But to please Dylan, who wants peace between the two women, Carly reluctantly agrees to go.
Gossip around town is that architect Haywood Dodd plans to make a big announcement at the party. But before he can address the crowd, he
'
s found dead with Patricia standing over him, holding the murder weapon. Anxious to clear Patricia
'
s name and perhaps broker a truce with her, Carly would love to use her snooping skills to find the real killer. Only she has bigger problems to deal with--ghosts are flocking to her for help, including a very persistent Haywood Dodd...


---
---
Early Kudos for Ghost of a Potion
"Blake weaves a magical tale of intrigue and mystery. Throw in ghosts who are asking for her help, and Carly is more than determined to solve this case to make them all go away. With interesting twists, this book is one readers will not want to put down.

"

-

Jennifer Wilson,

4 1/2 stars, Top Pick, RT Book Reviews
"

I really adore Heather Blake

'

s writing. I do not think I know how to express how much. Looking back, I am so glad my curiosity drove me to pick up one of her books and dive into the world of magic and mayhem. The writing, so original, so fresh and exciting. From the very moment I open a Heather Blake book, I find it almost impossible to put it down. The characters have become so beloved, so familiar as they continue to grow on me as the series continues.

"

-Lily Pond Reads, 5 Hearts


---
Sale
Haven
'
t started the Magic Potion series yet? Here
'
s a great e-book sale on the first in the series to get you started. Offer ends soon, so hurry!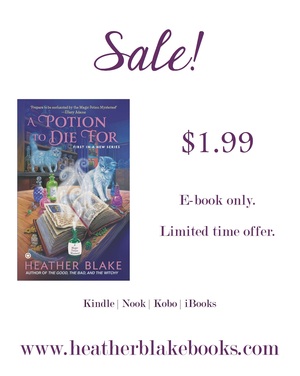 A Potion to Die For
A Magic Potion Mystery #1
November 2013 (NAL/Penguin/Obsidian)
*Nominated for RT Reviewer
'
s Choice Award for Amateur Sleuth
As the owner of the Little Shop of Potions, a magic potion shop specializing in love potions, Carly Bell Hartwell finds her product more in demand than ever. A local soothsayer has predicted that a couple in town will soon divorce--and now it seems every married person in Hitching Post, Alabama, wants a little extra matrimonial magic to make sure they stay hitched.
But when Carly finds a dead man in her shop, clutching one of her potion bottles, she goes from most popular potion person to public enemy number one. In no time the murder investigation becomes a witch hunt--literally! Now Carly is going to need to brew up some serious sleuthing skills to clear her name and find the real killer--before the whole town becomes convinced her potions really are to die for!
"
Blake does it again with the debut of another great paranormal mystery series. As witch Carly tries to prove herself innocent of murder, a shocking turn of events makes readers tear through the pages to find out the real story.
This reviewer can
'
t wait to read more from this talented author.
"
- 4 1/2 stars, RT Magazine
---
A note from Heather
If you
'
ve been following me for a while, you probably already know how attached I became to the character of Michael Healy in
The Good, the Bad, and the Witchy
(the 3rd book in the Wishcraft series published in April 2013). In
Ghost of a Potion
, Carly
'
s ability to feel/see ghosts is a direct tribute to his character and the way he needed help to cross over. It
'
s my little way of keeping him around just a little while longer...
As always, I
'
m extremely thankful for all my readers who continually support me and my books. I
'
ve created a private Facebook group to keep in touch with all of you, and if you
'
re interested in joining, click here:
Bookaholics
and then click
"
join
"
Would love to see you there.
---
A note from Carly Bell Hartwell
Halloween in Hitching Post, Alabama
By Carly Bell Hartwell, healing witch, empath, and potion shop owner
Halloween in Hitching Post means one thing to an unusual witch like me.
No, it
'
s not the treats. Though, dang, I do love those peanut butter pumpkins. Heaven on earth. Heaven. On. Earth.
And no, it
'
s not the tricks. Though, blessed be, I
'
ve played a few good pranks in my day. Usually at the expense of my aunts, the Odd Ducks. Like the time I stole all Aunt Eulalie
'
s pristine white unmentionables and dyed them black. Or the time I broke into Aunt Hazel
'
s inn, the Crazy Loon, and used shaving cream to write a message on her bathroom mirror. The next time the mirror steamed up, she saw
"
I
'
m watching you
"
and it
'
s documented that people from miles away heard her screams. Then there was the trick on Aunt Marjie that involved a firecracker and a pumpkin that didn
'
t end so well. She still hasn
'
t forgiven me for that, and I reckon she
'
s still plotting her revenge.
For me, Halloween is none of those things.
A take cover, hunker down, batten-the-hatches warning. Because it
'
s just two days before All Soul
'
s Day. The day that we
'
re supposed to honor the dead. However, thanks to my empath abilities (feeling the emotions and pains of others), it
'
s a day I can feel all the lost souls roaming around town. That
'
s right. Ghosts. In all their glory.
Usually, I close the Little Shop of Potions that day, stay home with my guard kitties Roly and Poly, keep the curtains closed, and try my best to keep the ghosties at bay. But every once in a while...one or two sneak on in and wreak havoc in my life.
The only way is to get rid of them is to figure out why they
'
re lost and help them cross over. And let me tell you, there aren
'
t enough peanut butter pumpkins in the world to deal with that kind of thing... But feel free to send them along. Just in case.
Originally posted on The Qwillery
---
Giveaway!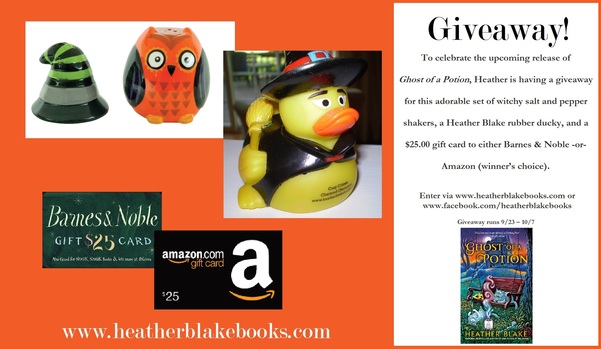 To celebrate the upcoming release of Ghost of a Potion, I'm having a giveaway for this adorable witchy salt and pepper shaker set, a Heather Blake rubber ducky, and a $25.00 gift card to either Barnes & Noble or Amazon (winner's choice).
Giveaway runs 9/23 - 10/7
Winner will be notified via email on 10/8
Enter via my website or on Facebook.
---
Upcoming Releases
As Heather Blake:
Ghost of a Potion, Book 3 in the Magic Potion mysteries, October 2015
Gone with the Witch, Book 6 in the Wishcraft mysteries, May 2016
As Heather Webber:
Trouble By the Yard
, Book 8 in the Nina Quinn mystery series, TBD
---
Follow me:
On Facebook:
On Twitter:
---
You've received this newsletter because you're a family member who had no other choice; you've, at some point in the past, signed up through my websites, blog, Facebook or one of my book signings or appearances; signed up through the Deadly Divas or the Cozy Chicks or have been added via a giveaway; or someone has played a trick on you. If you've lost interest (I won't judge) and want to unsubscribe, just follow the how-to instructions at the bottom of the newsletter.