Dear Friends and Family of TGI Justice,

We hope this finds you well and happy during this winter holiday season!
As we come to the end of 2013, we are reflecting on a full and challenging year of change, beauty, and loss. As many of you already know, we lost our beloved long-time Leadership Team member and Program Coordinator
Melenie Eleneke
. Melenie died suddenly, yet peacefully in her home on September 9th. Melenie was the editor of our Stiletto Prison Newsletter and a coordinator of our Sistah's DoinIT For Ourselves member empowerment retreats. More importantly, Melenie was a dear sister, friend, auntie, and champion to so many. To learn more about what Melenie meant to us, please visit our
dedicated website page
. We miss her so much, and are determined to carry on the work she was so passionate about.
TGIJP's Move to Oakland
In February, we moved to our new office in Oakland housed at AIDS Project East Bay (APEB)'s TRACY House.
Our new address is 1201 46th Avenue, Oakland, CA 94601.

We are looking forward to expanding our support of transgender people inside prisons in 2014.
Our goal is to increase prison visits and bring on a team of legal interns who will help us better address the needs of incarcerated transgender people in California and beyond. We will keep you posted as we implement these changes.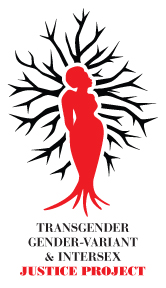 In other exciting news, our Program Director, Janetta Johnson has been invited to speak on a panel at The World Professional Association for Transgender Health (WPATH) in Bangkok, Thailand in February. Please help us send Janetta to WPATH so that we can be sure that the voices and needs of incarcerated transgender people are included and prioritized in the larger conversation about transgender health! Donate here and please type 'Janetta' in the dedication box. THANK YOU!
You can also use the above link to donate to general operating expenses for TGIJP. We are so appreciative of the support you give us and know we cannot do this important work without the love and support of our family and community.

We are looking forward to continuing our work in 2014, and wishing you and yours a wonderful and safe holiday season! And remember to be safe and stay strong!
Much love,
The TGI Justice Family
Become a sustaining donor to TGIJP!