Merry Christmas to you all! It's the holiday season once again and the hustle and bustle, traffic, and growing to-do lists have been added to our already full calendars. In "In the Practice," we are taking time-out to give you some tips to strengthen your relationships this holiday season. Check out "Families First Mediation News" to hear about our recent contest and latest iMediate release. Finally, even with the holidays, celebrities are heading to divorce and one couple might get engaged. Check it out in "Celebrity News." Make sure to visit our redesigned website for new information.

IN THE PRACTICE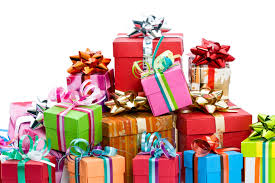 At Families First, we don't want you to just survive the holidays (although that would be grand) but to really enjoy it. During this season, we are inundated with good tidings, romance, and family bonding. If you are busy like me, that may be hard to enjoy the season. How can we incorporate the joy of Christmas into our daily lives? Here are a few tips to strengthen your relationships this season.

1. Don't Overbook! When we overbook ourselves we have
little time for others or ourselves. We are exhausted, bent out of shape, and little things annoy us. We can easily do this during the holidays with the extra shopping, parties, and end of the year projects. Instead, plan some down time so you can enjoy your family and significant other.

2. Let go of perfect! I promise you, it's not going to be perfect. A gift may get lost in the mail. Someone might miss your evening dinner. And your child might catch a cold. It's okay. Remind yourself of all the things you for which you have to be thankful.

3. Create intimacy! We spend so much time planning for the actual holiday, we forget to be intimate with our loved one during the season. Watch a holiday movie together. Go window-shopping. Drive around the neighborhood to look at the Christmas lights. Creating these memories lasts a lifetime and invests in your relationship for years to come. How's that for a Christmas gift?

4. Be on the same page! There is so much to disagree on during the holidays. The amount to spend on gifts. Where you will spend the holidays. What conversations to avoid with certain family members. Take time to set boundaries and agree to these issues before the big day. In doing so, choose a safe place to have these discussions.

5. Rest! Try and find time to rest. You worked hard all year. Spend the last bit of your year celebrating with those you love to start the New Year strong!
---
IN THE NEWS
Custody pet mediation is on the rise. The number of U.S. households that own a pet has increased from 56% in 1988 to 68% in 2013. The amount spent pets has also risen from $17 billion in 1994 to $53.33 billion in 2012. At the same time the divorce rate has remained relatively high, from 40-50%. The last time the American Academy of Matrimonial Lawyers (AAML) surveyed its members on the topic, a quarter said pet-custody cases had increased noticeably.

Divorced Because She had Too Many Cats. A man in southern Israel divorced his wife after being unable to put up with the 550 pet cats that she adopted. The cats "blocked the entrance to the bathroom, swarmed the kitchen, and stalked him at mealtime by stealing his food off the table."
---
FAMILIES FIRST MEDIATION NEWS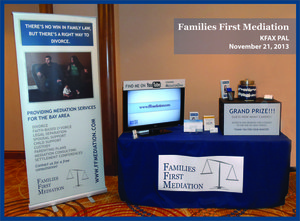 KFAX Pastor's Appreciation Luncheon: In November, we participated in the KFAX Pastor's Appreciation Luncheon to appreciate the pastors' reaching our community. Those that visited our booth had an opportunity to guess the number of candies in the jar, a grand total of 5,176 candies. The winner won a $100 Visa card. The other entries qualified for additional prizes. And a special thanks to MaMu Prints for their awesome work. You can learn more about their work by emailing Mark Farhat, at Mark@mamuprints.com.

iMediate release: This week, we released our next video in our series, Impact of Employee Stock Options on Child Support In California. You can watch the video here.
Families First Mediation provides mediation services for a wide range of family law issues, including divorce, custody and support issues. We empower couples to resolve their dispute in a confidential space, efficiently and affordably. To schedule a free consultation, pleace call us at (408) 357-2486. You can access our prior month's newsletters at www.ffmediation.com/resources.
CELEBRITY WATCH

Khloe filed for divorce this past Friday citing irreconcilable differences. Prior to the filing, a video was released of Lamar Odom rapping about his drug use and his mistresses to Khloe Kardashian.

Ashton Kutcher and Mila Kunis may be getting engaged this holiday season now that Kutcher's divorce to Demi Moore is finalized.

Actor Christian Slator, 44, and his girlfriend of three years, Brittany Lopez, tied the knot during an impromptu ceremony Monday at the courthouse in Coral Gables, Fla.


Australian media mogul Rupert Murdoch and his third wife, Wendi Deng Murdoch, have reached a divorce settlement. It was reported that Deng will keep the couple's $44 million apartment in New York because it is the home to their two daughters, Chloe, 10, and Grace, 11.

Orlando Bloom and Miranda Kerr have divorced. Orlando reported at the Hobbit premier that the separation is going great. Kerr has moved on to other relationships.

Josh Brolin and Diane Lane have finalized their divorce after nine years of marriage.

Idina Menzel and Taye Diggs have jointly decided to separate at this time. Their primary focus and concern is for their son.

Jack White and Karen Elson's divorce was finalized by a Nashville judge.