Doesn't September feel like the New Year? If we are not careful, this month can surprise us! Don't let yourself be taken by the crazy! Check out some of our tips in "In the Practice." Have you attended your share of summer weddings? Did you know there's scientific proof that wedding jitters can signal an impending divorce? Read more in "In the News." The end of summer hasn't slowed down our celebs. See for yourself in "Celebrity Watch." Link to my website

IN THE PRACTICE

September is a new season for many of us. Kids are back in school. The weather is cooling off. Work schedules are more demanding - all adding pressures to what already felt like enough. We can barely remember our summer vacations and long-summer days!

For those of us who have had significant life changes (whether starting a new school, single-parenting, empty nest, divorce or retirement), this season can be even more challenging. You have added structural challenges to a season fraught with new tasks.

Before you are bombarded, we thought of some useful tips as you try to keep up with the crazy in your life!

1. Write it Down - Some of us love making lists and checking tasks off our list. For others, list making is a frustrating endeavor. When it comes to organizing, a to-do list can be your friend. Just make sure you make a manageable list. Don't put down more than you can do and keep it in one place – otherwise multiple lists will just take more time than create time.

2. Do it Now - If you can do it now, do it (instead of putting it on your list). This will save you time, and brainpower. Otherwise, you'll be thinking about doing something more than the time it take to actually do it!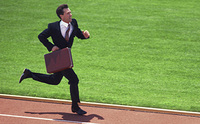 3. Do One Thing at a Time - Try to stay focused on what you can do now, and what is the most important. This helps with perspective and keeping you from feeling overwhelmed. With your handy to-do list, you can organize your tasks by manageable deadlines.

4. Learn to Say No - We are by no means solitary creatures. We have demands from our family, friends and work. Yet you are responsible for your own time and schedule. By saying NO, you can stay in control.
And lastly, always SIMPLIFY your life. At Families First, we encourage you to choose options that reduce stress and encourage harmony. If you or someone you know is facing a family law issue, we'd be happy to see if we can help you in a stress-free way.

Happy Planning!
---
IN THE NEWS


Do you have the wedding jitters? A new study in the Journal of Family Psychology suggests jitters could indicate an impending divorce! Of those preparing to tie the knot, most have premarital doubts. In fact, 47% of the men and 38% of the women reported wedding nerves. Of these weak-kneed folk, about 12 percent of the couples divorced in their first four years of marriage. For husbands, wedding jitters did not seem to predict divorce, but for wives, they should have listened to their instinct!

If you are looking at saying "I DO," anytime soon, address your premarital doubts before you walk down that aisle!
---
FAMILIY FIRST MEDIATION NEWS

Dina's bi-monthly column in SCV-CAMFT News titled, Broken Love made addressed how marriage and family therapists can help their clients navigate the divorce process. You can also access this month's column at our website.
---
ABOUT US

Families First Mediation is a boutique mediation firm providing mediation services for a wide range of family law issues, including divorce, custody, and support issues, with offices both in San Jose and Los Angeles, California. At Families First, we empower couples to resolve their divorce dispute, by guiding them through the divorce process in a confidential space, efficiently and affordably, without the couple ever having to go to court. If you or someone you know has a family law dispute, don't rush to court. Give us a call first. There's a better way to resolve your problem and it's never too late!
 To schedule a free consultation, please call Dina at (408) 357-3486 or (323) 786-3486. You can access our prior months' newsletters at www.ffmediation.com/resources.
Tips and Tidbits

With Dina

---

CELEBRITY WATCH


Usher's ex-wife Tameka Raymond lost an arduous custody battle last week when a judge ruled in Usher's favor, awarding him primary custody of their two young boys.

After nine years of marriage, Amy Poehler (SNL) and Will Arnett (Arrested Development) have separated "amicably."

Chad Ochocino is working hard to get back on Evelyn Lozada's good side, as the former NFL wide receiver is reportedly refusing to sign Evelyn's divorce papers. Evelyn filed for divorce from Chad within one week of being allegedly head-butted by the NFL wideout.

George Lopez is still hashing out divorce settlement details with his ex-wife -- a year after a judge finalized their divorce.

Kris Humphries' parents' divorce has been finalized ...Not to be out down by Kris Humphries' short marriage, this divorce took a mere 26 days. Debra Humphries filed for divorce from Kris' dad, William, on August 3rd. Kris and Kim Kardashian, however, are still at it.

When Ryan Reynolds, 35, and Blake Lively, 25, said "I do" over the weekend in Mount Pleasant, South Carolina.


---

TOOLS OF THE TRADE

For successful parenting schedules and a strong start to the new school year, here are some pointers!

Keep your goals for 2012-2013 realistic. Overreaching ideals can be more stressful and discouraging when unmet. Instead, keep your resolutions manageable. And when you meet them, then challenge yourself with the next step.

Energy, not time, results in high performance. In other words, your performance is based on how much energy you invest in the time you have, not the amount of time you allocate!

Change the conversation. Focus on what you want, and not on what you don't want. This is especially helpful when discussing the simple things with your loved ones.