Dear Friends,
A New Year is upon us, and the possibilities are endless! At Thomas House, we love the New Year because it symbolizes a fresh start for our families.
Now is the time when many of us embark on our New Year goals. Today we are looking at Thomas House's friends and supporters, who would like to improve their fitness.
Are you trying to lose weight?
Do you want to beat your PR?
Would you like to be able to walk 3 miles without stopping?
Are you trying to improve your overall health and stress levels?
If you answered yes to any of these questions, congrats! You are making the first step towards a healthier, happier you.
There are less than 3 months until the race! Check out some of these sites that give free schedules to get you ready to accomplish your goals.
Our last suggestion is to join a running club. Our favorite is the California Cruisers/642 which you can check out
HERE
. We also love A Snail's Pace Running Club which you can check out
HERE
.
If there is a running club (or clubs) you love, let us know by responding to this email. If you leave the contact information, we would be happy to post information on that club. Thank you!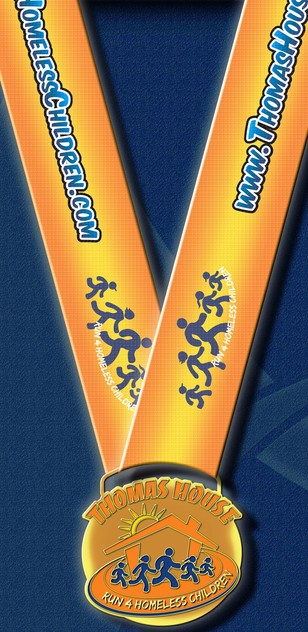 This medal could be yours!
This medal of success means that you finished either the 2K, 5K, or 10K
AND
It means that you have helped a homeless family with children in their quest for employment and their own housing.
At the end of race day March 28, 2015, you can sleep well because of your physical feat in completing the race and because of the knowledge that you helped provide a warm, safe bed for a formerly homeless family.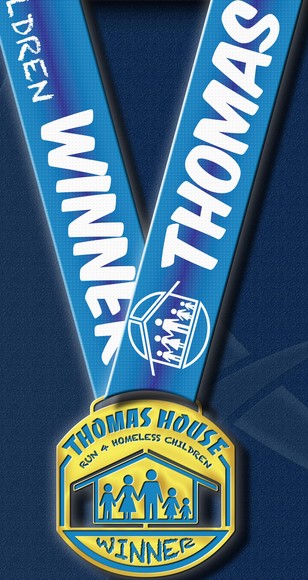 New for 2015!
Our age group winners are FIVE deep. The age groups are ages 0-8, 9-10, 11-12, 13-14 and 5 year increments from 15-99.
This year they will receive this awesome WINNER medal and WINNER ribbon! The little house in the center actually spins. So cool!
We hope that you sign up and start training for the Run 4 Homeless Children today!
In 2014, Thomas house helped 90 families on their path to self-sufficiency. Your registration will help a homeless parent find full time employment to support their family in their own home.
Thomas House graduate Mike won third in his age group in 2013!