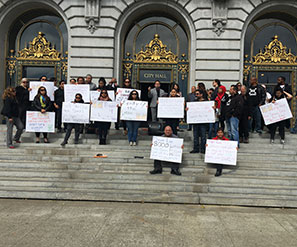 FY17-18 Budget Increase for Latinos
The San Francisco Latino Parity and Equity Coalition, a group of 25 community-based organizations, has worked for a year to document the most-pressing needs facing Latino families in five neighborhoods. The findings from the work of the Coalition were included in a detailed report and submitted to the Mayor's Office of Housing and Community Development.

On June 1, Mayor Lee released his proposed budget for FY2017-18, which included an extra $700,000 to address the specific needs of the Latino community. A community win!

MEDA in Front-Page Chronicle Story
Yes, that was MEDA's Director of Community Real Estate Karoleen Feng featured in a front-page story in the April 3 edition of the San Francisco Chronicle.

The story was called, "Mission District Nonprofit Developers Build Housing Hope," with MEDA highlighted for its four new construction projects.
That includes 1990 Folsom (photo, with Feng joined by Senior Project Manager Feliciano Vera), which will have 143 affordable units, 20 percent for formerly homeless families; there will also be over 10,000 square feet of commercial arts space.

Client Success Story:

Bank Tellers Program's Alexis Hill,

In Her Own Words
"Upon attending MEDA's free Bank Tellers program, we learned about the bank field and different vocabulary, regulations and customer service techniques to help us excel in the banking industry. In addition, we learned skills that impacted our interviewing process, polished our resumes and constructed our cover letters. We were also pushed to attend job fairs, which is where I was offered my first job, for Bank of America.

"As we continued to apply to the banks using the knowledge we acquired from the program, I also received interviews and job offers from Chase and Wells Fargo. I decided to accept the offer from Bank of America because they were the closest to my house and also willing to work with my schedule.

"I believe this program contributed greatly to my newfound success because I was able to apply what I learned in the program to my new position. Ultimately, this program gave me the head start toward what I am studying in school and now I am on the path to reaching my goal of becoming a financial advisor at one of the top five banks nationwide."

Alexis Hill, April 2017 Bank Tellers Graduate