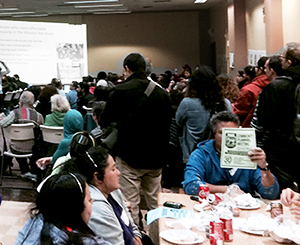 Community Meets on Prop A Funds
While trendy Valencia Street nightspots were filled on Jan. 20 with San Franciscans blowing off steam after work, a community that has been gaining steam for years met at Centro del Pueblo to engage in a historic discussion.

Thirteen community-based organizations – now under the name United to Save the Mission – collectively decided a plan of action with over a hundred residents. The topic: affordable housing.

Specifically how to prioritize the money from Prop A, the affordable-housing bond passed last November with 75 percent of the vote.

The community decided the priority for the $50 million earmarked to the Mission should be to buy land and build now.

EITC Press Conference at MEDA
"Use it or lose it!"

Those powerful words from State Board of Equalization Member Fiona Ma, at a press conference held at MEDA on Feb. 16, underscored the importance of getting out the message about the state's new Earned Income Tax Credit (EITC). Ma fears that if not enough Californians take advantage of this credit, politicians in Sacramento may not fund the program again.

Joining Ma at the event were: MEDA Executive Director Luis Grandos; State Treasurer John Chiang; John Kessler from State Controller Betty Yee's office; San Francisco Treasurer Jose Cisneros; and United Way COO Eric McDonnell.

Picture gallery. >>

Client Success Story: Palacios Family Averts Eviction and Buys Home
The Palacios family of San Francisco was elated when they signed on the dotted line of their mortgage papers. These Guatemalan immigrants now own a piece of the American Dream. The dream could have easily become a nightmare. The home the family had been renting for years was converted to ownership and they had to qualify for a mortgage to purchase -- or leave. After months of working on barriers to homeownership, the family was able to secure a first mortgage loan and close on their home, with the help of Housing Opportunities Program Manager Juan Diego Castro (photo, second right) and his team. This condo purchase could have occurred only via the coordinated efforts of the Mayor's Office of Housing and Community Development and Umpqua Bank, which was willing to provide the loan despite the pending eviction litigation.

News story. >>
---