2070 Bryant Awarded to MEDA
The Mayor's Office of Housing and Community Development has awarded MEDA and Tenderloin Neighborhood Development Center (TNDC) the right to co-develop and manage a site for 100 percent affordable housing at 2070 Bryant Street, between 18th and 19th streets, in the Mission.

The proposed development, designed by architectural firm Mithun, calls for 130 units of affordable apartment rentals for families. Forty-two percent of units will be two bedrooms or larger, with 30 percent of apartments set aside for formerly homeless families.

This is a major win for the Mission, as MEDA worked with neighborhood partners to fight for this land as a community benefit from a market-rate developer. The property at 2070 Bryant will keep and define our place in the neighborhood for arts/cultural groups and families.

MEDA and Creative "Placekeeping"
In a novel approach to creative "placekeeping," MEDA has structured a plan for Dance Mission to build a permanent venue in the Mission. Innumerable female artists, artists of color and culturally specific ensembles have called Dance Mission their home over the last four decades.

The plan calls for redevelopment of 1980 Mission Street, which is owned by United Food and Commercial Workers (UFCW) Local 648, whose Board recently gave its consent to enter into a Memorandum of Understanding for redevelopment. Dance Mission and UFCW will continue to work together with MEDA to refine cost estimates, plus structure an operational plan and financing strategy to execute the project.

MEDA's innovative strategy for enhancing existing creative "placekeeping" is just another means to our work to rebuild the Mission community.

Client Success Story: Alvarado Family Fights Eviction and Secures Housing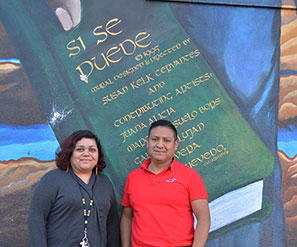 Julio Alvarado (photo, right) chose San Francisco's Mission as his adopted home when he emigrated from Guatemala back in 2000. He felt immediately welcomed in his new community, so much so that when he married and had two kids, the family planted roots in the neighborhood. That comforting sense of place became tenuous when Alvarado and his spouse, Jennifer, got an official-looking letter from their landlord.

"I wasn't fully clear on what the letter meant, so I came to talk to Mission Promise Neighborhood Family Support Manager Celina Ramos-Castro (photo, left). I knew it wasn't good," explains Alvarado. MEDA is the lead agency of the Mission Promise Neighborhood.

Alvarado was connected with MEDA Housing Opportunities Coach Diana Mayorga, who worked with the family to explore below-market-rate (BMR) housing lotteries via the Mayor's Office of Housing and Community Development.

The first thing to do was to put in for a Certificate of Preference based on the Alvarado family's impending Ellis Act eviction. This paperwork greatly increases the odds of winning the housing lottery.

Then it was time to apply for lotteries. Mayorga helped the Alvarados fill out the paperwork and send in submissions to eight BMR apartment rental developments in San Francisco. Due to the Certificate of Preference, they won the lottery at four properties, choosing 200 Buchanan as their new home. The Alvarados will be paying just $1,264 for a two-bedroom apartment, located very close to the Mission.

"The stress is gone. I felt so supported by the community -- and we never felt alone," concludes Alvarado.