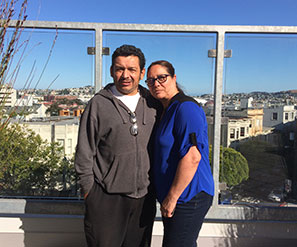 Jorge Flores can still see his hair on fire as he bangs on the next-door neighbor's door at 22nd and Mission streets. His family's third-floor apartment of 19 years was in flames, along with the rest of the historic building. It seemed like an apocalypse. After his recovery at a hospital, the family moved into a shelter before being placed by a City agency in a temporary apartment.



MEDA Community Planning Manager Dario Romero helped the Flores family fill out numerous BMR applications. He also joined Lucia on interviews, assisted in the submission of documents and helped appeal an initial denial to obtain a BMR. Most importantly, Romero assisted the family in getting a certificate of preference for being displaced by the fire — the same certificate of preference offered to those who experience a no-fault eviction. That paperwork translated to the Flores family winning four lotteries; they chose Venn at 1844 Market St. near Octavia, a new building near the Mission and loaded with amenities, including a rooftop terrace with panoramic views (photo). The first time one of their sons dropped by after the couple's move-in date, he uttered one word over and over. That word was, "Wow."

The Flores family exhibits the resiliency of MEDA's clients, and we wish the family all the best in their safe, secure and quality housing. Read more client stories >>.