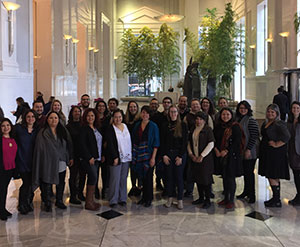 "FinancialWorks" Partnership
UnidosUS, which has a mission "to build a stronger America by creating opportunities for Latinos," is cognizant of the need to generate collective impact around financial coaching for the community. That's why the renowned organization in 2017 collaborated with The Financial Clinic on a groundbreaking initiative called "FinancialWorks."

It's also why they tapped MEDA to provide culturally specific, financial-coaching training and technical assistance based on our nonprofit's mission "to strengthen low- and moderate-income Latino families by promoting economic equity and social justice through asset building and community development."

Through a kickoff event in Chicago earlier this year (photo), the group discussed goals to: join the field trend of integrating financial security; build more financial security for customers; accelerate mission outcomes; increase staff financial security; and enhance advocacy.

RAD Rededication at 255 Woodside
On May 10, City and County officials joined MEDA and partner BRIDGE Housing to celebrate the renewal of 255 Woodside, a 109-unit affordable rental community for seniors and residents with disabilities. This is one of five properties of the Mission-Castro Cluster that we have rehabbed.

This property was revitalized under the Rental Assistance Demonstration (RAD) program, which was created by the U.S. Department of Housing and Urban Development and championed by the San Francisco Mayor's Office of Housing and Community Development. The program leverages private capital to preserve and improve public housing and address a multibillion-dollar nationwide backlog of deferred maintenance.

Stated Mayor Mark Farrell, who took part in the ribbon-cutting ceremony (photo), "The restoration and rehabilitation of 255 Woodside is another key step in our City's commitment to preserving affordable-housing options."

Community Spotlight: Martinez Family Featured in Wall Street Journal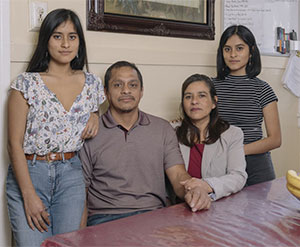 Shining a national spotlight on MEDA's innovative affordable-housing strategies, the Wall Street Journal focused on 19 Precita. That property was purchased by MEDA via the City of San Francisco's Small Sites program, which MEDA helped shape.

The Martinez family (photo) was vulnerable to no-fault eviction by speculators, but they can now stay in their home.

MEDA is making sure our families have affordable and quality housing (Result 2 of Strategic Plan).

Read the Wall Street Journal article. >>