Improving Our Air
Through Education, Collaboration and Policy
New: Air Quality Curriculum

for Schools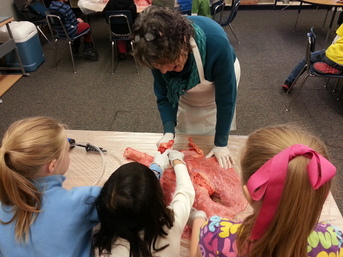 Breathe Utah has expanded the Air Aware program to include in-depth air quality curricul
um, presented recently to K-6 ELP classes at Hawthorne Elementary over the course of two weeks. In each one hour segment, classes broke into groups to visit different stations with hands-on learning opportunities about pollution sources, differences between various combustion sources, respiration physiology and more. This program was mad
e possible by the generous donations of Breathe Utah supporters and student volunteer support from the University of Utah, with additional support from the ELP committee.
Utah's First Wood Smoke Campaign
Breathe Utah is beginning a pilot program designed to help sole-source households convert from wood burning (and other solid fuels) for heat, to natural gas. UCAIR (Utah Clean Air Partnership) is underwriting the cost of a limited number of conversions through a new grant to Breathe Utah, entitled WSAP: Wood Smoke Abatement Program.
Sole-source homes are those that rely completely upon solid fuel burning for heat. These households are registered with Utah Division of Air Quality on the Sole Source Registry to gain exemption from 'no burn' regulations. There are currently no rebates or incentives available to assist residents in converting from wood-burning stoves and fireplaces to natural gas. WSAP intends to help strengthen the case for creating local financial assistance for all residents to replace their dirty stoves and fireplaces with clean burning ones. The funding provided for WSAP is intended to cover all costs of conversion for five households in Salt Lake County. Breathe Utah is working with DAQ and Salt Lake County services to find these households and will complete the conversions as soon as possible.
Air Monitoring Around the Valley this Inversion Season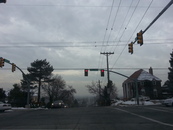 Ever wonder just how different the air is on the East bench, West bench, or out in South Valley from the main Salt Lake City/Davis County monitor at Hawthorne Elementary? Three of our favorite things, science, air quality, and education all come together in one collaborative project. Breathe Utah and DAQ have teamed up to install temporary PM 2.5 pollution monitors at Air Aware Schools. These monitors are in different locations around the Salt Lake Valley to track air quality throughout the inversion period of January through February 2014. Morningside Elementary, Glendale Middle School, Matheson Junior High, Fort Heriman Middle School and GSBS Architects downtown are hosting the monitors. We will bring you the information gathered from these monitors at varying elevations and locations around the valley in our spring newsletter.
Breathe Utah
Board Members
Board President: Deborah Burney-Sigman, Ph.D.
Treasurer: Kathy Van Dame
Secretary: Linda Johnson
Outreach Coordinator: Tanya Vickers, M.S.
Jim Crowder, Enterprise Rental
Cameron Cova, JD
Michelle Hofmann, MD, MPH
Jared Campbell, L3 Communications
Staff Members
Erin Mendenhall, Executive Director
Lisa Wadge, Education Outreach Coordinator
Christine Burns, Office Manager
Jessie Du Pre, Events Assistant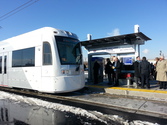 Follow Our Air in the Legislative Session
And Congratulations to the new Councilwoman Erin Mendenhall!
(Image Below from Swearing In Ceremony)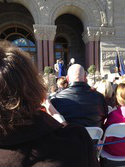 Worst Air Photo Contest 2014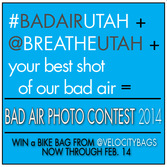 Want to win a Velo City messenger bag?
Send us your best bad-air image from above the inversion, inside the pollution, night, day, anything that shows the worst of our bad air!
From now until February 14th you can enter our contest by posting your bad air photos to Instagram or Facebook but you must hashtag #badairutah and tag @breatheutah to qualify.
If you'd like, go ahead and tag your local representative and any other politicians you want to see your post!
Share your contest photos with us by tagging @breatheutah and #badairutah

Respirators?
Several people have been asking about the use of respirators with our poor air quality. Coming this February, our very own Jared Campbell will have a review of these devices from a runner's perspective! Also, watch for this year's Running Up For Air 2014 event. Jared will be working to surpass his previous feats by attempting 15 ascents of Grandeur Peak! To learn more about it or make a pledge, check out his blog here.