---
HOLIDAY BAZAAR & WREATH SALE HUGE SUCCESS!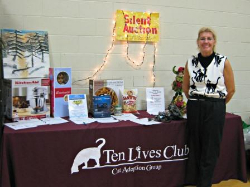 The Annual Ten Lives Club Holiday Bazaar & Wreath Sale was a HUGE SUCCESS! We raised $6,000 thanks to the hard work & dedication of our TLC volunteers & all of the TLC supporters who attended our biggest fundraiser of the year!
Volunteer Joanne Daniels (above right) organized our Silent Auction & we had a great selection of items to bid on. We had even had a donation of Sabres tickets for auction!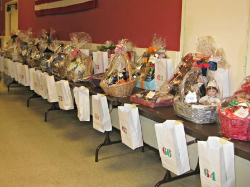 As always, Sue Dean organized our Theme Basket raffle & put together over 100 beautiful baskets for the event! We couldn''t sell the tickets fast enough!
Volunteers Evie Cosmo & Heather Earl (below right) worked the fundraising table & promoted Ten Lives Club for us!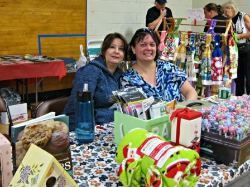 Julie Frey headed up the Wreath Sales! We ordered 125 wreaths & all but 30 of them sold prior to the Holiday Bazaar! Julie decorated them all with beautiful bows & the display looked amazing!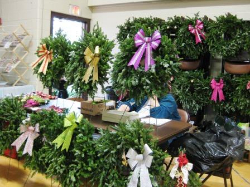 As always, Ken Lyons (below right) was helping out wherever he was needed & sold popcorn sporting reindeer antlers hat to spread some Holiday cheer! Ken also helped with set-up/break-down, transport. He works tirelessly all year long to help our kitties & support our cause, as do all of our dedicated volunteers!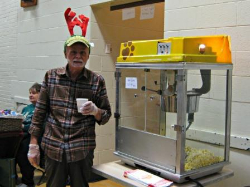 MANY THANKS TO YOU ALL of the volunteers who made this event a success & all of the TLC supporters who attended for helping us raise much needed money to care for & house the 300+ kitties in our program!
---
KRIS KRINGLE WITH THE KITTIES! THIS SATURDAY 12/13!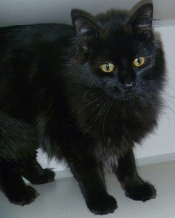 Spread some Holiday Cheer with the TLC kitties
THIS SATURDAY, 12/13, from 1 - 4pm
at the Ten Lives Club shelter 3741 Lake Shore Rd. in Blasdell!
PLEASE Bring an item from our
Wish List
to put under our Christmas Tree for our kitties! Then take an ornament featuring a TLC kitty to hang on yours!
Mingle & play with our kitties - you just might find a kitty to take home with you! (Upper right) Black Magic is an affectionate long-haired black 3 year old male. (Lower left) Martin is a black & white short-hair male who is about four years old & loves to play! He gets along well with other cats. Martin''s adoption is being waived by a supporter & he will get a 6 month supply of Urinary Tract dry cat food!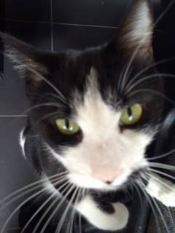 SHOP our TLC store for gifts, enjoy refreshments & enter to
WIN one of 15 beautiful THEME BASKETS that make great gifts! Tickets are $1 each or 6 for $5! Buy online!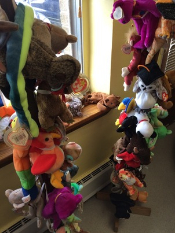 Some much needed items are: cat toys, cat beds, BLEACH, Laundry Detergent, LITTER, PAPER TOWELS, Heavy duty Garbage Bags, Canned cat & kitten food or Clorox Wipes!
WE HOPE YOU''LL STOP IN ON SATURDAY & HELP OUR HOMELESS KITTIES HAVE A HAPPY HOLIDAY!
---
TLC KITTIES LOVE KURANDA CAT BEDS!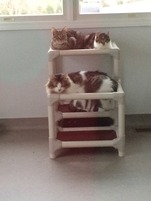 We received a
Kuranda
6-bed cat tower from a long time supporter this week as a Christmas gift for the kitties! THANK YOU! They love to nap & climb on
Kuranda cat beds & towers
!
Kuranda
towers also save space in our shelter & reduce the spread of germs since they are so easy to clean. Consider donating Ten Lives Club a
Kuranda
cat bed or tower this Holiday Season for the kitties! They are offering a special flat shipping rate of only $5 & they are shipped right to our door!
---
SHOP TO GIVE TO TEN LIVES CLUB!

Give gifts that Give Back this Holiday Season! Every purchase you make through
Goodshop
is a donation to Ten Lives Club!
Shop Target, Apple, Amazon, Petco & 1,000s more &
Goodshop
donates a percentage to Ten Lives Club with every purchase!
Shop & give to TLC on the go with the
Goodshop
app for iPhone & iPad too!
http://www.goodshop.com
---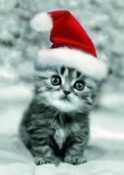 Shop for the Holidays through Amazon Smile & benefit Ten Lives Club at the same time! Your purchase from the TLC Amazon Smile link sends Ten Lives Club a donation for our kitties!

Do your Holiday shopping on Amazon Smile so our Ten Lives Club kitties can have a HAPPY HOLIDAY SEASON~!
---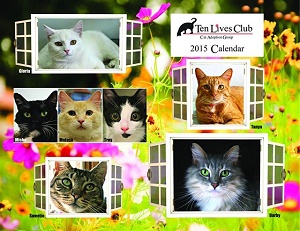 We ordered 300
Ten Lives Club 2015 calendars
- with pictures of TLC kitties on every page - & we only have 100 left! Our calendars make great gift items & benefit our TLC kitties too!
TLC 2015 Calendars
are only $10 each (Includes S&H).
---
Ten Lives Club Wines
make great gifts for the Holidays!
$6.00 of each bottle purchased benefits Ten Lives Club kitties!
Every label has a picture of a Ten Lives Club Kitty who has found their forever home!
Give a unique gift that will also give back to our kitties!
---
UPCOMING TEN LIVES CLUB EVENTS!

---
KRIS KRINGLE WITH THE CATS!

Saturday, December 13
1pm to 4pm
Ten Lives Club Shelter
3741 Lake Shore Road
Blasdell, NY 14219
"HOPE FOR THE HOLIDAYS" ADOPTION EVENT!
Saturday, December 20
12pm to 4pm
Ten Lives Club Shelter
3741 Lake Shore Road
Blasdell, NY 14219
---


All of our
satellite adoption locations
have Christmas trees where you can "adopt" a kitty (ornament) in exchange for an item on our
"Wish List"
to leave under the tree!
Some examples are below: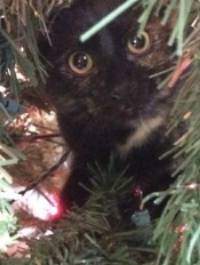 Purina Kitten Chow (Yellow Bag)

Clumping Cat Litter (any)

Paper Towels

Purina One Cat food (any)

Bleach

Clorox/Lysol wipes

Copy Paper

Garbage Bags

Pre-Paid Gift Cards
Robin
(far right) is a 7 month old "Torti" who was rescued as a stray & had a urinary tract infection when she came to us. She has fully recovered but should stay on a special diet for maintenance.
Robin''s adoption fee is only $50 & she will come with a 6 month supply of her food!
---