---
MOTHER'S DAY ADOPTION SPECIAL - 1 DAY ONLY!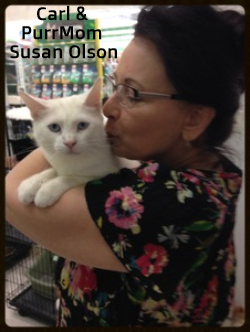 This Saturday ONLY (5/9/15)
at the Ten Lives Club shelter adoption fees have been reduced to
only $25 for any adult kitty
(Reg. $75) AND each adoption will also
include a 6 month supply of dry Purina cat food!
We are also offering the same
1-DAY ONLY $25 Mother's Day adoption special
at any of our participating
store locations
. However,
in-store adopters would need to pick up their 6 month supply of cat food from the Ten Lives Club shelter
during our regular business hours.
Give Mom the gift of
PURRY, FURRY LOVE
with a sweet kitty of her choice this
Mother's Day!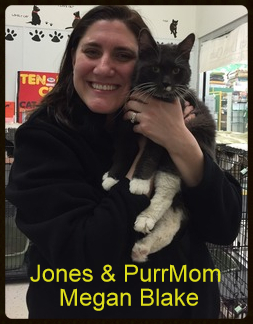 Bring Mom to the Ten Lives Club shelter
at 3741 Lake Shore Road in Blasdell
THIS SATURDAY
May 8th between 11am & 4pm
to find the
PURRFECT
gift for Mom this Mother's Day!
Any of our sweet TLC kitties will bring her many years of love & companionship!
---
DON'T MISS BEER FOR CATS!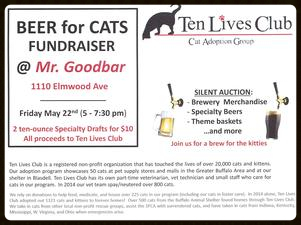 Come out to
Mr. Goodbar
on
Friday, May 22 from 5 to 7:30pm
for an evening of FUN!
Enjoy the TLC Drink Special: Buy 2 ten oz. specialty drafts for $10! Great selection of Specialty Beers! BID on Beer themed Silent Auction items such as Brewery Merchandise & Specialty Beers. Enter to WIN in the Beer Themed Basket Raffle & 50/50 Raffle! Come out for an evening of FUN all to benefit the kitties!
DONATIONS NEEDED
for Theme Baskets & Silent Auction such as gift cards, specialty beers, unique wines, beer mugs, shot glasses, bar accessories or other beer themed merchandise. We are also looking for a card table or 2 to use during the event.

TO DONATE ITEMS
,
please call Allison at 716-646-5577, ext. 101!
VOLUNTEERS needed any time between 4pm to 8pm!
We need extra help with set up/break down, raffle ticket sales, etc.
TO VOLUNTEER at Beer for Cats, call Allison at 716-646-5577, ext. 101 TODAY!


THANK YOU!

---
THIS SWEET BOY IS TOM!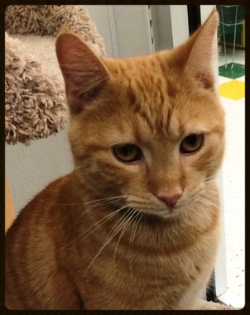 Tom is a beautiful 2 year old boy who gets along with everyone & loves to play with all the other kitties too! He is a super friendly guy who just wants to find his purrson to give him a forever home. Tom was found as a stray and surrendered to TLC. He was probably abandoned by his previous owner because he had already been neutered.
Poor Tom was scared and wounded. He had some nasty scrapes on his nose & paws that were painful and bloody when he first came to us.
Ten Lives Club shelter Vet, Dr. Fisk & her Vet assistants gently cleaned and treated his wounds. With the medical care and attention he received in our infirmary, it wasn't long before he was ready to find his new home!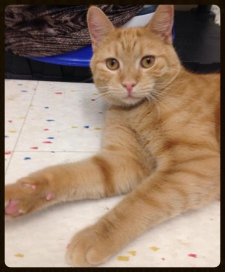 Tom just wants the love and kindness he's never known during his two short years of life. We can only image what he must've endured before coming to us. Even so, he's extremely affectionate and a sweet-natured boy who has so much love to give!
Visit Tom at the
Ten Lives Club Pet Supplies "Plus"
adoption location at 9630 Transit Rd. in East Amherst. He will steal your heart!
STANDARD TLC ADOPTION FEES:

ADULT CATS (8 Months to 5 Years Old) - $75
ADULT CATS (Over 5 Years Old) - $50
FIV+ CATS - $25 or Other Donation
KITTENS (Under 8 Months Old) - $125
ADOPTION FEE INCLUDES:

Spay/Neuter
Physical exam by our Shelter Vet (30-day health guarantee)
Feline Leukemia & FIV testing
Flea & worm treatment
Ear Mite treatment
First distemper & rabies vaccinations (kittens if old enough)

---
PETSMART CHARITIES NATIONAL ADOPTION WEEKEND!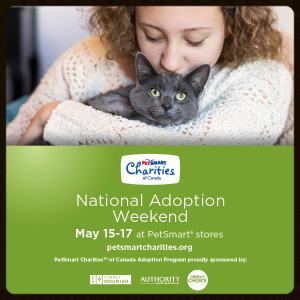 Beginning Friday, May 15 through Sunday, May 17, The Ten Lives Club PetSmart adoption location at 1734 Walden Ave. in Cheektowaga will be participating in PetSmart Charities national adoption event.
We will showcase some very special cats available for adoption at reduced fees with the hope they will all find a forever home over the weekend!
Stop by and find a new furry friend! Help TLC find our kitties the forever homes they've been waiting for. Food for purchase & Ten Lives Club merchandise also available for purchase. Proceeds to benefit Ten Lives Club.
VOLUNTEERS NEEDED
to help set up on Friday evening anytime after 5pm. Extra help during the event on
Saturday & Sunday between 10am & 5pm is also desperately needed!
TLC Volunteers who have taken the Adoption Workshop or are already qualified to approve adoptions would be
extremely helpful!
If you can
VOLUNTEER
on
either day
- Saturday or Sunday
ANY TIME between 10AM & 5PM on either day
, please
CALL ALLISON at 716-646-5577, ext. 101 TODAY!
THANK YOU!
---
TLC DONATES MUCH NEEDED FOOD TO LOCAL RESCUES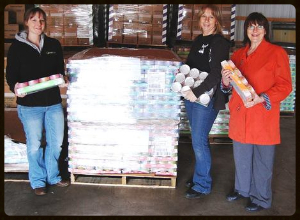 Last Thursday, Ten Lives Club arranged for a truck delivery of desperately needed canned cat and dog food to eight local rescue organizations.
Pictured left: Trisha, Liz & Edie from Feral Cat Focus.
Without the generous donations of Ten Lives Club supporters, we could not have helped these other rescues who do so much for homeless cats and dogs in our local communities. TLC strongly believes in working with other rescue organizations to benefit the same mutual goal - To find homes for all homeless cats and dogs.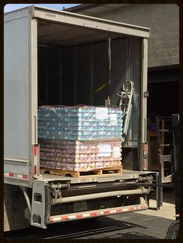 However, Ten Lives Club has recently lost grant funding through Maddie's Fund we have relied on for the past 5 years. At the same time, we have been growing and helping more and more homeless cats every year. We also help the Buffalo City Shelter by taking in cats from their facility due to overcrowding.
Ten Lives also recently partnered with the Niagara County SPCA in March. We've agreed to take in 20 cats and kittens each month to help with the overflowing numbers of homeless cats in their facility.
By meeting Maddie's monthly adoption quotas, Ten Lives has rescued over 8,000 cats in the past five years! Their monthly quotas weren't easy to reach and it took a lot of hard work but we did it to rescue as many cats as we possibly could. In return, TLC was granted over 2 million dollars over the past five years through Maddie's Fund.
Ten Lives worked hard for and depended on Maddie's funding each month. It helped us with the expenses incurred by providing for the cats in our care. With this loss, it has put our organization in a critical financial situation.
Every day we have over 100 cats to feed, care for and medicate. Some with chronic health issues and are harder to place. Ten Lives has 40+ cats in our care with chronic medical issues. They need daily medications, special diets and treatments. Many of these cats have been with us for a very long time. This group alone incurs a lot of expenses for their specialized care.
In addition to the 100+ cats and kittens that come to Ten Lives every month, we now help other shelters but have less financial support. We are struggling from month to month just to keep our doors open and continue our mission.
Ten Lives Club is determined to keep our efforts going strong for the welfare of all homeless cats and kittens. We have continued to grow and rescue more cats than ever before. But without the financial support of Maddie grants, it has put Ten Lives in a serious situation. We are extremely concerned and deeply saddened over the financial crisis now facing our organization.
Ten Lives Club hopes to overcome this set back. We must keep our shelter open for the benefit of all homeless cats. With so many generous supporters of Ten Lives Club, we can continue our mission "to promote, further and enhance all cat life".
Please consider Ten Lives Club
as your
monthly charity of choice
.
---
TLC'S ANNUAL SUMMER RAFFLE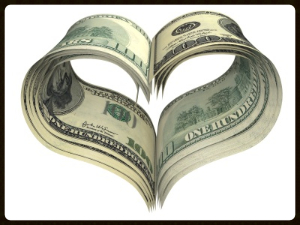 Tickets are now available for purchase
to enter the
Ten Lives Club Annual Summer Raffle
for many chances to win up to $500 in cash prizes, great gift cards & more!
Raffle tickets are only $5 each and can be purchased at the Ten Lives Club shelter - 3741 Lake Shore Rd. in Blasdell, any of our
satellite adoption locations
or from a Ten Lives Club volunteer.
For more information about purchasing or selling raffle tickets for the Ten Lives Club Summer Raffle.
Call 716-646-5577, ext. 101

Winners will be drawn on August 25th at 7pm
during the Eat A Dog, Save A Cat event at George's Hot Dog Stand.
The TLC Summer Raffle is one of two annual raffles Ten Lives Club holds and our biggest fundraisers of the year! We mailed tickets out to many of our supporters and volunteers already and with your help, this year's Summer Raffle will be the most successful one yet!
---
DEAR MISS DIAMOND FINDS FOREVER HOME!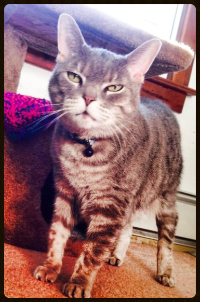 Diamond spent 20 months at our shelter waiting to find her forever home.
She finally found her purrson this past week and has not quit purring since!
Alycia adopted Diamond and both are very happy to have found each other!
YAY Diamond! Thank you Alycia for giving Miss Diamond a second chance and a wonderful forever home!
---
LONG TIME SUPPORTER CROSSED RAINBOW BRIDGE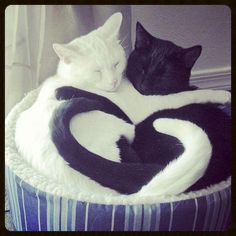 We were saddened to learn that a long time friend and supporter of Ten Lives Club, Dennis Bathurst, passed away last month and crossed over the Rainbow Bridge. Ten Lives Club sends his family and friends our deepest condolences. We know all of the kitties you were so kind to help over the years who have since crossed over the Rainbow Bridge were waiting to greet you with purrs and nose kisses. R.I.P. Mr. Dennis J. Bathurst. Your kindness and compassion will be greatly missed. Thank you for all that you did for the kitties in the care of Ten Lives Club.
---
TEN LIVES CLUB 2015 CALENDAR OF EVENTS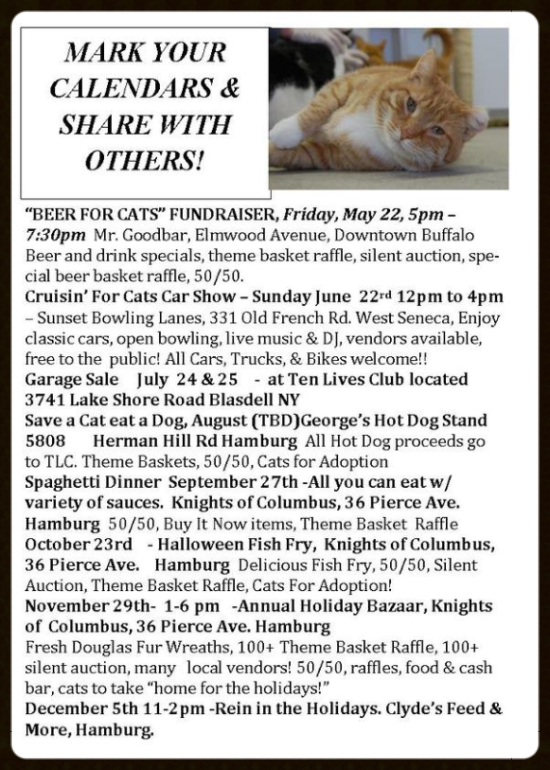 ---