Pre-Order Douglas Fir Wreaths By 11/27!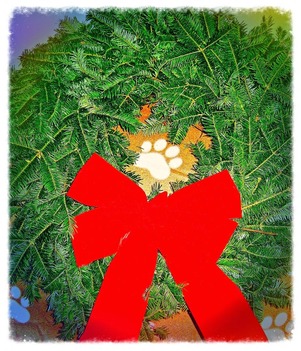 Make sure to
pre-order your Fresh Douglas Fir Holiday Wreaths
by Thursday, November 27 -
QUANTITIES ARE LIMITED!
Wreaths are only $20 each! All proceeds will benefit our Ten Lives Club kitties! Orders will be ready for pick up at the Ten Lives Club Holiday Bazaar on Sunday, November 30 from 1pm - 5pm at The Knights of Columbus - 36 Pierce Avenue Hamburg, NY 14075.
PLACE YOUR ORDER ONLINE
(Be sure to bring a copy of your receipt)
, CALL 646-5577 or e-mail tenlivesclub@yahoo.com. If placing your order by phone or e-mail, be sure to include your name, phone number, e-mail address & the number of wreaths you would like to order.
---
Mark Your Calendar for The Ten Lives Club Holiday Bazaar & Wreath Sale!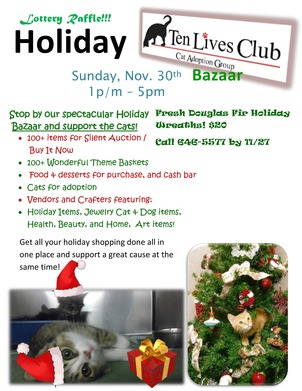 SUNDAY - November 30 1pm - 5pm
The Knights of Columbus
36 Pierce Avenue
Hamburg, NY 14075


Shop for the holidays & support our kitties with over 100 Silent Auction/Buy It Now items & 100+ beautiful Theme Baskets up for grabs in the raffle! Vendors & Crafters offering a wide selection of holiday items, jewelry, cat/dog goodies, beautiful artwork, health & beauty products & home decor!

Tasty food & desserts will be available for purchase as well as a cash bar!

Of course there will be TLC cats/kittens available for adoption who would love to find their furever HOME FOR THE HOLIDAYS!

---
TLC NEEDS MORE VOLUNTEERS FOR THE HOLIDAY BAZAAR!
Dessert Donations
Wreath Sale Attendants
Dessert & Gift Tray Preparation
Table Set-up for Vendors & Vendor Check-in
TO VOLUNTEER CONTACT JAN OR ROSEMARY:

JAN AT 639-0866/E-MAIL JanGardner@roadrunner.com
ROSEMARY - roamforfun02@gmail.com

---
MEET SNOWSHOES!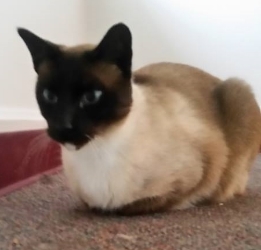 Snowshoes is a Seal Point Siamese beauty who is 5 yrs. old & FIV+ but that doesn''t slow him down! He''s been living at the TLC shelter for way too long & has so much love to give! Help TLC find this sweet, beautiful boy a forever home! To ADOPT Snowshoes - call the TLC hotline 716-646-5577!
---
Shop Amazon Smile For The Holidays!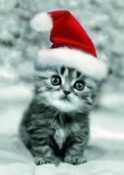 Shop for the Holidays through
Amazon Smile
& benefit Ten Lives Club at the same time! Your purchase from the
TLC Amazon Smile link
sends Ten Lives Club a donation for our kitties!
Do your Holiday shopping on
Amazon Smile
so our TLC kitties can have a HAPPY HOLIDAY SEASON~!
---
There''s A Purrson For Every Kitty!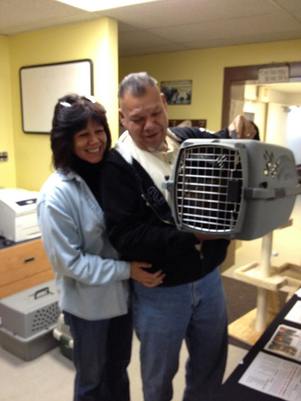 "Zoydburg" is FIV+ & had been in our shelter for over two years. He was the bully of the FIV room & any room we tried to put him in with other cats. Not only did he bully the other cats, but people as well. He has nibbled on a few people not by their choice. At first, Zoydburg seems like the best cat ever - until his Jekyll/Hyde personality comes out without warning.
A couple came in recently & fell in love with him - even though he bit the man on their visit! A few days later, they came back & out of all of our shelter cats they chose Zoydburg!
Let''s all hope Zoydburg does well in his new forever home & it was just the stress of being in shelter life that caused his "alter" personality. We are so thankful this couple "understood" Zoydburg in their own way & chose him over all the others! This is a reason to celebrate!
There is a PURRSON for EVERY kitty!
---
Matching Donation Challenge!

One of our continued TLC supporters, George Hyde, will donate $500 with a matching donation of $500! Who''s up for the challenge?
---
Upcoming TLC Events & Fundraisers!

---


---
TLC DESPERATELY NEEDS DONATIONS OF BLEACH & KITTEN FOOD (PURINA KITTEN CHOW)!
Please call our hotline at 716-646-5577 TODAY!

---