The storm began moving in on early Tuesday morning, November 18, 2014. When the staff had left on Monday night all was fine and they prepared with extra food just in case. By Wednesday, someone had to go in to tend to the over 100+ cats in the shelter. Although there was a travel ban in Hamburg & Blasdell, the Hamburg Police gave us permission to tend to the animals. Marie (President of TLC) & her daughter Sallie, got a ride from her husband & had to try many different roads before they finally got to the shelter. The road that our shelter is on – Lake Shore Road – was totally closed but the police let us go down with the idea "we would get out fast". Marie & Sallie had to walk through 4 feet of snow to get to the shelter door & inside to tend to the kitties! They let all of the kitties out of their cages to roam & a roomful of kittens had an entire office to run and play! Extra food and water and litter pans were put down hopefully to last until staff could get in again.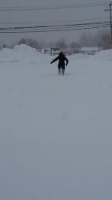 By Thursday, it was clear the storm was not going to let up any time soon. The snow was still falling & by then there were travel bans issued on all the towns surrounding our shelter and in all of the Southtowns areas. The sick kitties needed help and hadn't been tended to since Monday!


A plea on the TLC Facebook page was put out for help getting two employees from their homes nearby to the shelter by ATV or snowmobile. They only live a few miles from the shelter, but their streets were completely blocked with snow and Cathy & Michelle had no way to get out. Our TLC Supporters and Facebook fans were calling, sharing, e-mailing everyone they could think of to get help for our TLC kitties but nothing came through.

Finally, with the help of a Facebook group called NY Snowmobile Web Map, the Hamburg Fire Department sent two firefighters on snowmobiles to transport Cathy and Michelle from their homes to the TLC shelter safely. They had to walk from the end of the street through 4 to 5 feet of snow to the shelter door because the street was impassible even on snowmobiles! Cathy and Michelle tended to the sick kitties and restocked food/water, litter for all of the rest before trudging back out to their rides to get back home.

On Saturday, our shelter vet, Dr. Sharon Fisk, & her husband Jeff made it in to the shelter. The side door was completely covered in 5 feet of hard packed snow. Jeff shoveled a small parking space & a path to the shelter door. TLC shelter vet tech Karen & her daughter also drove in & picked up Joanne, another one of our employees, on the way.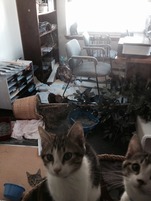 Dr. Fisk and Karen tended to the sick kitties while the others tried to clean as much as they could – the shelter was a huge mess with all of the kitties having a party for the last four days! But all of the kitties were fine!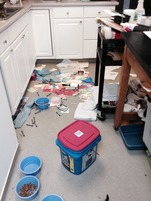 With the help of a lot of dedicated volunteers on Monday, the TLC shelter is getting back to normal. There is still some deep cleaning to be done, but with the help of our TLC staff & so many wonderful volunteers who care for our kitties all will be spic and span in no time! A GREAT BIG THANK YOU to everyone who helped TLC during the Snowvember disaster! The kitties thank you too!

---
SHOW YOUR THANKS ON THURSDAY!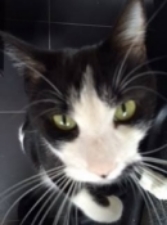 Our shelter kitties need care 365 days a year, 7 days a week. With Thanksgiving this Thursday, our staff could use your help so they can have at least part of the day to spend with their families.
If you can volunteer on Thursday, November 27 anytime between 7am & 12pm, please call 716-646-5577 or e-mail allisinspired@yahoo.com
with your availability on Thanksgiving Day!
THANK YOU!
---
HURRY to Pre-Order Douglas Fir Wreaths By 11/27!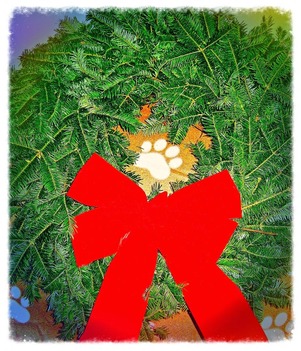 Make sure to
pre-order your Fresh Douglas Fir Holiday Wreaths
by Thursday, November 27 -
QUANTITIES ARE LIMITED!
Wreaths are only $20 each! All proceeds will benefit our Ten Lives Club kitties!
Orders will be ready for pick up BY 12PM at the Ten Lives Club Holiday Bazaar on Sunday, November 30
at The Knights of Columbus - 36 Pierce Avenue Hamburg, NY 14075.
PLACE YOUR ORDER ONLINE
(Be sure to bring a copy of your receipt)
,
CALL 646-5577 or e-mail allisinspired@yahoo.com
. If placing your order by phone or e-mail , be sure to include your name, phone number, e-mail address & the number of wreaths you would like to order.
---
SHOP TEN LIVES CLUB HOLIDAY BAZAAR!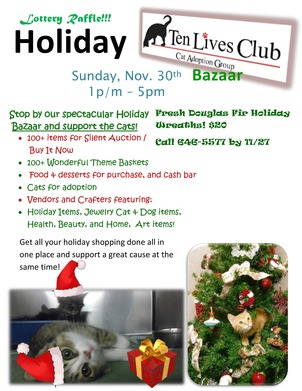 SUNDAY - November 30 1pm - 5pm
The Knights of Columbus
36 Pierce Avenue
Hamburg, NY 14075


Shop for the Holidays & support our kitties! Fresh Douglas Fir Holiday Wreaths, 100+ Silent Auction/Buy It Now items & 100+ beautiful Theme Baskets up for grabs in the raffle! TEN LIVES CLUB WINE Silent Auction, Vendors & Crafters offering a wide selection of holiday items, jewelry, cat/dog goodies, beautiful artwork, health & beauty products & home decor!

Tasty food & desserts will be available for purchase as well as a cash bar!

Of course there will be TLC cats/kittens available for adoption who would love to find their furever HOME FOR THE HOLIDAYS!

---
TEN LIVES CLUB WINES MAKE GREAT GIFTS!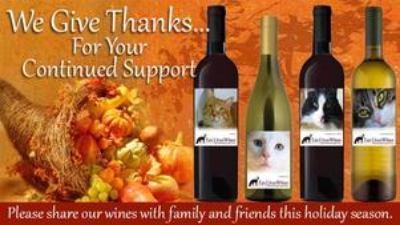 Ten Lives Club Wines
will be available for purchase at the Holiday Bazaar during the
TLC Wines
Silent Auction - starting bids only $30 & you can take them home that day! Or order
online!
$6.00 of every bottle purchased benefits Ten Lives Club kitties! Every label has a picture of a Ten Lives Club Kitty who has found their forever home! Give a unique gift that will also give back to our kitties!
---
TLC NEEDS MORE VOLUNTEERS FOR THE ANNUAL HOLIDAY BAZAAR!
This is the biggest fundraising event of the year for Ten Lives Club & we need volunteers to make it happen! If you are enthusiastic, age 15+ & want to make a difference for our TLC kitties, WE NEED YOU!
Choose from any of the following shifts (Duties will vary):

12:45 to 3:00pm
2:45 to 5:00 pm
*CLEAN-UP from 4:45 to 6pm
*This is mainly clearing out TLC items from the facility & loading in your car to bring back to the shelter at a later date.*

TO VOLUNTEER CONTACT ALLISON: allisinspired@yahoo.com

---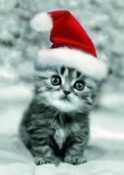 Shop for the Holidays through Amazon Smile & benefit Ten Lives Club at the same time! Your purchase from the TLC Amazon Smile link sends Ten Lives Club a donation for our kitties!

Do your Holiday shopping on Amazon Smile so our Ten Lives Club kitties can have a HAPPY HOLIDAY SEASON~!
---
MEET SCOTTY!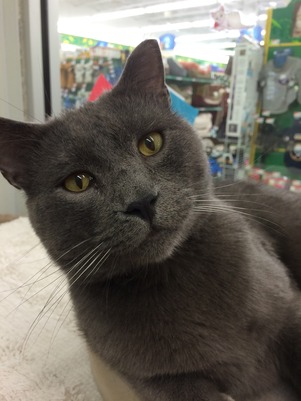 Scotty is 2-3 yrs. old with a gorgeous blue/gray coat that absolutely GLEAMS! His big golden eyes are hard to resist & he's got the personality to match! Scotty is super sweet, friendly & laid back - he would be a great fit for ANY household! We think he must have some Russian Blue blood he's such a handsome guy! Scotty is also micro-chipped! He is available for adoption at the
Ten Lives Club Pet Supplies "Plus" E. Amherst adoption location
- 9630 Transit Road, E. Amherst, NY 14051.
TO ADOPT SCOTTY
contact Val at lillyfae2@gmail.com or call/text 716-725-7017!
---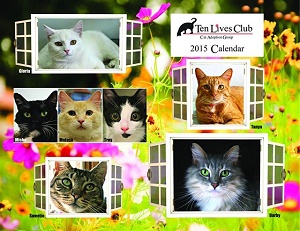 We ordered 300
Ten Lives Club 2015 calendars
- with pictures of TLC kitties on every page - & we only have 100 left! Our calendars make great gift items & benefit our TLC kitties too!
TLC 2015 Calendars
are only $10 each (Includes S&H).
---
Stay Tuned For More Holiday Updates!

All of our
satellite adoption locations
will have Christmas trees where you can "adopt" a kitty (ornament) in exchange for an item on our
"Wish List"!
~ Some examples are below!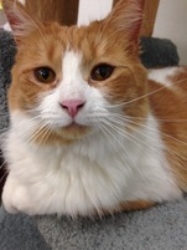 Purina Kitten Chow (Yellow Bag)

Clumping Cat Litter (any)

Paper Towels

Purina One Cat food (any)

Bleach

Clorox/Lysol wipes

Copy Paper

Garbage Bags

Pre-Paid Gift Cards
---
Upcoming TLC Events & Fundraisers!

---


---
TLC DESPERATELY NEEDS DONATIONS OF BLEACH & KITTEN FOOD (PURINA KITTEN CHOW)!
Please call our hotline at 716-646-5577 TODAY!

---