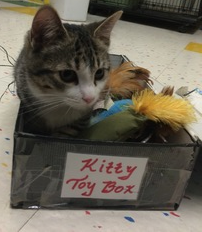 When the final numbers were tallied for Ten Lives Club surrenders & adoptions for the
MONTH OF DECEMBER ALONE, TLC took in 91 KITTIES & found forever homes for 161 CATS & KITTENS
in our program!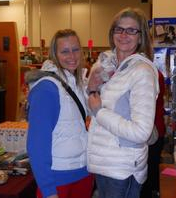 (Pictured right is Jamie Lee who was adopted on 12/4/14 from the Pet Supplies Plus E. Amherst location)
.
On Sunday, December 14, Marianne (Volunteer TLC Store Coordinator for the Petsmart Cheektowaga location) held a kitten adoption event.
(Pictured above left - happy Mom & Daughter with their new kitten).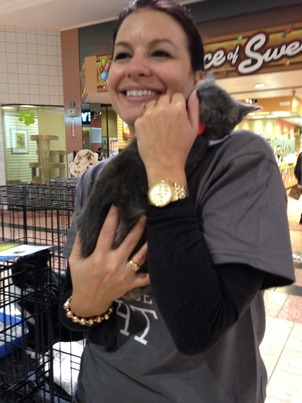 On Saturday, December 4, Ten Lives Club participated in the McKinley Mall "Purina Rally to Rescue" Mini Pet Expo adoption event. Pictured right is volunteer Nicole Calandra holding "Mae". Nicole & her husband Bob fostered Mae shortly afterwards & have now adopted her. They've renamed her "Bambina" but Bob's nickname for her is "Bad"Bina!
Also on December 4, TLC held their "Kris Kringle with the Cats" event at Clyde's in Hamburg & everyone enjoyed getting their pet's pictures taken with Santa!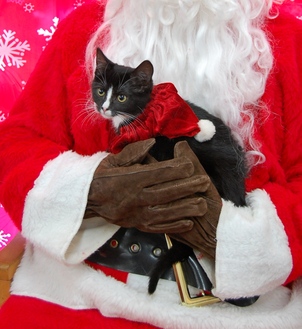 On Christmas Eve - Wednesday, December 24, Ten Lives Club opened their doors from 12pm to 2pm. (Normally the shelter is closed on Wednesdays). 3 more kitties - Sylvester, Robin & Nevaeh - found forever homes before Christmas!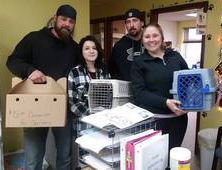 (Pictured below right).
One more wonderful statistic to share - throughout 2014, Ten Lives Club
SPAYED/NEUTERED 829 CATS/KITTENS
who came into our care! TLC strongly believes in & supports the fight to reduce the population of unwanted/homeless kitties.
Finding homes for
161 TLC kitties during the month of December
was the perfect finish for 2014!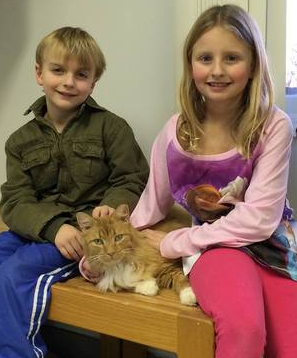 Pictured left is Charlie with his new playmates Mitchel & Olivia!
Ten Lives Club is looking forward to an exciting & even more successful 2015!

THANK YOU FOR YOUR CONTINUED SUPPORT!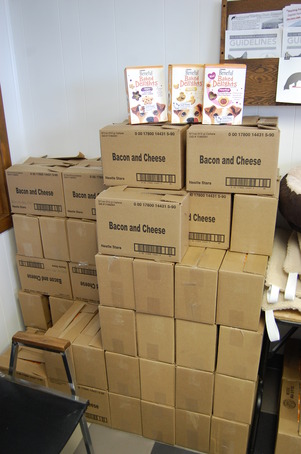 Ten Lives Club has boxes &
BOXES
of dog treats donated to us to use for fundraising efforts.
Please feel free to pick up several boxes (each box holds approximately 12 in each) from the shelter to sell (as a donation) at your workplace, church, community organizations, local businesses, friends & family, etc.
We are asking for a donation of $1 per box or $5 for 6 boxes. Call our shelter hotline at 716-646-5577
to schedule a time for pick up!
Ten Lives Club received a very generous donation of cat litter recently - 26 pallets worth valued at approximately $12,000!
However, we did have to pay for delivery by truck which cost us $2,000 to transport.
To help offset the cost of transporting, please CLICK HERE!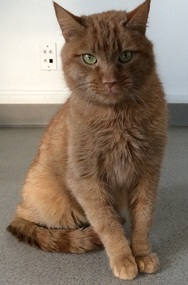 Ten Lives Club rescued him on 11/27 during the SNOWVEMBER event. He was found on Mt Vernon Blvd in Hamburg. We believe he might have gotten lost & his Purrson could still be looking for him. Or, he may have been abandoned prior to or during the storm at some point.
He is a sweet but shy boy & a little older (we're not sure exact age). Help us reunite him with his previous owner or find a loving home for him!
To ADOPT STORMY, Call the TLC Hotline at 716-646-5577!