Director's Corner
A Note from Carla
THE MAKING OF ROBIN HOOD
How it takes a village of artists, loving support of family and friends and a LOT OF HARD WORK AND DEDICATION!
Yes, of course we do theater because it is fun and entertaining; and of course we artists
LOVE every minute of what we do, but producing a well-crafted 3-dimensional show
takes more than that. It takes hours of hard work, dedication and a LOT of people to
create a show of this size. There are so many people who are involved in the building of a show who work endlessly, not only onstage but behind the scenes - and this show is no exception.
The story of Robin Hood has always been a favorite of mine (of course, all who know me
understand that I am a HUGE fan of the Errol Flynn, 1938 movie - corny as it is) so
reviving this hilarious and fast paced script, after a 10 year gap, brought back all the old
excitement of this legend to the forefront for me. As you can well imagine, staging an
adventure of this magnitude, is a HUGE undertaking, so I have employed several
professional theater artists from the Twin Cities who will share their talents with us.
We are fortunate, once again, to work with Heidi Carls' fantastic costume design. She has a true talent for pulling/recreating costumes we have in storage and making them into a colorful entourage of moving art pieces, plus creating/building new designs that are perfect to help a accentuate character's personality.
I am also excited for you to see the beautiful set designed and built by our newest set
designer, Zachary Morgan. He has created a wonderful world for this story to live in and
a great place for these lively characters to come to life: a huge climbable tree, mulit-levels, moving and reusable set pieces to help create several locals.
Some of the earliest legends of Robin Hood were told through written ballads, though not necessarily sung. For this show I decided to enlist the help of composer/musician, Greg Membrez, to help locate and teach some new ballads of Robin Hood to our actors to help tell the story. He is also composing some original pieces to underscore the numerous fight scenes and scene changes.
Of course, a swashbuckling adventure is never complete without a fast-paced and well-
staged fight scene. There is nothing better than to watch a group of dedicated young
actors committed to making the fight believable, yet keeping it controlled and SAFE! To
help us with this mission we have once again brought on fight coordinator, Tracy Maas
who has choreographed several of our past productions; Robin Hood (2007), Red Badge
of Courage (2007) Oliver Twist (2008) and Treasure Island (2013) to name a few.
We of course I could never produce a show OF ANY SIZE without enlisting the help of
numerous parents, families and friends to help with the huge undertaking of things such
as prop creation/collection, baking/selling concessions, ushering, sewing, building,
buying and overall support.
So that is our village! I am honored to bring the talents of all of these people together to
bring YOU the best show we possibly can. I am telling you DO NOT DELAY on
purchasing your tickets, one show is completely SOLD OUT and many more are very
near. We even added an extra show just in anticipation of an SRO run. Be sure to go to
our site and buy your tickets TODAY! Join our village, for a show isn't complete without
YOU!
See you there!
Carla Barwineck
Inside Look
Young Artist Interview
Robin Hood- not quite a musical, but yes there will be a LOT of LIVE MUSIC! We caught up with one of the actors/musicians who will be playing and singing in the show to share with you what this experience is like! Check it out:
Actor/Musician: Joe Norberg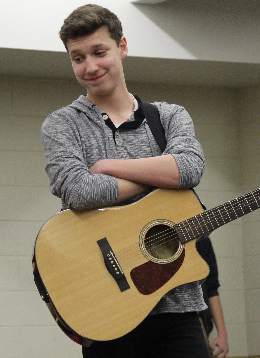 Character: Alan-A-Dale
What is the music process like? I am handed music which I practice and then 1x a week we practice with our music director. It is challenging to play onstage in character! When we practice altogether it is super fun!
How do you prepare for rehearsal? Make sure I am fully memorized, look up words in the script that I don't know.
What is it like working with a cast of this size? A little bit crazy sometimes, a lot of people onstage means you really need to focus on your part. But it is fun to get to know the new people.
How has playing your character changed your perspective of the story? Seeing Robin's forces from the inside and not just watching from afar, helps me understand what life might have been like for these surfs and common folk.
How have you grown so far? This is one of the biggest roles I've played and the constant stage time helps push me to discover new things in my character. And has helped me learn that I need to put in just as much time outside of rehearsal as in it.