Winter Showcases
Join us to celebrate all the accomplishments of our students. Each showcase will highlight work done in class throughout the fall semester. Come and see a variety of scenes, monologues and exercises!
Showcases are free and open to family and friends of the students!
Tuesday December 13
Acting I - 2:00
Wednesday December 14
Shakespeare 10:00
Acting III - 12:00
Improvisation - 1:45
Acting II - 2:00

All showcases will be held at Bethany Baptist Church in Roseville.

Director's Corner
"TO BE OR NOT TO BE ...CAST"
AUDITIONING AND ITS AFTERMATH
A Note From Carla
Auditions are upon us again. The scurry to memorize, research, read the script, block, rehearse, rehearse, and then rehearse some more. Then the big day and you are feeling prepared, but still really scared. What is the director looking for? Am I big enough? What will we do at auditions? Will I look silly? Yup -EVERY single actor goes through it. There is no denying that auditioning is tough. The only thing you can do is COME ON TIME AND BE PREPARED!
Be as prepared as possible:
Read over the requirements on the website and any information sent to you to make sure you are preparing what the director requires.

Read information about the play you are auditioning for (read the play online or at least excerpts of the script)

Read any reviews that are online to understand how other theaters have approached the play.

Read about the playwright and other plays she or he has written. If one of the requirements is to prepare a monologue, memorize the pieces and work out logical blocking for the piece.

Practice, practice, practice so that you feel confident about your performance. Show your piece to others so that get used to performing in front of an audience.

Get your resume in order and print it.

Practice reading scripts aloud so that you can be ready to handle the cold readings.

Set a goal for the night of the audition (Example: to have fun, to perform your monologue the best you can, to enjoy the process, etc) so as to relieve some of the pressure. Mini goals will calm your nerves.

Come with a positive attitude and be ready to learn something new about yourselves.
What do I look for when casting your play? I start by choosing what style the play is written and create a noverall vision for that play, then I seek actors
who can best understand a character and who I think will be best at communicating the message of the play to the audience using their entire body.

who are willing to work hard and go beyond learning the script. who are willing to be vulnerable in front of their peers and take risks.

who are willing to grow and work hard to change old habits.

who encourage and support others and can work comfortably in an ensemble.

who are hungry to learn more about the art of acting and human nature.

who are willing to take direction (or redirection) who are able to communicate with their entire body.

who work with a positive attitude. who are skilled at listening and observing.
Casting is one of the most agonizing part of the theatrical process for me as a director. Every show there is that moment just before I send the cast list to all who auditioned when I hesitate, agonizing over the fact that I am about to disappoint well over half of those who auditioned just by pushing the "send" button. I understand that not being cast in a show is confusing; you watched your child work hard, follow all the steps, take classes but they still didn't get cast. It is important to remember that every show 60-70 young people audition for 12-30 roles. I truly wish I could cast everyone (please note that there ARE theater companies out there who do that), but that is not the purpose of this theater company. Our mission is one of excellence, whose main purpose is for every child to reach their highest artistic potential.
A main-stage production with this theater company is designed to work with young people who are prepared to walk in the shoes of another and be able to effectively communicate the character's wants and desires with their entire being. Casting is about working with actors who are strong enough to step out of their comfort zone and be vulnerable in front of their peers and audience and also who have gained the necessary skills to perform in front of an audience.
I always encourage everyone to keep auditioning (for sometimes it takes several years before someone is ready), continue to take classes and learn how to improve your skills, audition for other theaters (CB Productions is one of many theaters who work with young people- check out your local high school, community theater. Go to MN Playlist to read through the audition list). Most importantly go to watch live arts. The artistic community is rich in this city.
I hope this has helped.
Good luck.
Carla Barwineck CB Productions Artistic Director
ENGUARD!
Stage Combat Workshops!
January 17 & 24 4:00-7:00
$70/Student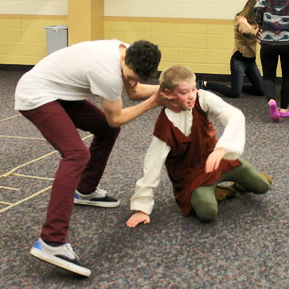 Get ready to fight your way for a place on stage! We're gearing up for a rabble-rousing adventure of Robin Hood by offering our Two-Day Stage Combat Workshop. Participants will learn how to create the illusion of pain and tell a story - with a punch.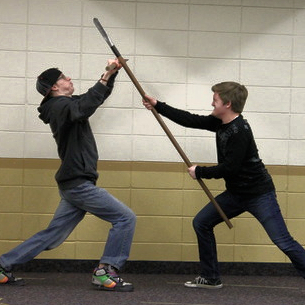 No experience necessary - all students welcome!
We expect this class to fill up, register early to ensure your spot.