Young Voices for the Planet
Earth Day /Spring 2016 Newsletter

---
Children are the Best Messengers
Children are the best messengers -- for they will bear the brunt of climate disruption. Also, a Unilever study concluded that "
when children lead, adults follow.
" For some uplifting true stories about how young people are making a difference in the world, read on!
-- the Young Voices on Climate Change team
---
Youth Climate Change Laws Upheld in Oregon!!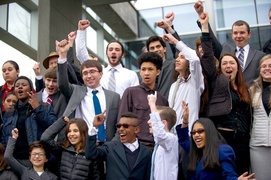 The Federal District Court in Oregon rejected the appeals by the oil and gas industry and decided in favor of 21 youth climate leaders in their landmark constitutional climate change case brought against the federal government. This is unprecedented!
The youth argued that the government has known that CO2 has been causing catastrophic climate change and has failed to take the necessary action to curtail fossil fuel emissions. Climate change violates their constitutional right to life, liberty and property, and their right to essential trust resources. The judge's decision acknowledges the validity of climate science and the responsibility that elected officials have to protect the climate -- and the lives of future generations.
---
YVCC Loses Co-Founder and Guiding Star Gary Braasch and World Loses True Climate Champion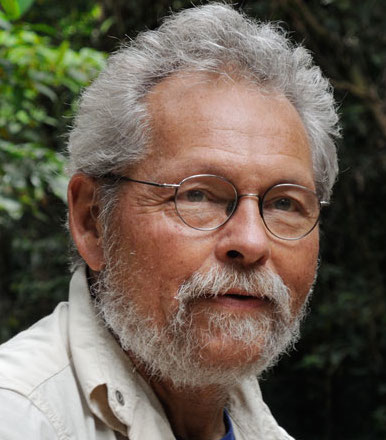 We had a terrible blow last month with the loss of our dear friend Gary Braasch, world-famous photojournalist, chronicler of Climate Change, co-founder of Young Voices on Climate Change and co-producer of the Young Voices for the Planet films.
Gary was our guiding light and we miss him profoundly. See "In Memoriam" and Lynne Cherry's eulogy in the NY Times DotEarth blog.
---
YVFP Films at Wild & Scenic's Film Festival on Tour

Through
Wild & Scenic's Film Festival on Tour
, the
Young Voices for the Planet
film "Plant for the Planet" was shown in March in Louisville, KY, River Falls, WI, Maynard, MA, Jupiter, FL, and Flagstaff, AZ.
The film will be screened in Atlanta, GA on April 30 and in Honolulu, HI on May 6.
For more information, or to schedule a screening,
click here
.
---
New YVCC Website!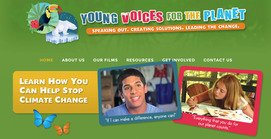 Mission, Our Team, Our Youth Stars, and Our Partners, Our Youth Action Map and
all Our Newsletters, as well as
Resources, News and how the
YVFP films are being used.
Check out our Media page and download our Media Kit. Please forward the web link to all your friends to let them know that they can make a difference, too!
---
"Save Tomorrow" Team Visits the Rashi School Whose Students Raise $2500 for YVFP Films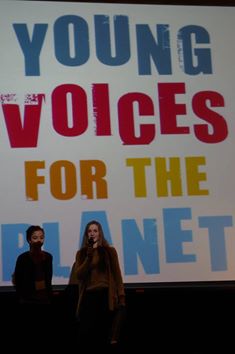 Earlier this year, Mari McBride and Alice Van Evera, two of the stars of the
Young
Voices for the Planet
film "
Save Tomorrow
" visited the Rashi School in Dedham, MA to share their story with students about how they helped get solar panels on all the town buildings i
n their town of Lexington, Massachusetts.
The
Rashi
students were inspired and raised $2500 for
Young Voices for the Planet
to continue our work

championing
our
youth
solutions to the
climate
crisis
.
A BIG THANK YOU TO RASHI STUDENTS!!!! for their generous donation of $2500!! That's IMPRESSIVE!
---
YVFP Films Now Being Aired On 56 Public Broadcasting Stations
The YVFP Films, distributed by American Public Television, are now being

aired on 56 Public Broadcasting Stations across the country including Chicago, Denver, Los Angeles, San Francisco, Miami, Pittsburgh, Salt Lake City and Washington D.C. Please call your local public broadcasting station to inquire about their screening dates and times.
---
CANCELLED - Harvard University Screening of the YVFP Films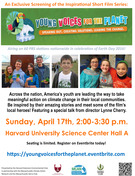 The April 17th
EVENT HAS BEEN CANCELLED
due to it's conflict with Gary Braasch's recently scheduled Memorial Service. Sorry for any inconvenience.
The Harvard Extension Environmental Club, in partnership with the Massachusetts Sierra Club and the Massachusetts Climate Action Network, had planned to present the Young Voices for the Planet film series.
We are so grateful for all the work they put into organizing this event and are truly sorry that we had to reschedule. We plan to schedule summer and fall screenings.
---
Harvard University's Transition Studies
An excellent resource, this
weblog
is dedicated to "exploring the transition to a sustainable future on a finite planet."
It provides links to current news, key government documents and video documentaries about climate change to help in public information campaigns, course preparation, teaching, letter writing, lectures, class presentations, policy discussions, article writing, civic or Congressional hearings and citizen action campaigns.
---
YVFP Films to Tour Africa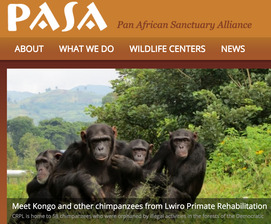 The
Young Voices for the Planet
films have been licensed by the Pan African Sanctuary Alliance (PASA) and are being translated for
screenings at
schools, cinemas, public exhibitions, on
public transportation systems, and on national television
broadcasts throughout Cameroon and are
estimated to reach 70,000 people. This
model will be replicated in other countries across Africa.
---
Upcoming Earth 2100 Conference
The Earth 2100 Conferences are a social space for thoughtful, civil, inter-generational dialog
ue about the global issues that young people will confront over the course of their lives. Why 2100? Because they believe that world leaders -- and young people -- should be looking ahead at least over the lifetime of a child born today.
---
Donate to Make a Difference
Your contribution to Young Voices for the Planet can help ensure that our films reach, inspire and empower young people to address climate change. Your contributions matter. Please give generously.

---