Young Voices for the Planet
Fall 2016 Newsletter

Young People Can Speak to Power and You Can Help Them!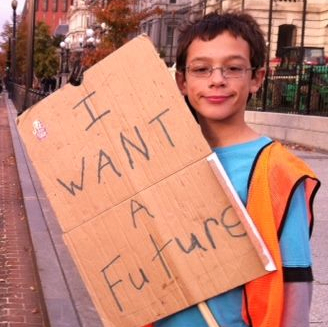 Young People are the most powerful messengers for they will bear the brunt of climate change disruption. Children also occupy a moral high ground for they do not represent special interests -- only their own futures. For this reason, youth voices are powerful and effective! We at
Young Voices for the Planet
are hopeful that the children's voices will reach and enlighten the new administration about the necessity of addressing climate change.
---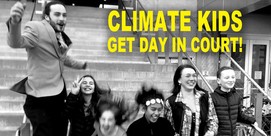 Federal Judge Rules that Youth Climate Lawsuit can Proceed!
Congratulations to
Our Children's Trust
and the young plaintiffs who are suing the government for failure to regulate carbon emissions and to protect their futures.
See some of these youth earlier in their lives in the Young Voices for the Planet films Kids vs. Global Warming and Plant for the Planet. Read about these exciting lawsuits here and here.
---
Please help us make two new Young Voices for the Planet films: one documenting three 13-year-olds who are working to convince their legislators to put a price on carbon in order to level the playing field and make renewable energy more competitive and another film about the Native American youths who created a Change.org campaign to resist the North Dakota pipeline and who are fighting to protect their land, water and the home that they love.
Your contributions are key to our making these films
and helping the 11 existing Young Voices for the Planet films be more widely screened in schools, conferences and communities.
THANK YOU!!

---
NEW YVFP Film Awards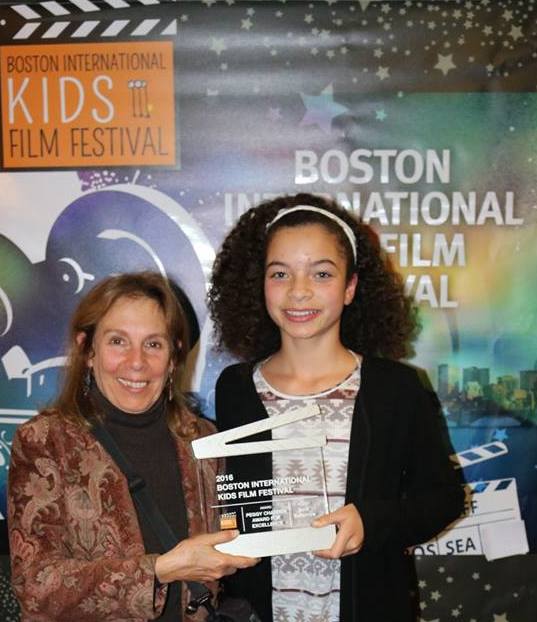 The YVFP film,
Save Tomorrow
, won the
Peggy Charren Award for Excellence
at the
Boston International Kids Film Festival
. Charren, who died last year, was the founder of Action for Children's Television, a national child advocacy organization.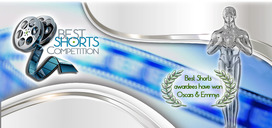 In the Best Shorts Competition, Save Tomorrow won the Award of Merit Special Mention for Children and Family Programming.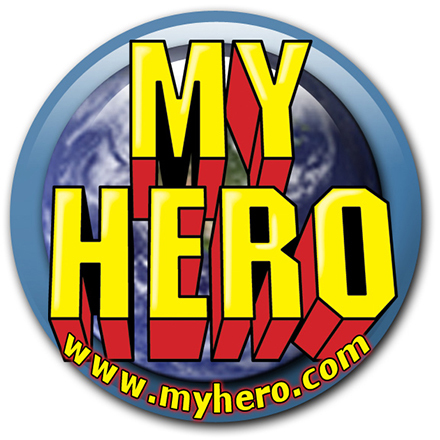 Save Tomorrow
was also an Official
Selection for the 2016
MY HERO International Film Festival.
Read more about young stars of
Save Tomorrow
here
.
---
Lynne Cherry Delivers Annual "La Fundacion Miguel Aleman" Keynote Address at Universidad Nationale a Mexico (UNAM) in Mexico City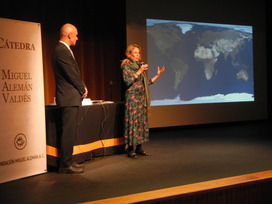 Lynne Cherry was awarded the Miguel Aleman Valdes award for her life's work of environmental education and advocacy through her children's books and her
Young Voices for the Planet
films.
In September, she delivered the 22nd
Annual Catedra de Ecologia y Medio Ambiente Lecture at the University of Mexico entitled "
Youth as Catalysts for Change: Climate Messaging for Empowerment".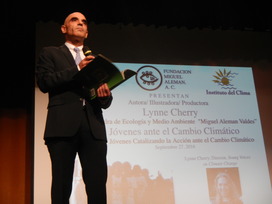 Lynne was introduced by Luis Roberto Acosta
, t
he director of the Instituto del Clima (Climate Institute)
. Mr. Acosta is
the creator of over a dozen "casas de la tierra" (earth houses) -- small science museums that bring climate science to rural Mexican communities as well as to Mexico City's Museum of Natural History. They have also built a Casa de la Tierra in Dubai, in the United Arab Emirates where the YVFP films will be shown once they are translated.
---
Young Voices for the Planet Attends COP 22 Climate Talks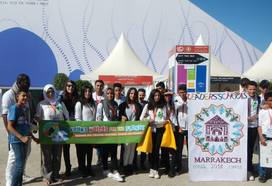 At the recent COP 22 Climate talks in Marrakesh, Morocco,
YVFP
met with many local youth climate groups and arranged to have the
YVFP
films translated into French and Arabic.
We were delighted to meet many groups from sub-Saharan Africa that plan to use the films, already available in many African languages, to inspire youth.

---
YVCC Welcomes three New Board Members!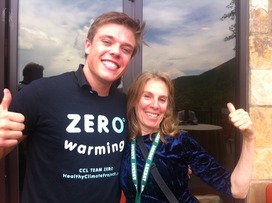 John R. Seydel
President, CEO of The Revolution Nation Network (@RNationNetwork) and Trustee Elect at the Turner Foundation brings his Internet Technology expertise the YVCC team as well as a bridge to the millennial generation through his website Revolution Nation, a new media platform for political engagement.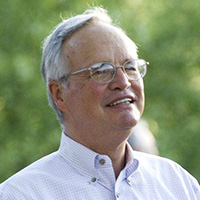 Gus Speth
(YVCC advisory board)
served on the Vermont Law S
chool faculty from 2010 to 2015. He is now Distinguished Senior Fellow at Demos, Associate Fe
llow
at the Tellus Institute and
Co-Chair of the Next System Project
and
Senior Fellow at the Democracy Collaborative. Gus brings years of environmental advocacy leadership to YVCC.
See more of Gus' bio on our website.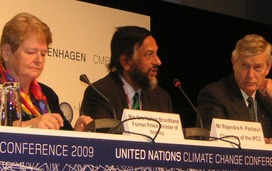 Dr. Rajendra K. Pachauri was chairman of the Intergovernmental Panel on Climate Change from 2002 -2015 when IPCC scientists won the Nobel Peace Prize. With his son Ash, he founded the Pop Movement to help the world's youth fight climate change by providing them -- and teachers -- with basic climate science materials derived from IPCC's scientific studies.
---
Mass. Climate Action Network, Mass. Sierra Club and UU Church Sponsor Statewide Screenings of YVFP Films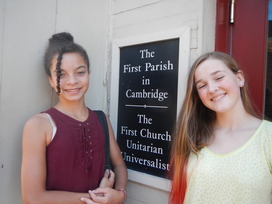 The Massachusetts Sierra Club, Mass. Climate Action Network, and UU Congregations are sponsoring statewide screenings of the
Young Voices for the Planet
films.
After screenings
at
Harvard University and at
UU Churches in Cambridge and Carlisle, Ma.,
the
film stars Mari McBride, Alice Van Evera and Lily Georgopoulis, now 13 years old-- animatedly
answered audienc
e questions and described why they support a price on carbon as proposed by the Citizens Climate Lobby and the Barrett Bill.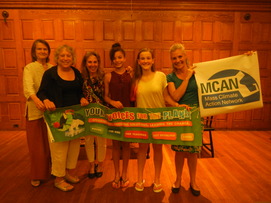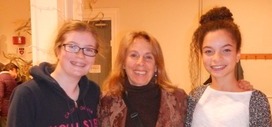 Photo top: Mari McBride and Alice Van Evera at the Harvard Square UU church .
Photo on left
: from left to right: Cathy Buckley, Mass. Sierra Club board chairman; Henrietta Davis, Mass. Climate Action Network (MCAN) board member;
Lynne Cherry, producer/director of the Young Voices for the Planet films; Mari McBride and
Alice Van Evera, two of the young film stars; Carol Oldham, Director of MCAN.
Photo Above Right: Lily Georgopoulis, Lynne Cherry and Mari McBride after speaking at the UU Church in Carlisle, Massachusetts
---
Harvard University Sponsors YVFP film Screenings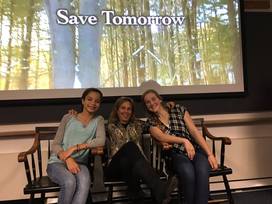 On October 17, the Harvard University Extension
Environmental Club hosted a
screening
of all
the
YVFP
films at Harvard. Afterward, t
wo of the "Save Tomorrow" film stars,
Mari McBride and Alice Van Evera, charmed the audience with their knowledge, passion and commitment to change the world
. The girls returned to Harvard in November to show "Save Tomorrow' and speak at the Biodiversity for a Livable Climate conference.
---
Gary Braasch Honored by the State of Oregon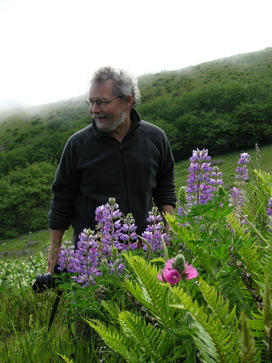 A
Tribute to Gary Braasch: Honoring His Life and Work
hosted by the Oregon Environmental Council was held on Monday, October 24, 2016 at the State Capitol in Salem, Oregon.
Gary was a world-renowned photojournalist who, for two decades, devoted his life to documenting climate change. Gary was also the
co-founder of Young Voices on Climate Change and the co-producer of the
Young Voices for the Planet
film series. Gary's son, Cedar Braasch, and his sister, Peggy Strickland presented "Remembering Gary". The story of Gary's photojournalism was presented by Dennis Wiancko, Gary's best friend, former partner in the Traveling Image Company and representative of the Wiancko Charitable Foundation which helped fund Gary's climate-related work including the
Young Voices for the Planet
films. Others who spoke included Gary's partner, Joan Rothlein; Gary's assistant Michael McGuire; author and co-founder of 350.org, Bill McKibben; Jana Gastellum of the Oregon Environmental Council; and Ruchi Sadhir, Energy Policy Advisor to Oregon Governor Kate Brown.
The Society of Environmental Journalists also honored Gary's life works at their annual conference in September in California.
---
Cape Cod Climate, Oceans, Arts & Advocacy Camp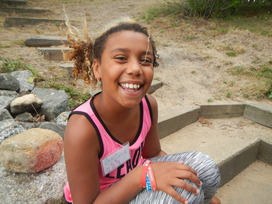 This summer, twenty four Cape Cod youngsters attended a camp in Orleans, Ma. to learn about climate change science, how climate change is affecting the oceans and how it might impact their community.
T
hrough the YVFP films, t
hey learned about self-efficacy and how to speak out to protect their futures. The camp was the brainchild of Mon Cochran of the Cape Cod Climate Consortium, Genie Stevens and her daughter Marina Weber, founders of "Global Warming Express". Marina wrote the book "Global Warming Express" when she was 11 years old.
Pictured Above: Camper, Suzanne, at the Global Warming Express Camp this summer.
---
YVFP Workshops at NSTA, NAAEE and NABTP Conferences
Juliana Texley, YVCC Board Member and outgoing National Science Teachers Association (NSTA) president is conducting a series of workshops that screen the YVFP films and demonstrate how to use them in the classroom to teach children about self-efficacy. Focusing especially on the YVFP film We Sing Out! about Pete Seeger and the Rivertown Kids, Juliana shows how music can bring together and energize youth, classrooms, and communities.
October 28 NSTA Area Conference - Minneapolis, Mn.
November 11 NSTA Area Conference - Portland, Or.
November 30 NSTA Area Conference - Columbus, Oh.
North American Association for Environmental Education Annual Conference - Madison, Wi.

Jill Holdren presented the YVFP films at the

Nov 5 National Association of Biology Teachers Professional Development Conference in Denver, Colorado
---
YVCC Website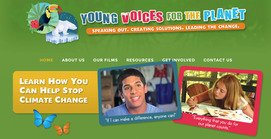 Mission", "Our Team", "Our Youth Stars", "Our Partners", "Our Youth Action Map" and
"
Our Newsletters", as well as
Resources, News and how the
YVFP films are being used.
Please forward the web link to your friends to inspire them to make a difference, too!
---
Some Additional 2016 Film Screenings
Kentucky Waterways Alliance - Louisville, KY
St. Croix River Association - St. Croix, WA
OARS- Concord, MA
Plymouth State University - Plymouth, NH
Halau ku Mana - Honolulu, HI
Blue Heron Nature Preserve- Atlanta, GA
Jupiter Inlet lighthouse and museum - Jupiter, FL
Grand Canyon Wolf Recovery Project - Flagstaff, AZ
---