Young Voices for the Planet
Spring 2018 Newsletter

In light of the Parkland students gaining the national spotlight, our country is beginning to understand the power of the youth voice.

Youth are the most powerful messengers, for they will bear the brunt of climate change disruption. Children also occupy a moral high ground for they do not represent special interests -- only their own futures. For this reason, youth voices are powerful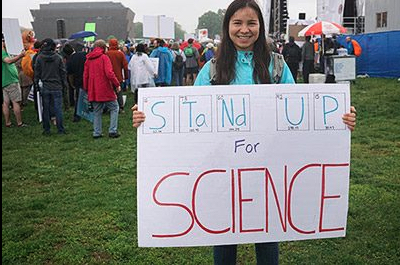 and effective! We at
Young Voices for the Planet
are hopeful that the children's voices will reach and enlighten those still in darkness about the necessity of addressing climate change.
Pictured: Anya Suslova, the star of the YVFP film "Anya: Citizen Scientist in Siberia," at last spring's Climate March. She is now a scientist at the Woods Hole Research Center in Falmouth, MA!
---
New Film Showcases Ex-Straw-Dinary Effort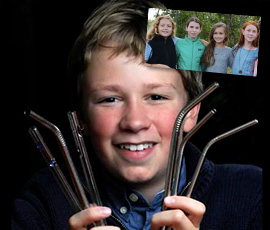 Nine-year-old Milo Cress is concerned about the millions of straws that pollute waterways, waste fossil-fuel resources and harm ocean creatures. With the help of some friends, he convinces restaurants to "be straw-free."
Milo was also recently featured in a CNN article as his efforts go global.
You can read more here.
Milo is credited with starting one of the very first efforts to reduce the number of straws that US consumers use every day.
Your contributions are key to our making these films and helping the 12 existing
Young Voices for the Planet
films be more widely screened in schools, conferences and communities.
THANK YOU!!
---
Weigh In On Our Youth Self-Efficacy & Civic Engagement Curriculum

A Stanford University research team is testing the effectiveness of the Young Voices for the Planet curriculum to find how best to instill civic virtues, self-efficacy, and moral engagement. We seek schools, youth groups, and other formal and informal education venues to join this exciting study to measure student empowerment!
To participate, contact us at
youngvoicesfortheplanet@gmail.com.
We welcome your feedback on the curriculum whether or not you're participating in the research - be
sure to include "CURRICULUM" in the subject line!
---
Aiming High, Climbing Higher: YVFP Films Screened at Youth Summits Across the Country
Harnessing the momentum of the Parkland students, youth summits have been s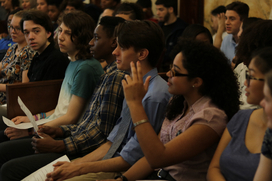 pringing up all over the world. The
YVFP
films have been shown at many of these summits, including the Boston GreenFest's International Youth Summit, where the Foundation for a Green Future led a discussion with 65 students after viewing
Olivia's Birds and the Oil Spill.
The Summit was held on United Nations International Youth Day, a day set aside to bring awareness to the cultural and legal issues regarding youth. In honor of this day, the Summit invites youth to talk to each other about the environmental problems they confront and hear about innovative and enterprising ways of solving them.
Other
YFVP
films have screened at the Oceans Summit at National Aquarium in Baltimore, convened by youth ocean protector Sean Russell as part of his
"Stow It, Don't Throw It!"
campaign, as well as the annual Youth Summit on Climate and Sustainability hosted at MIT.
The YFVP films were also screened a many other venues including the Edward M. Kennedy Institute Earth Day Celebration.
---
YFVP featured at CLEAN Network Teleconference - June 19
Lynne Cherry, producer of the
Young Voices for the Planet
films, made a CLEAN Network Teleconference presentation, "Teaching Climate Change and Self-Efficacy with Hope and Solutions: Lessons from a Film Project." Each Tuesday at 1:00pm Eastern Time, CLEAN (Climate Literacy and Energy Awareness Network) members meet on a teleconference call to update each other about their climate literacy projects, upcoming events, and funding opportunities, as well as share information about best practices, key teaching/learning resources, and the development of collaborative activities.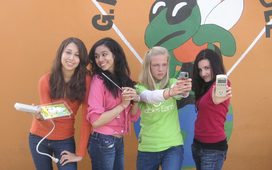 ---
YVFP films screen at Citizen's Climate Lobby Conference
Attendees of the CCL annual conference were excited to see films of young people

addressing town halls, city councils, and legislatures, speaking out for action on climate change in
Save Tomorrow
,
Olivia's Birds
,
Kids vs. Global Warming
, and
Dreaming in Green.
Fourteen hundred members came to DC to speak with their legislators about the importance of addressing climate change. They are advocating for putting a price on carbon, the most effective and efficient way to reduce CO2 emissions.
---
YVFP in the News
Chrysula Winegar of the
UN Foundation's "Global Mom's Challenge"
also had high praise for
YVFP
. She writes, "These are documentaries of real kids solving real problems...When children see their peers making a difference, they are motivated to make their own change." Winegar also gives tips on how
YVFP
helps parents, educators, and kids get involved.
---
Not Done Yet! YVFP Youth Continuing The Fight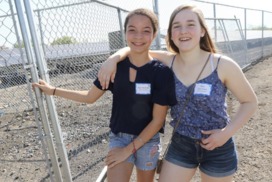 Mari McBride & Alice Van Evera of the Save Tomorrow team showcased in the film of the same name,
attended the unveiling of a new solar farm in their hometown
of Lexington,
Massachusetts. This comes as a huge victory for the girls, w
ho initially petitioned for the right to put solar panels on their school.
Read mor
e about the historic accomplishment here.
Alec Loorz, creator of the iMatter movement based on Apple's popular branding, saw the first
steps of a long-term climate change plan in his home town of Ventura, California. Loorz, featured in the YVFP film Kids vs. Global Warming, urged his city council to vote for a plan to shrink the town's carbon footprint,
find ways to prepare and adapt to changes in weather patterns, and explore how to pay for such strategies. He has also mobilized high school students in the area to continue the fight.
More information is available here.
---
Introducing: New Chairman of the Board, Harriet Shugarman!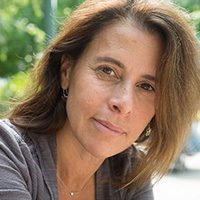 Harriet is the Executive Director of
ClimateMama
, an online community that reaches individuals in over 110 countries and all 50 states. She works with colleges, school children and their parents, educators, businesses, PTA groups, non-profit organizations and houses of worships to empower individuals and to support collective actions on climate solutions. Harriet is a leader and mentor with
The Climate Reality Project
and the recipient of the "Green Ring Award." Harriet has worked for 25+ years in Canada and in the US with governments, international organizations, and educational institutions on climate and sustainability issues as an economist, policy analyst, educator and adjunct professor and is recognized nationally as an "influencer and connector" in the climate movement. In 2017 she was named a
Woman of the Year
by
Next Tribe.
---
YVFP Welcomes Two New Advisory Board Members!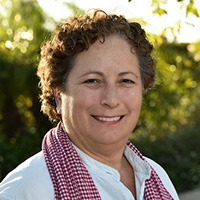 Jessica Landman
YVFP Board of Advisors
. Jessica Landman was the Senior
Director for the Environmental Defense Fund's Oceans Program in Europe. She directed EDF's European collaboration with fishermen, governments and other stakeholders in support of sustainable fishery management practices that incorporate science-based decision-making. She is now a Natural Resources Consultant at Council Fire.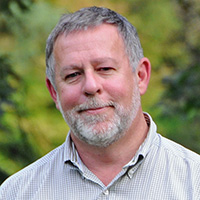 Bill Reed
YVFP Board of Advisors.
Bill Reed is an internationally-recognized
authority in sustainability and regenerative planning, design and implementation. Through the institutions that he co-founded, Regenesis and Integrative Design, Inc., Bill implements design processes that integrate green building, community planning and living systems that yield higher efficiency, lower costs and reduced waste.
---
Producer Lynne Cherry Awarded Lifetime Achievement Award
Project Green Schools presented Lynne Cherry, producer/director of the Young Voices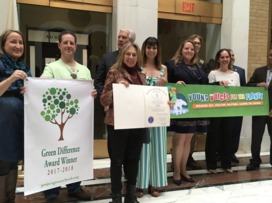 f
or the Planet films, with a Lifetime Achievement Award! Cherry was reco
gn
ized
for being "a hero who has dedicated her life
to Green
Education." Project
Green Schools is in its tenth year of developing the next generation of environmental leaders through education, project-based learning, and community service.

Every year,

Project Green Schools honors and recognizes Outstanding National Environmental Education & STEM Education efforts led in our Schools & Communities at their Annual

Green Difference Awards.

Lynne Cherry recently spoke about
"Teaching Civic Engagement with Hope and Youth Solutions" at
the Pennsylvania Alliance of Environmental Educators conference, the
Mid States Council for the Social Studies' Annual Conference and
Phipps Conservatory & Botanical Garden.
She showed her Young Voices for the Planet films as examples of young people leading the way and discussed how educators can encourage young people to have their voices heard.
---
Audubon Hosts Civic Engagement Workshop


I
n January 2018,
Massachusetts Audubon put on a YOUTH CIVIC ACTION EDUCATOR WORKSHOP with the
Young Voices for the Planet Films and Civic Engagement Curriculum as their centerpiece and with a Q&A with YVFP director, Lynne Cherry and the Save

Tomorrow

girls.
This full-day workshop was attended by both formal and informal educators and was a prototype for many other such workshops. A highlight of the workshop was a lively Q&A with the young stars from
Save Tomorrow
, now 13 years old, who fielded questions from educators for over an hour. The teachers were particularly interested in understanding how the girls' experience of civic participation as children had forged their identity, their self-efficacy and their belief in their ability to change the system.
---
Upcoming YVFP Civic Engagement & Democracy Workshops in Pittsburgh

Formal and informal educators are welcome to attend - and institutions are invited to host - six dynamic Young Voices for the Planet workshops in the greater Pittsburgh area and Western Pennsylvania. These workshops are based on the Young Voices for the Planet Civic Engagement & Democracy curriculum.
---
Exciting Expanded Partnership with National Wildlife Federation - Project EcoSchools

NWF is now using the
YVFP
films in Project EcoSchools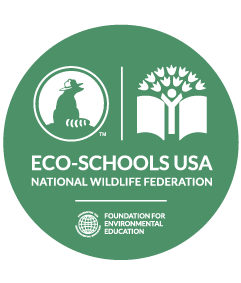 which combines effective green management of school grounds and facilities with curriculum and resources. EcoSchools models environmentally sound practices, provides support for greening the curriculum, and enhances science and academic achievement. The resources page has dozens of links to a diverse range of exciting groups and information.
---
You can help amplify youth voices.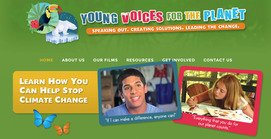 ---