In this issue:
Amber Johnson '07 wins a Fulbright Scholarship​​


High School Matriculation for the Class of 2015.


Community Prep's brand new school video!



A Father's Day Story--Community Prep Style



Community Prep graduates are doing some amazing things. Check out the latest alumni newsletter. Alumni: Check in at the CP Alumni Website!


Trenta Vino Wine Event Photos. Thanks to attendees and sponsors!


Another great Community Prep Golf Classic at The Misquamicut Club! Thanks to our golfers and sponsors. Special thanks to Fleming's Prime Steakhouse and Wine Bar! View photos and sponsors


Are YOU in the 158 Club? Scroll down to learn more about how you can support our students! Contribute now


Stay updated: Like us on Facebook
---
Amber Johnson '07 wins a prestigious and highly competitive Fulbright Scholarship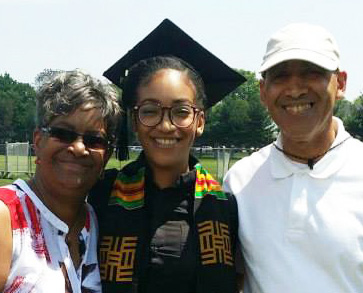 Amber, who graduated from Tufts University in May, will use her Fulbright Scholarship to conduct independent research in Toronto with Rinaldo Walcott and Dionne Brand.

Walcott is the Canada Research Chair of Social Justice and Cultural Studies and focuses on Black Studies, Canadian Studies, Queer Theory and Gender Theory, and Diaspora Studies. Brand, a former Toronto Poet Laureate, explores themes of gender, race, sexuality and feminism, white male domination, injustices and "the moral hypocrisies of Canada."

Amber will attend the University of Pennsylvania for a joint PhD in English and Africana Studies after her Fulbright year. Watch your mail for more about Amber in our summer newsletter.
---
A Father's Day Story--Community-Prep Style
A Community Prep dad donates his kidney to save another CP dad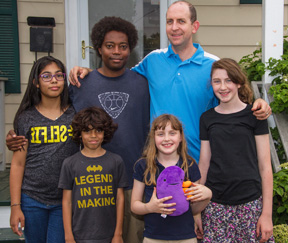 8th g
raders Willa Geoghegan and
Isabella Robinson
carpool to Commun
ity Prep, and the families have known each other for years. When Willa's dad, Sean, learned that Isabella's dad was in need of a kidney, he stepped forward and donated his. The transplant took place the day after Father's Day 2014. A year later, everyone is well.

Sean Geoghegan, a teacher at Paul Cuffee Charter High School, is not the first kidney donor in our Community. Community Prep's founder and head, D
an Corley, donated a kidney a few years ago.

Community
Prep did not play any role in saving Derrick Robison's life--that was Sean and his family. The school comes in because Derrick's wife, Sarah, asked whether adults in the community could be recognized for their achievements, the way that students are recognized for theirs at school. "We hold the Geoghegan family close to our heart," explains Sarah. "Two dads touched by organ donation and children in same grade. Both Sean and my husband are quiet humble men. However, my husband is a survivor and Sean is a hero, and they both deserve Dad of the Year!"

Sean adds,
"I don't make a big deal of it at my high school, but I'm grateful that the students there know someone who did something lik
e this. I hope it will inspire them to think about giving and self-sacrifice. I understand that by doing this, I joined a select club to which Mr. Corley belongs! I'm glad to know that Willa is part of a community which celebrates this kind of occurrence."
---
Trenta Vino

: 30 Wines
Celebrating 30 Years
Community Prep's 3rd Annual Wine Event on April 30th at The Providence Art Club was a great success! Thanks to all the sponsors and attendees.



View photos
They do the work.
You make it possible.
Congratulations
Class of 2015!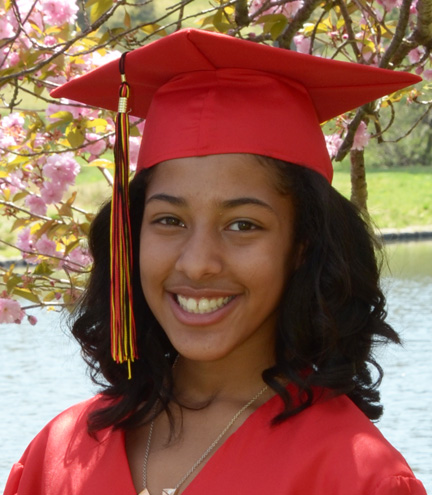 Thanks to you, our donors,
they are on their way!
The class of 2015 is attending:
Barrington Christian Academy
Classical High School
Cranston High School East
Johnston High School
LaSalle Academy
Lincoln School
Miss Porter's School
Moses Brown School
Providence Country Day School
Rocky Hill School
St. Mary Academy – Bay View
St. Raphael Academy
The Met School
Wheeler School
Like us on Facebook or scroll down to see all the schools that accepted our students this year.
---
Check out our new video!
Learn about Community Prep through the words of our students and the vision of a graduate, Gaby Gonzalez '12.
watch video
---
*Join the 158 Club!

It costs $15,800 to educate a Community Prep student. If 100 donors give $158 each, one student will be covered for the year! Donate $158, or any portion or multiple of it, and join the 158 Club.
And, if you've already joined: THANK YOU!
Hurry, our fiscal year ends June 30!
Donate Now!