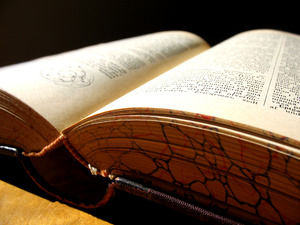 New & Noteworthy in Higher, Liberal & Classical Education



Spring 2013
THE $822,000 TUITION BILL, THE REAL STORY BEHIND MOOCS AND MUCH, MUCH MORE!
Liberal education is expensive, at least as currently practiced. Most of us who believe strongly in its value recognize that it consists not just in "exposure" to certain content (important though that may be) but in modes of thought and discourse about that material and its implications. Most of us have experienced that in small groups, or one on one exchanges, where the dialectic moves readily forward. But small size drives costs higher, tuitions higher, debt loads higher. And these may be driving middle class students away from the liberal arts. The following collection of items focuses on those costs and ways of dealing with them, along with other news and ideas.
- Bob Connor
---
Just how much does a liberal education cost? It's a lot more than tuition at many institutions renowned for offering such an education. Total educational expenditures (including instruction, student services, academic support, etc.) divided by number of degrees awarded can be studied at http://collegecompletion.chronicle.com/college-stats/ Click on a state, choose "public" or "private," etc., then scroll down to completion rates and cost per degree. Here are some of their figures for places that have prided themselves on providing a liberal education.


Princeton $374,620
Stanford $345.440
Harvard $343,004
Chicago $257,275


Do those figures seem high? Compare them to Cal Tec's $618,681.


Pomona $260,141
Swarthmore $259,983
Amherst $257,273
Vassar $232,748


Does private liberal education have to be that expensive? Some institutions manage to do good work while spending far less for each degree awarded:



Carleton $191,580
Davidson $161,207
Bryn Mawr $150,219
Barnard $134,797


Among public universities with a strong commitment to liberal education the figures are much lower, though they may blur the distinctive costs of undergraduate instruction in the liberal arts and sciences:



UNC-CH $137,719
Michigan $129,206
Virginia $110,828
UC-Berkeley $97,934


And don't forget Grand Valley State in Michigan, an impressive operation at $53,947.

The tuition also rises: But it doesn't rise at the same rate everywhere: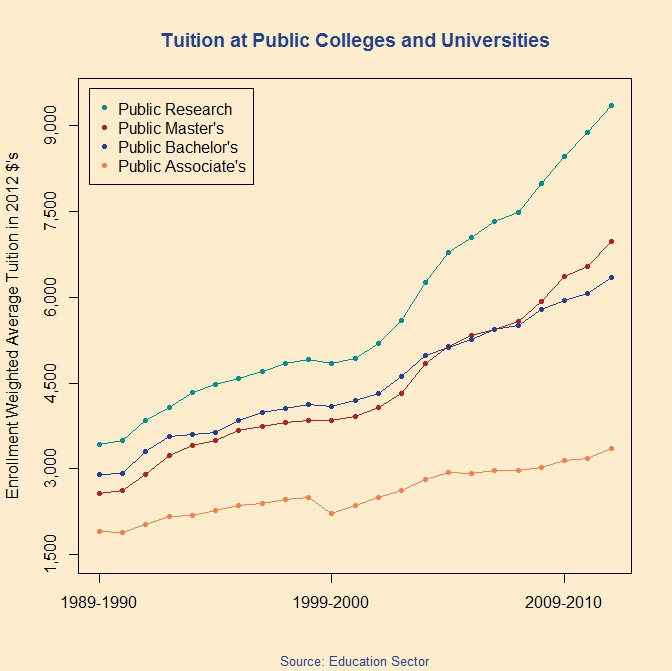 The $822,000 (for one year) tuition bill. The nightmare, though, comes not from today's costs but from imagining them continuing well into the future. My blog posting "The Next Fifty Years: Can Princeton Be a Model?" (http://www.wrobertconnor.com/blog.html) produced that monstrous figure of $822,000 a year by 2060. Of course that projection is no prediction), so I asked my economist pal Bill Lewis what he thought would happen. Here's his answer: "Professors will convey material on-line to thousands, and Princeton can collect much higher revenues than today. The discussion of the material and the development of skills will go on much as today. Princeton will produce the highest levels of quality, although not the highest levels of value added. Costs will increase much more slowly. Productivity will increase – finally."

The real story behind MOOCs. A light bulb went off in my head when I read Bill's prediction. Of course! That is why elite institutions are doing something that seems counter-intuitive – making one of their greatest assets, courses by their world class faculty members, available for free through Coursera, EdX and other MOOC providers. This is not altruism. "But they have no real business plan." Nonsense! Of course they do. It's to get market share in the new industry first, and then set prices. MOOCs will then no longer be free and, as Bill Lewis says, the universities that provide these courses will have a new revenue stream. Some institutions may change radically as they give credit for MOOCs, but the revenue stream will allow others to maintain many features of today's instructional pattern.

To keep up with the fast changing world of the

MOOCs

check this site:

http://chronicle.com/article/What-You-Need-to-Know-About/133475/

How vulnerable are professors' jobs and what can they do about it? Cathy Davidson responds to the fear that MOOCs (and other on line instruction) will replace live professors: "If [professors] can make a good case for what they add, then, … No, I cannot be replaced by a computer screen because of ... Making that case accurately and persuasively (to the public, to legislators, to donors, and mostly to our students) is the single most important thing any professor can do because, if we don't, it will be made for us. And we won't like the result."
http://hastac.org/blogs/cathy-davidson/2013/01/13/if-we-profs-dont-reform-higher-ed-well-be-re-formed-and-we-wont-it-s#.UPYJVifLTSh. Cathy is co-founder of HASTAC and co-directs Duke's Ph.D. Lab in Digital Knowledge.

The real game changer: "competency-based" degrees. Some people are asking: Why offer courses at all, whether on-line or in class? Just test the students to see if they meet your standards, then award them a degree. Costs drop. "Productivity" and "attainment" soar. The predictable advocates are jumping on board the "competency-based" bandwagon, recognizing that this, not MOOCs, could be the real game changer. For background reading I recommend, "Big Disruption, Big Questions."
http://www.insidehighered.com/news/2013/04/17/competency-based-education-heats-new-entrants.

Competency-based degrees may be here quite soon. The University of Wisconsin, according to the Wall Street Journal, is preparing to offer a bachelor's degree to students who take no classes, only on-line competency tests. http://online.wsj.com/article/SB10001424127887323301104578255992379228564.html?mod=WSJ_hps_LEFTTopStories#articleTabs=article.

The Council of Higher Education Accreditors reports that "the U.S. Department of Education issued a "Dear Colleague" letter providing guidance to higher education institutions on how competency-based programs can be approved for federal financial aid eligibility."

Meanwhile, back at the ranch, the CLA comes riding in. Texas Senate bill 436 "would require public colleges and universities to administer the CLA [Collegiate Learning Assessment] to all students during their freshman and senior years. The schools would also be required to publish the results, broken down by academic majors." http://www.evolllution.com/opinions/improving-education-quality-era-outcomes-based-funding/. That's quite a change from the 2012 Texas Republican Party's platform, which read in part: "We oppose the teaching of Higher Order Thinking Skills (HOTS) (values clarification), critical thinking skills and similar programs that are simply a relabeling of Outcome-Based Education (OBE) (mastery learning) which focus on behavior modification and have the purpose of challenging the student's fixed beliefs and undermining parental authority." (p.12 of the Report of the Platform Committee and Rules Committee of the Republican Party of Texas) http://www.tfn.org/site/DocServer/20...pdf?docID=3201

For more on the battles about higher education in Texas, see the Houston Chronicle "Perry Waging War on Higher Education." http://www.chron.com/default/article/Perry-waging-a-war-over-higher-education-4200295.php

Another way to skin the cost cat. "Outcome-Based" is the favorite term for a new way of funding public higher education: Tom Lindsay writes, "16 states have adopted, or are moving toward adopting, 'outcomes-based funding,' through which a portion of state appropriations to public colleges and universities is allocated on the basis of the schools achieving certain metrics. The outcomes most emphasized revolve around graduation rates…"
http://www.evolllution.com/opinions/improving-education-quality-era-outcomes-based-funding/ In some cases what is being counted is not the overall graduation rate, but degree production in "strategic" areas. Florida was the poster-child for this approach, but it now appears that Governor Scott has backpedaled during his re-election campaign: http://www.tampabay.com/news/education/k12/gov-rick-scott-signs-sweeping-education-bill/2116640

The "Q" word. "Quality" is not a word often heard when politicians and bureaucrats talk about higher education, but Americans really do care about quality. See the poll results in http://chronicle.com/article/Americans-Value-Higher/137023/?cid=at&utm_source=at&utm_medium=en. The best guide to keeping quality on the agenda is Commitment to Quality available at http://www.newleadershipalliance.org/what_we_do/committing_to_quality/.

What do students want? "In 1976 about two-thirds of freshmen said the ability to get a better job was a very important reason to go to college; in 2012, an all-time high of 88 percent said so." (Chronicle of Higher Education http://chronicle.com/article/Freshman-Survey-This-Year/136787/). North Carolina's new governor, Pat McCrory, tried to use job anxiety to weaken liberal arts throughout the University of North Carolina system. He was led down the primrose path by that once-upon-a-time humanist, Bill Bennett, in an interview that can be heard at: http://projects.newsobserver.com/under_the_dome/mccrory_wants_to_revamp_higher_ed_funding_takes_aim_at_uncchapel_hill. During their conversation McCrory came up with this description of his plans for financing UNC, "It's not based on butts in seats but on how many of those butts can get jobs." The push back in North Carolina has been a joy to behold. McCrory seems to have dropped this plan, in large part thanks to Jen Job who collected 13,000 signatures on a petition to the governor.

A classic indicator. There's nothing surprising in all this emphasis on jobs and salaries. But in the midst of it all the liberal arts and sciences have done pretty well in holding their own. Enrollment in the modern foreign languages, for example, is up overall. You might expect my field, Classics, to be hit hard by all the talk about getting a first job. But ancient Greek has shown only a modest decline and Latin enrollments are actually up:

1980 1990 2002 2006 2009
Latin 25,035 28,178 29,841 32,191 32,606
Greek 22,111 16,401 20,376 22,849 20,695

http://www.mla.org/pdf/2009_enrollment_survey.pdf (Note esp. Figure 3b)
Maybe students are catching on to what the Princeton Review reports (http://www.princetonreview.com/Majors.aspx?page=1&cip=161200) "Classics majors (and math majors) have the highest success rates of any majors in law school. Believe it or not, political science, economics, and pre-law majors lag fairly far behind." Thanks to Jeff Rusten for this reference.

A newly discovered gospel? Well, not quite, but three of us - all renegade classicists - have been reading Mark as if it were a newly discovered Greek text. We don't pretend to be biblical scholars, but just reading it in Greek raised so many questions, provoked such good argument, insights and questions that we decided to post our exchanges on a new web site www.gospelrenegades.com. My mini-essay "What is an Evangelion?" is one of the first postings. The other Renegades are Bill Berg and Rick McKim.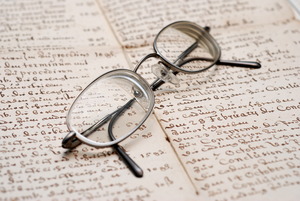 Not to miss:
Richard Brodhead, "The Fire that Never Goes Out" Duke Alumni Magazine January February 2012 : http://www.dukemagazine.duke.edu/article/fire-never-goes-out

Denis Feeney, "What's a University for?" http://apaclassics.org/index.php/apa_blog/apa_blog_entry/4139/

Nicholas Jones, "Liberal Arts, and the Advantages of Being Useless" http://www.academia.edu/2454947/Liberal_Arts_and_the_Advantages_of_Being_Useless

Hunter Rawlings and Lillian Aoki, "A College Education is about More Than a First Job" Huffington Post http://www.huffingtonpost.com/hunter-r-rawlings-iii/college-education-value_b_2593826.html/

Robert J. Thompson, Changing the Conversation about Higher Education (New York, Rowman and Littlefield, 2013)


---
You thought hockey was fast! Things are moving even faster in higher education than on the ice. I will keep responding to some of the most significant developments on my blog http://www.wrobertconnor.com/blog.html. Some recent postings:
Do Liberal Arts Majors Make Any Money? (April 25)
What is a University for? (April 9)
Meeting Homer on a MOOC (March 26)
Is Higher Education an 'Investment'? (Feb. 26)
A Cautionary Tale on On-Line Instruction (Feb. 21)
Recent talks and lectures:
"Liberal Education in a Global Context" (Yale University)
"The Shifting Locus of Power in American Higher Education" (Elon University)
"What Greek Does Best" (Duke University)
"Reading a Book, Then and Now" (Middlebury College)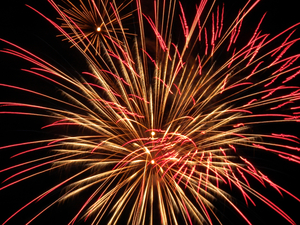 Congratulations:

Quotable:

"The problem with the colleges is that the sideshows in American life have stolen the circus, and we in the main tent do not know what is going on." Woodrow Wilson when battling the eating clubs at Princeton ("What is College For?" Scribner's Magazine, 46 [November 1909] 57). Thanks to Gene Tobin for pointing me to this quotation.

"[I]f colleges and universities do not accept more responsibility for assessment and accountability, the federal government will do it for them." Senator Lamar Alexander during the renewal of the Higher Education Act in 2007.

"The dirty little secret we all know is that the massive lecture was only…an economic expedient; it was never a particularly effective way to teach. Replacing one economic expedient with another, more effective one hardly constitutes an outrage." Matt Reed http://www.insidehighered.com/blogs/confessions-community-college-dean/turning-skid#ixzz2IGu3TtP0

If you like this newsletter, please forward it to friends. Forward this message to a friend

Bob Connor
WRConnnor1@gmail.com

---
---
WRobertConnor.com
127 W. Queen Street
Hillsborough, North Carolina 27278
US


Read the VerticalResponse marketing policy.