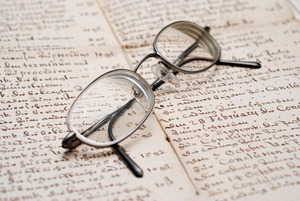 New & Noteworthy in Higher, Liberal & Classical Education



Summer 2013

THE HEALTH OF THE HUMANITIES, OBAMA'S BIG STICK AND OTHER HOT AND HEAVY ISSUES IN HIGHER EDUCATION

Summer Flare Up: The old Culture Wars flared up again in a new guise this summer. Gloom and doom was the obvious conclusion to draw from this graph that appeared in the Wall Street Journal on June 6th.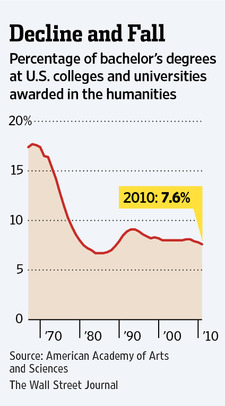 The WSJ article by Jennifer Levitz and Michael Belkin was not all gloom and doom, but a thoughtful exploration of the career pressures affecting students today. It picked on problems honestly presented in a report on the Humanities at Harvard. That was soon followed by the

"

Heart of the Matter" from the American Academy of Arts and Sciences and a flurry of coverage in the print media, often

"

narratives of decline.

"

As in a

column by David Brooks

in the New York Times in which he writes: "

Somewhere along the way, many people in the humanities lost faith in this uplifting mission. The humanities turned from an inward to an outward focus. They were less about the old notions of truth, beauty and goodness and more about political and social categories like race, class and gender.

"

If that is the story, we're back to the old Culture Wars – the Right blaming teachers of the humanities for their imminent collapse, and the Left defending the status quo.

The Blogosphere Fights Back: All this appeared in a new light when Ben Schmidt, a graduate student at Princeton, took a closer look at the evidence, and made two important discoveries. First, the "decline" looks a lot worse if you measure it from a peak in the 1960s than if you look back to the 1950s. Here's

Ben Schmidt's graph

, for comparison to the one above from the Wall Street Journal: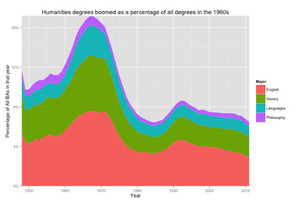 This graph does not document a success story, but it doesn't match the usual narrative of decline and it makes us look back to the 1960s as "the good old days"!

Schmidt also showed that most of the decline in majors could be explained by changing patterns among women students as new career opportunities opened up. Another

blog post

of his asked "Crisis in the Humanities, or Just Women in the Workplace?"



Nate Silver's FiveThirtyEight blog

made another important point: "More American students are attending college than ever before. ... [T]he distribution of majors has become more career-focused, but these degrees may be going to students who would not have gone to college at all in prior generations." Probably Silver's most important contribution was to track the percentage of majors in a wide range of fields. Pretty much

all

older, less vocationally oriented majors show a decline; Math, for example, shows a steeper decline than English.

Are Majors the Metric? My blog tried to take this one step further and challenge the assumption that the number of majors is the best indicator of the health of the humanities. Carolyn Fuqua, Mike McPherson, and Harriet Zuckerman all posted incisive comments on an entry I entitled "

Misled by the Majors

." It makes the simple point that if the total number of majors offered by a college or university goes up, the average major will likely have a smaller percent of the total. What's more, focusing on majors rather than on total enrollments, or on measures of cognitive and personal growth, reinforces the tendency to equate success with the ability to produce specialists in one's field. Tony Grafton has made similar points in

an incisive article

called "The Humanities in Dubious Battle."

Next Steps: So, if narratives of decline are misleading, is everything just fine with the humanities, and with liberal education more generally? Far from it, as I plan to keep exploring on my

blog

in the near future. So stay tuned.

Tuition Bills: The government

reports

"Tuition and required fees for in-state students at four-year, public institutions rose by 6.7 percent from 2010-11 to 2012-13. … Four-year, private nonprofit institutions saw an increase of 3.1 percent. At four-year, private for-profit colleges, tuition and fees dropped by 2.2 percent." But these figures are of little significance unless one factors in financial aid. That information is buried in Table 388 of

another government report

. At some private colleges "tuition discounting" (now around 45% according to the Wall Street Journal) is actually reducing tuition costs.

What Does Obama Have up His Sleeve? It Looks Like a Big Stick! In a speech at Knox College, President Obama promised to "shake up" higher education. "

I'm going to take action in the education area to spur innovation that don't require Congress" said the president. "Families and taxpayers can't just keep paying more and more and more into an undisciplined system where costs just keep on going up and up and up."

So what can he do without congressional authorization?

For months the White House has been indicating that it intends to "hold colleges accountable for cost, value and quality." One way to do that is to set benchmarks for affordability and student outcomes, as the Chronicle of Higher Education reported on February 13th, and make

accreditation

depend on meeting those benchmarks. The Department of Education can do that. And without accreditation an institution cannot receive federal funds. Talk about "big sticks"! I think Obama's will do.

If this prediction comes true (go ahead, hold me to it), the pressure will be on, big time, to reduce costs. In some institutions, especially hard pressed public universities, that will mean greater reliance on Massive Open Online Courses (MOOCs) to cut costs. I keep waiting for better evidence about the effectiveness of MOOCs among first generation, underprepared and minority students. If they don't work for these students their proliferation may further exacerbate the already considerable racial polarization in higher education. Here's the gist of a recent

report from Georgetown University

in graphic form: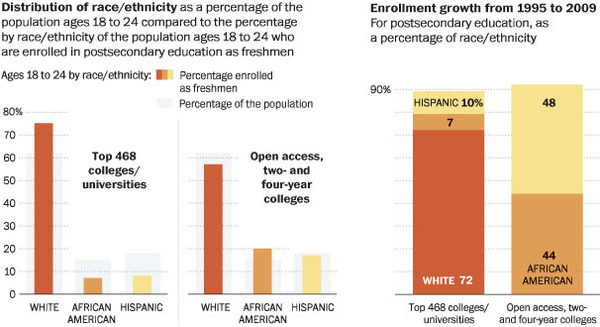 African-Americans and Hispanics already go in disproportionate numbers to institutions that have the least resources to help them learn and succeed. As I pointed out in

a blog posting on February 19th

there is reason to suspect that for these students heavy doses of MOOCs will make matters worse.

Ready for 'Disruptive Change'? Bigger questions are coming to the fore: Why stop with MOOCs? Do we really need classes? Why not count work experience and other off-campus experience so a degree could be achieved

with no class time at all

?

Why not test "competencies" and "skills" and certify students on that basis? The means to do so are being rolled out, right now, as a recent article "

Beyond Grades

" points out.

More Voices Needed: Amid all the clamor about (and attacks on) liberal education and the humanities in particular, the case needs to be made, time and time again, that a college education is more than the accumulation of skills. The Academy's new report on the Humanities, "

The Heart of the Matter

," makes its case by wrapping itself, literally, in the American flag. Its subtitle is "for a vibrant, competitive and secure nation." Maybe that's what has to be said in these times. But the other half of the story needs to be equally prominent – the education we need offers another kind of richness, the inward satisfactions and well-being towards which a liberal education should always be steering.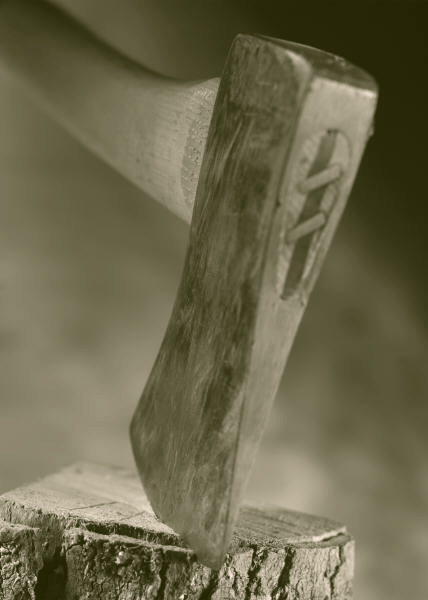 Meanwhile, the NEH Budget is back on the chopping block: Apparently the red white and blue argument for the humanities has not had much effect in the House appropriations committee where,

it is reported

, a 49% budget cut is being proposed.

And Now for Something Completely Different: The New Testament Sounds Different in Greek, at least it does to three of us, all renegade classicists, who have been surprised by what we find reading the Gospel of Mark in the original Greek. The

Gospel Renegades

site contains our verse by verse discussion, plus some

short essays

I have written on "What is a Gospel?", "What's in a Name?" and "Taking Mark Seriously."

Quotable



"

When all is said and done, more will be said than done." Sign on an Irish Pub

"The humanities aren't just the subjects listed in college course catalogues - literature, philosophy, history, music, and the other arts - though those are certainly included. The humanities are a name for the process by which all the things humans have made, said, thought, and done come back to spark the understandings of other humans across time." Richard Brodhead



"If we teach great works in great ways--ways that produce the sense of an increase in knowledge, power, and not to be forgotten, pleasure--we'll be fine."

Geoff Harpham



"[T]he greatest adventure of man is science, the adventure of penetrating into matter, into the material universe. But the adventure is our property, a human property, and the best description of us is the humanities."


Robert Frost

"Scribble, scribble, scribble! Eh! Mr. Gibbon?" Maybe scribbling is not such a bad idea, if the aim is improvement in
Critical Thinking: "Why might arts-and-science or engineering students do better on performance tasks overall? One hypothesis is that there is more writing and analysis required of students in those fields." Roger Benjamin

Thanks for leads and advice:
Emmanuel Bourbouhakis
Denis Feeney
Anthony Grafton
Jean Houston
Judith Shapiro
The Fellows of the National Humanities center in the 2012/13 year.

Special Debt of Gratitude:

Hackett publishing has kept my

New Politicians of Fifth Century Athens

in print for several decades now and Princeton University Press has done the same for my

Thucydides

. In an era when books come in and out of print like flowers in spring, I appreciate their enduring support.




---
Earlier issues of the Newsletter may be found at:

http://www.wrobertconnor.com/provocations.html

. If you like this one share it with friends and urge them to sign up for subsequent issues by sending me an email at

wrconnor1@gmail.com





---
WRobertConnor.com
127 W. Queen Street
Hillsborough, North Carolina 27278
US


Read the VerticalResponse marketing policy.