FROM THE DIRECTOR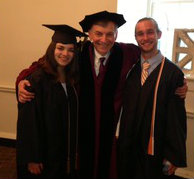 Read Jewish Studies Director Gabriel Finder's letter to find out what's been happening in Jewish Studies at UVa and where it's headed. >>>






Gabriel Finder with Amira Beeber


and Stephen Duffy at Graduation
JEWISH STUDIES AT HOME AND ABROAD
SPOTLIGHT: "Five Days in Shanghai"

On April 19-20, 2013 Jewish Studies faculty members Jeffrey Grossman (Department of Germanic Languages and Literatures) and Martien Halvorson-Taylor (Department of Religious Studies) attended a conference at Shanghai International Studies University (SISU) on "Politics, Culture, and Literary Imagination." Invited by Prof. Qiao Guoqiang, who delivered the inaugural Deborah Gabry Memorial Lecture at UVA this fall, the conference marked a developing exchange between UVA and SISU. To read more about Prof. Grossman and Prof. Halvorson-Taylor's experiences in Shanghai, please click

here.
ISRAEL
Asher Biemann in Tel Aviv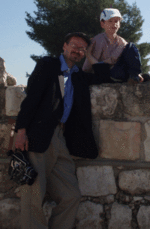 Asher Biemann spent the academic year 2011-12 with his family on sabbatical in Tel Aviv. In the fall of 2011, he was the Forchheimer Visiting Professor at the Hebrew University in Jerusalem, a research position allowing him to complete and revise his book

Dreaming of Michelangelo: Jewish Variations on a Modern Theme

(Stanford University Press, 2012) and to work at the archives of the National Jewish Library. In the spring, he gave lectures at Bar Ilan University and the Leo Baeck Institute. Following the typical habit of Israeli academicians, he also went to Europe to teach two intensive graduate seminars at the Universities of Graz and Vienna, respectively. Read more about his experiences

here. [Pictured: Asher Biemann with his son]

Deborah Galaski in Jerusalem

Deborah Galaski, a PhD Student in the Department of Religious Studies, spent the 2011-2012 academic year studying at the Pardes Institue of Jewish Studies in Jerusalem, where she took courses on Talmud, Tanakh, Halakha, Hasidut, Liturgy and Modern Jewish Thought. Her experience studying at Pardes has helped her research immensely, due to the school's intensive textual focus and emphasis on learning original languages such as ancient Hebrew and Aramaic. It also instilled in her a love of learning lishmah - learning for its own sake - and she maintains a study partnership in both Midrash and Talmud with fellow students from her year. Read more about her experiences here.



EUROPE


Gabriel Finder in Poland



Gabriel Finder, Ida and Nathan Kolodiz Director of Jewish Studies, was invited to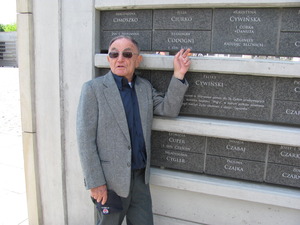 Lodz, Poland in May 2012 to take part in an international conference devoted to the life of Jewsin immediate postwar Lodz and Poland. Organized by the University of Lodz and the Institute for National Memory in Poland, the conference was held to commemorate the Polish publication of the 2010 book

Life in Transit: Jews in Postwar Lodz, 1945–1950

by noted Israeli historian, Shimon Redlich, Finder's friend and mentor. Read more about his trip

here. [Pictured: Shimon Reidlich in Lodz]


Rebekah Slodounik in Germany

Rebekah Slodounik, a PhD student in the Department of Germanic Languages and Literatures, is currently a guest instructor in the American Studies program at the Technische Universität Dortmund in Dortmund, Germany. In the winter semester, Rebekah taught two sections of an introductory seminar course entitled "Responses to the Holocaust in German Jewish and American Jewish Literature." Several of the texts included in the course are texts on which Rebekah will focus in her dissertation. Read more about her experiences here.


---

FACULTY NEWS

SPOTLIGHT: Vanessa Ochs Ordained

Vanessa Ochs was ordained as a Rabbi on December 16, 2012 in Chicago in the presence of UVA graduates, including Rabbi Emily Dunn Segal and Rabbi Anna Levin Posen, who has both studied in her Jewish Studies classes. Also in attandance were former UVA bible professor, Esther Menn; UVA Ph.D's Daniel Weiss and Basit Koshul; and current graduate student Emily Filler.


Judith Shatin's Birkat Hakohanim has been on tour with the University Singers, UVA's premier choral ensemble. Read more about their tour here. Also in the choral domain, her God of Glory, a setting of verses from Ps. 29 for SATB chorus, received its New York premiere by the New Amsterdam Singers in December of 2012. Her Chai Variations on Eliahu HaNavi was performed by pianist José R. López on the Steinway Series at the University of Florida on 3/10/13, on 3/13 at the Kawai Salon in Tokyo and on 3/16 in Miyoshi, Japan.

James Nohrnberg (Emeritus) was honored for his "high attainment in literary scholarship" with an honorary induction into the Harvard University chapter of Phi Beta Kappa. He also presented two paper sat the annual meeting of the Modern Languages Association, "Milton and the Drama of Interiority: A Theater Within" (January 2012) and "Beyond the Rungs of Saturn: Dante in Translation in Paradiso XXII" (January 2012).

Assaf Shelleg published "Israeli Art Music: A Reintrodcution" in Israel Studies 17.3 (2012). He also presented two papers, "The Curse of the Augmented Second" at the American Musicological Society Annual Meeting in New Orleans (November 2012) and "Musica Ebraica in Italy: Reshuffling Historiographical Cards" at a conference Music between Nation and Form: Mario Castelnuovo-Tedesco and the Boundaries of Italianità hosted by Brown University (September 2012), and has published articles for Israeli newspaper Ha'aretz. Prof. Shelleg also served as a fellow at the Schusterman Center for Israel Studies at Brandeis University during the summer of 2012, where he worked on his forthcoming book manuscript, tentatively titled Jewish Contiguities and the Soundtrack of Israeli History.

Alison Weber recently published "Gender and Mysticism," in The

Cambridge Companion to Christian Mysticism, edited by Amy Hollywood and

Patricia Z. Beckman (Cambridge University Press, 2012), "'When Heaven

Hovered Close to Earth': Images and Miracles in Early Modern Spain," in A Linking of Heaven and Earth: Essays in Honor of Carlos M. N. Eire, edited by Emily Michelson, Scott Taylor, and Mary Noll Venables (Ashgate, 2012) and "Literature by Women Religios in Early Modern Catholic Europe and the New World" in the Ashgate Research Companion to Women and Gender in Early Modern Europe, edited by Allyson M. Poska, Jane Couchman and Katherine A. McIver Hants (Ashgate, 2013). Thanks to a grant from the Office of the Vice President for Research, during the summer she was able to work in the Inquisition archives in Madrid and Cuenca on her new project: conversos and morsicos who were chaged with disrespecting religious images in sixteenth- and seventeenth-century Spain. She also organized a panel, "Assimilation, Conversion, or Confessionalization?: Judeo-Christians in the Early Modern Iberian World" for the Sixteenth Century Studies Conference, held in Cincinnati in October, 2012 and co-organized a symposium on "Early Modern Religious: Comparitive Contexts" at the Newberry Library in Chicago, May 21-22, 2013.

Vanessa Ochs

wrote "A Life with Things" in

Chapters of the Heart,

edited by Nancy Fuchs Kreimer and Sue Levi Ellwell (forthcoming). In the summer of 2012, she taught on the faculty of the Bronfman Youth Fellowship in Israel and in May 2013, she will be returning to Minzu University in Beijing, this May, as part of the UVA Scriptural Reasoning team. She was also selected as a 2012-2014 Fellow in the UVA Seminar for Lived Theology.

Joel Rubin

was promoted to associate professor in Fall 2012. He published an article in the

Encyclopedia of Jewish History and Culture

(Leipzig), and has an articles and chapters in press with the Continuum

Encyclopedia of Popular Music of the World,

the

Cambridge Companion to Jewish Music

and

Textures of Jewishness: A Hand- and Textbook

(Center of Jewish Cultural History, University of Salzburg). Rubin's duo CD with acclaimed composer and jazz pianist Uri Caine,

Azoy Tsu Tsveyt

(Tzadik), was chosen by exclaim.ca as one of the 10 favorites in the category Improv & Avant-Garde for 2011. He performed on the acclaimed international recording collaboration, (US/Germany/Latvia)

Alpen Klezmer

by Andrea Pancur and Ilya Shneyveys (2013), and a piece of his was selected for the third time for inclusion in a Rough Guide anthology (

The Rough Guide to Klezmer, Second Edition

, 2011). In the past year, Rubin has taught at workshops in Albuquerque (Klezmerquerque) and at Yiddish Summer Weimar in Germany. He will be teaching and performing at KlezWest 2013, Second Klezmer Festival in Insul, Germany and at the International Master Classes at the World Klezmer Center in Safed, Israel in summer 2013. Recent performances include a duo concert with Uri Caine at the Music Gallery in Toronto, and at the World Wind Wizards concert sponsored by the World Music Institute at Symphony Space, NY. He was featured in a TV segment on klezmer music by Feature Story News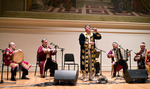 broadcast on JN1 in February, 2013. Rubin was part of the organizing committee of this year's conference on "Common Ground: Dialogue between the Jewish and Islamic Worlds through Art," and he organized the April 2013 residency at UVA by renowned klezmer musicians Cookie Segelstein and Joshua Horowitz (Berkeley, California). Upcoming residencies in planning
including National Heritage Fellow, clarinetist
and mandolinist Andy Statman in November, 2013, and Alan Bern (director of Other Music, Yiddish Summer Weimar, and The Other Europeans) in April, 2014.
[
P

ictured: UVA Performance by

Ensemble Shashmaqam
]
Greg Schmidt Goering
published "Proleptic Fulfillment of the Prophetic Word: Ezekiel's Dirges Over Tyre and Its Ruler" in J
ournal for the Study of the Old Testament
36, no. 4 (2012): 483-505. He also gave papers on "Textured Discipline: The Sense of Touch in the Book of Proverbs," at the Society of Biblical Literature Annual Meeting, Chicago, IL, 17-20 November 2012; on "Wisdom in the Flesh: A Sensory Approach to Biblical Studies," as an invited lecturer at Union Presbyterian Seminary in Richmond, VA; and has been invited to give a lecture on "Wisdom in Deuterocanonical Literature: A Response to John Kampen," at the Deuterocanonical and Cognate Literature Jubilee Conference, in Budapest, Hungary this June. He was elected chair of the Senses and Culture in the Biblical World Section, Society of Biblical Literature.
Zvi Gilboa
gave a talk entitled "Placing the Dots: On the Technical Challenges and Cultural Aspects of Typesetting Herbew Vowel-Marks" at the Technion in Israel (August 2012). He also gave the keynote address at the UVA Summer Language Institute Teaching Workshop, entitled "What Do You See? Leaving the Comfort Zone: Language Learning as Cultural Journey" (June 8, 2012), as well as a talk at the UVA Roundtable on Foreign Language Teaching and Learning, entitled "From Visual Representation to Dramatic Performance: Facilitating Reading Comprehension in the Beginning and Intermediate Levels" (September 21, 2012).
James Loeffler
has been awarded an Andrew W. Mellon Foundation New Directions Fellowship for the 2013-2013 academic year to pursue legal training in connection with his book project on the history of Jewish involvement in international human rights. He also received a Jefferson Trust Course Development Grant to create a new course at UVA, "Nation and Empire in Eastern Europe: Jews and Slavs in Historical Perspective." Prof. Loeffler delivered several lectures, including a keynote address at a conference at Miami University of Ohio, "Music and Power in Eurasia" (March 2013), "Jewish Nationalism in Music" (New York University, April 2013), "Rethinking Jewish Legal Internationalism" at Coumbia University (September 2012), "Zionism and Law" at Princeton University (March 2013) and "Law, Zionism and Jewish Identity" at Johns Hopkins University (March 2013). He has also been invited to deliver a keynote adress at the plenary session of the Arts and Literature Division of the World Congress of Jewish Studies Confernece in July 2013 in Jerusalem, Israel. Loeffler made his silver-screen debut this past year as a talking head in the popular new documentary
Hava Nagila.
Forthcoming publications include "
The Conscience of America: Human Rights, Jewish Politics and American Foreign Policy at the 1945 United Nations San Francisco Conference," in the Journal of American History (Fall 2013) and a paperback edition of his book, The Most Musical Nation: Jews and Culture in the Late Russian Empire (Yale University Press, fall 2013).
Martien Halvorson-Taylor
is teaching Hebrew Bible at the Hong Kong University of Science and Technology, where she is a visiting profession for Spring 2013. She published "Secrets and Lies: Secrecy Notices (Esther 2:10, 20) and Diasporic Identity in the Book of Esther" in the
Journal of Biblical Literature
(131:3, Fall 2012) and is currently working on a book manuscript about the Song of Songs.
Elizabeth Shanks Alexander
published a new book
Gender and Timebound Commandments in Judiasm
(Cambridge University Press, 2013). She was a 2012-2013 Fellow at the Institute for the Humanities and Global Cultures at UVA. As part of that fellowship, she and Beth Berkowitz (Barnard College) organized a conference on "Religious Studies and Rabbinics" at UVA, featuring 14 leading and emerging scholars from across the US and Canada. She also presented a paper "Ritual on the Threshold: Mezuzah and the Crafting of Civic and Domestic Space," at the SBL Annual Conference (November 2012), and delivered a lecture entitled "Between Rabbinic History and Contemporary Jewish Theology with Gadamer" at the University of Washington (October 2012).
Read more about the Jewish Studies Faculty
here.
---

GRADUATE STUDENT NEWS

Gabriel Cooper defended his dissertation "Fantasies of Jewish Power: Religion and State in German Jewish Writing from Mendelssohn to Schoenberg" in March of 2013. Gabriel received a research grant from the Deutscher Akademischer Austauschdienst (DAAD), and is currently living in Berlin.

Ashleigh Elser presented "Reparative Historiography, Reparative Hermeneutics: A Post-Critical Approach to a Maculate Scriptural Text" at the Jefferson Fellows Symposium (February 2013), and served as a panel respondent for the annual Gunst Colloquium (February 2013). She also had a paper accepted for presentation at the annual meeting of the American Academy of Religion next year. Ashleigh will be participating in the Herbert D. Katz Summer School for Jewish Studies at the University of Pennsylvania this summer (2013).

Emily Filler is currently an Associate Fellow at the Institute for Advanced Studies in Culture at UVA. She presented papers this past year at the annual meetings of the American Academy of Religion, the Society for Biblical Literature, the Society of Jewish Ethics and the New Brunswick Theological Seminary, and was elected co-chair of the American Academy of Religion's group on Scriptural and Contextual Ethics. She also taught a course on American Judaism at the University of Mary Washington, and taught Scriptural Reasoning at the 2012 Cambridge Interfaith Programme's Summer School. She has reviews forthcoming in the Journal of Modern Jewish Studies and the Journal of Jewish Studies.

Deborah Galaski presented a paper entitled "A Separate Place? Criminal Burial in the Mishnah and the Limits of Reconciliation" at the Virginia Graduate Colloquium in Theology, Ethics and Culture (April 2012). She also helped coordinate several conferences at UVa, including the Gunst colloquium, "Reading Scriptures Across Borders," for which she also served as a panel respondent (February 2013); a conference on "Religious Studies and Rabbinics" (February 2013); and "Common Ground: Dialogue Between Jewish and Islamic Worlds Through Art."

Read more about the Jewish Studies graduate students here.

To learn about this year's Rachel Winer Manin Interdisciplinary Graduate Fellows in Jewish Studies, click here.

UNDERGRADUATE STUDENT NEWS

Congratulations to our Jewish Studies minors Courtney Sullivan, Stephen Duffy and Amira Beeber on their graduation!

We're proud of the excellent scholarship displayed by the students in our program. Congratulations to the winners of the 2012-2013 Jewish Studies essay competition!
First place: Amira Beeber, "Barabas and Shylock: Hegel's Tragic Heroes. Tragedy inaThe Jew of Malta and The Merchant of Venice"
Second place: Martha (Banner) Banks, "Idolatry, Nature and Iconoclasm in 'The Pagan Rabbi'"
Third place: Annaliesa Routh, "Aftermath of Revolution: The Transformation of Polish National Consciousness in the Wake of 1863"
Honorable Mention: Caitlin Levine, for her electronic Haggadah with an environmental focus
ALUMNI NEWS

We always love to keep in touch with our alumni! Please send us your news and let us know how you are doing!


The Year in Review: Special Events
Inaugural Deborah Gabry Memorial Lecture on Contemporary Jewish Issues
On October 25, 2012, Qiao Guoqiang of Shanghai University delivered the inuagural Deborah Gabry Memorial Lecture on "Jews, Judaism and the Promised Land: American Jeiwsh Literature from a Chinese Perspective." Founded in memory of the late Deborah Gabry and in honor of her lifelong commitment to Judaism and relationship with the UVa community, the Deborah Gabry Memorial Lecture series seeks to promote discussion about issues related to Judaism and Jewish practice around the world today. Learn more about this lecture series and watch a video of the inaugural lecture here.
Richard J. Gunst Annual Colloquium in Jewish Studies (February 10-11, 2013)

This year's annual Gunst colloquium, organized by Jewish Studies professor Peter Ochs, focused on the theme of "Reading Across Borders: Moving Scriptures, Moving Texts." The conferences highlighted presentations by literary and religious scholars, including renowned Torah teacher Avivah Zornberg, Christian ethicicst David Gushee (Mercer University) and biblical Theodore Perry (Boston College). Each presentation was followed by a session of small group text study, as well as responses by UVA faculty and graduate students. The goal of the conference was to observe how patterns of interpretation move across borders, including borders between Scripture and commentary, different scriputural canons and different languages, as well as between literature and film.

Religious Studies and Rabbinics (February 18-19, 2013)

Jewish Studies co-sponsored a conference on "Religious Studies and Rabbinics" at UVA on February 18-19, 2013. UVA Jewish Studies professor Elizabeth Shanks Alexander teamed up woth colleague Beth Berkowitz from Barnard College to organize and plan the event. The conference brought together 14 scholars from across the US and Canada from the detail-oriented field of Rabbinics and the comparative field of Religious Studies. The encounter pushed scholars from each field to reflect on their own objectives in light of those of the other field, and as a result encouraged participants to productively push the boundaries of both fields. The papers addressed "big questions" - How does a scholar compare one religious text or phenomenon to another, and to what end? What is the role of particular data vs. abstract categories? How does the scholar's own location shape his or her work? - that highlighted mutual interests and points of tension between the two fields. The conference was attended by over 100 people, including visiting graduate students and scholars from Duke, JTS, Emory, UNC and NYU.
Common Ground: Dialogue Between Jewish and Islamic Worlds Through Art (March 3-4, 2013)

A unique symposium, this conference melded traditional academic presentations with a theatrical performance, a musical concert and a poetry reading. Bringing together scholars and artists from all over the world the Common Ground conference explored the ways in which Jews and Muslims, Israelis and Arabs have devoted themselves for decades to trying to establish dialogue. These artists have been pivotal to efforts to find common ground in the face of conflicts others deemed intractable. They have responded to conflicts between their respective communities not only in isolated enclaves, but in bold collaborative efforts, such as hybrid music ensembles and theatrical cooperatives. This conference both celebrated and examined their efforts.

To read more about all of this year's Jewish Studies Events, click here.