Science Spotlight: Prairie Restoration Project at KBS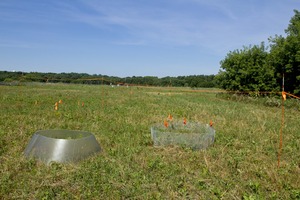 As global temperatures increase, more people are going local. Purchasing locally grown food cuts down on fossil fuel consumption, maintains farmland, and boosts the local economy.

Most scientists would agree that going local is one of the best ways to protect the environments and people in our communities; however, when it comes to combatting biodiversity loss, this may not be the best solution.

A multifaceted collaborative research project at KBS is exploring the possibilities of locally sourced and southern-sourced seeds in native prairie restoration efforts (one of the project's sites is pictured at right).

This project came to be through a partnership with the Michigan Department of Natural Resources (DNR), initiated when the DNR approached KBS about establishing additional native grassland on KBS property. The project benefits the existing landscape by defragmenting the state's agricultural/wood lot mosaic, and by creating habitats for native species, according to KBS Lux Arbor Reserve manager Mark Manuszak.

Seeds and grant support for the project were provided by the DNR through their private lands program fund, organized by DNR Wildlife Biologist Ken Kesson. The project was originally focused on implenting native prairies. Through collaboration between KBS and the DNR, it has evolved to include exciting research conducted by a team of scientists comprised of KBS, EMU, and MSU main campus researchers, as well as summer undergraduate students.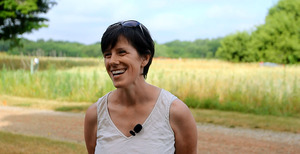 The research of the Prairie Restoration Project is led by KBS faculty member Dr. Jen Lau (pictured at right) as well as MSU faculty member Dr. Lars Brudvig, and KBS alumna and Eastern Michigan University faculty member Dr. Emily Grman.

The project is an experimental effort to bring back native prairies to preserve biodiversity that's been lost due to invasive takeover. The experiments associated with this project are expected to be long-term, conclusive explorations into the best ways to restore this endangered ecosystem.

One experiment focuses on how plant species are affected by rising temperatures. Locally sourced seeds are often considered ideal for a region because they have adapted and evolved to survive in that particular environment. This assumption is flawed, however, because it presumes that the environment is constant.

With many scientists predicting that global temperatures will rise approximately 1-3° Celsius in the next century, a huge environmental change could be underway. Lau and her team are questioning if local is best for these restorations, especially if seeds from southern areas of the Midwest can tolerate higher temperatures outperform locally sourced seeds.

In their partnership with the Michigan DNR, KBS scientists will continue asking impactful questions about climate change and biodiversity. Lau said, "I am proud to be a part of this project because of the unique collaborative nature. I would say the team has had some of the most exciting science discussions I've had in all my years of science."

To learn more about this project, contact Dr. Jen Lau, Dr. Lars Brudvig, or Dr. Emily Grman. To learn more about the DNR's involvement in this project, contact DNR Wildlife Biologist Ken Kesson.

---
That's a First! Osprey Chicks Banded at Lux Arbor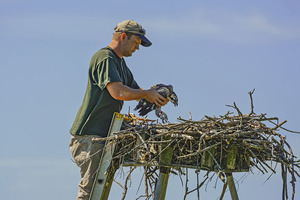 Two young osprey chicks were banded at Lux Arbor Reserve on June 27 by Michigan DNR Wildlife Biologists, with assistance from Lux Arbor manager Mark Manuszak. These two chicks were the first to be banded by the DNR in Southwest Michigan.

The Michigan DNR began an initiative to band ospreys as part of their effort to re-establish the species in Southern Michigan. Banding ospreys allows the DNR to gain a greater understanding of ospreys' lives, locations, and ultimately, survivorship.

The osprey chicks banded at Lux Arbor grew up in their nest on Middle Crooked Lake. At the time of the banding, the chicks were about five weeks old (see picture at top right with DNR Wildlife Biologist Ken Kesson; credit: Roy Van Loo). At about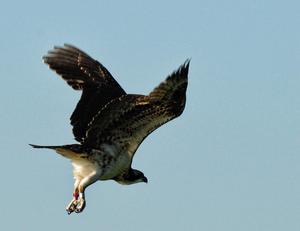 eight weeks old, they learned how to fly and were ready to leave the nest (see picture at lower left of young osprey in flight; credit: Larry Burdick).

Starting in 2017, DNR Wildlife Biologist Ken Kesson will be in need of volunteers to assist with monitoring ospreys in Southwest Michigan. To learn more about this opportunity, email him. To learn more about Lux Arbor, contact Mark Manuszak.


---
View Research Results at Undergraduate Symposium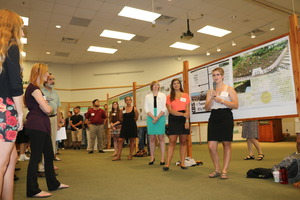 This summer at KBS, undergraduate students from Michigan State and schools all over the country have been taking field-based courses, gaining professional experience, and learning firsthand what it means to be scientists.

On Wednesday, August 3, 3:30-5:30 p.m. at the KBS Academic Auditorium, the public is invited to see the results of these students' work at the annual KBS Undergraduate Summer Research Symposium. Students will offer poster presentations about their research and professional experiences. Light refreshments and beverages will be provided.

Come to this special symposium to celebrate our students' accomplishments, and to learn about projects like these:
Sibling Competition and Cooperation in Tadpoles

Eco-Evolutionary Responses of Phytoplankton to Global Change

Restoring Prairie Ecosystems: Whether Weather Matters

The Science of Storytelling
For more information, contact Undergraduate Programs Coordinator Danielle Zoellner.
---
For More Information
KBS Community Relations

: (269) 671-2015
communityrelations@kbs.msu.edu


KBS Conference Center

: (269) 671-2400
conference@kbs.msu.edu


W.K. Kellogg Bird Sanctuary

: (269) 671-2510
birdsanctuary@kbs.msu.edu


W.K. Kellogg Experimental Forest

: (269) 731-4597
kelloggforest@kbs.msu.edu


W.K. Kellogg Farm

: (269) 671-2402
kelloggfarm@kbs.msu.edu


W.K. Kellogg Manor House

: (269) 671-2160
manorhouse@kbs.msu.edu