Science Spotlight: Presenting Research Nationally

Several KBS faculty members and students attended a national meeting of the American Society of Naturalists January 10-14 in Asilomar, California. The program included research symposia, as well as social activities and discussions.

KBS graduate student Pat Hanly (pictured at right) presented his research at a KBS brown bag seminar prior to attending ASN, along with KBS visiting graduate student Carina Baskett. Learn more about Hanly's outstanding experience at ASN in his own words below!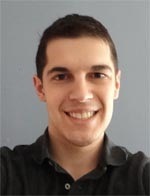 The American Society of Naturalists meeting was a great opportunity to present my research on latitudinal patterns in fish speciation to a diverse and accomplished audience of ecologists. Interacting with ecologists that wrote some of the seminal papers in the field and having them attend my talk was a privilege.

The meeting was well attended by past and present KBSers. The meeting was also an opportunity to see again some of the speakers brought in by the KBS seminar series and other graduate students that I previously met in courses at KBS. To my surprise, I even got to see a cousin I had not seen in years who is (also to my surprise) working on latitudinal gradients in marine copepods. Ecology really is a small world.

The highlight for me was the symposium on the latitudinal diversity gradient (LDG) organized by MSU professors and appreciated collaborators Gary Mittelbach and Doug Schemske. The experience really helped to see how my own research fit in with the efforts of the whole community of ecologists.

To learn more about the American Society of Naturalists, visit their website. To learn more about Pat Hanly's research, contact him.

---
KBS Volunteers Shine - and You Could Be One, Too!

When you hear the word "volunteering," what do you think of? For many, the idea that comes to mind is one of offering a few hours once or twice a year for a good cause. For many KBS volunteers, their outstanding efforts go well beyond those expectations.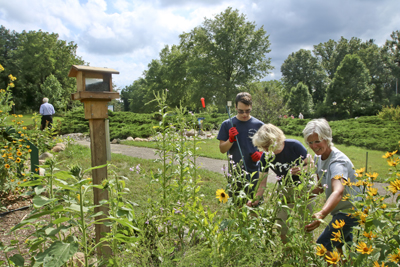 Our enthusiastic volunteers give so much to the efforts of KBS - we are grateful for the time they share with us each year, whether it's three hours or a hundred. We have a variety of programs and projects that could not carry on as well as they do without the hard work and investment of our volunteers, such as the Pollinator Garden at the Bird Sanctuary (pictured at right).

You might have seen Wood TV's Eight West feature on the W.K. Kellogg Manor House. You might be surprised that the person acting as an outstanding representative of KBS is a longtime volunteer - Carolyn Gardiner. Carolyn is the head docent at the Manor House and displays incredible dedication to the mission of KBS and to her knowledge of W.K. Kellogg's history.

There will be a training and informational event in April at KBS for interested and returning volunteers. "Volunteering at KBS: The Who, What, When, Where, and Why" will take place on April 7 from 1 - 3 p.m. at the Bird Sanctuary (12685 East C Ave, Augusta).

"Whether you are a volunteer or are just interested in the volunteer program, you will be able to hear firsthand from volunteers about their experience," said Misty Klotz, Volunteer Coordinator. The event will feature logistical information about the program, testimonials from current volunteers, and the chance to get to know the many volunteering opportunities KBS offers at all of its units.

If you are interested in becoming a KBS volunteer or wish to attend the Volunteering at KBS event in April, contact Volunteer Coordinator Misty Klotz (volunteers@kbs.msu.edu) for more information.

---
KBS Launches New & Improved Website
KBS has launched a new website, including specific websites for the Bird Sanctuary as well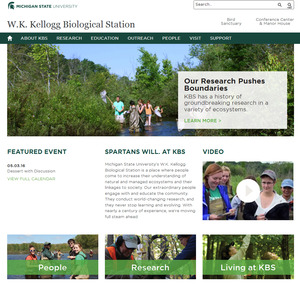 as the Conference Center & Manor House. The web address for the main KBS site, dedicated to research and education, remains the same (kbs.msu.edu) but the Bird Sanctuary and Conference Center & Manor House have new addresses (birdsanctuary.kbs.msu.edu and conference.kbs.msu.edu, respectively).

Take a look at the new site and let us know what you think of the improvements!
---
2015 a Record Year at the Bird Sanctuary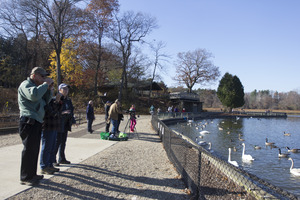 In 2015, the Bird Sanctuary saw significant increases in membership, tours and visitors. From 2014 to 2015, there was a 25% increase in member visits, a 23% increase in scheduled guided tours, and a 20% increase in walk-in visitors.

Thank you to all those who came through the Sanctuary's gates this last year - we look forward to seeing you even more this year! To see what the Bird Sanctuary's birds are up to this winter, watch this video -- and be sure to visit them soon at the Sanctuary's upcoming Birds & Coffee event, or any day from 9 a.m. - 5 p.m.

---
For More Information
KBS Community Relations

: (269) 671-2015
communityrelations@kbs.msu.edu
KBS Conference Center

: (269) 671-2400
conference@kbs.msu.edu


W.K. Kellogg Bird Sanctuary

: (269) 671-2510
birdsanctuary@kbs.msu.edu
W.K. Kellogg Experimental Forest

: (269) 731-4597
kelloggforest@kbs.msu.edu
W.K. Kellogg Farm

: (269) 671-2402
kelloggfarm@kbs.msu.edu


W.K. Kellogg Manor House

: (269) 671-2160
manorhouse@kbs.msu.edu