KBS Director Dr. Kay Gross publishes paper on biodiversity

This fall, Dr. Kay Gross and Dr. Timothy Dickson of University of Nebraska-Lincoln published a paper based on two studies conducted at KBS. Dr. Gross and Dr. Dickson studied biodiversity in relation to the production of biomass, and found that the number of species in a crop planting did not have a significant effect on the amount of biomass produced. The findings will lead future research forward in the direction of determining other benefits of biodiversity in plantings, beyond biomass production. To read more, visit the MSU AgBio research page.

---
Dessert with Discussion focused on urban sustainability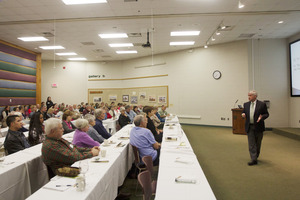 KBS's fall Dessert with Discussion event was held on October 22 in the packed-full KBS auditorium. Dr. Rick Foster shared a lecture with the community on urban sustainability in food production and consumption.

Dr. Foster explained a projected scenario for 2050 in which our cities will need to rely heavily on urban agricultural methods, such as indoor gardening. The world's population is expected to exceed 9 billion people, the vast majority of which will live in cities, making sustainable food production within cities a critical need. Dr. Foster offered his perspective and dialogued with audience members on the topic.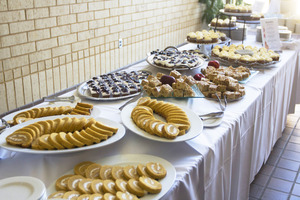 Provided by the W.K. Kellogg Conference Center, delicious desserts for the event included spiced pear cupcakes, pumpkin roll slices, MSU candied apple ice cream and concord grape chocolate pot de creme.

We look forward to hosting another exciting Dessert with Discussion in the spring. If you attended this fall's Dessert with Discussion and have feedback or ideas for future events, please email us.

---
Fall Migration Celebration coming up at the Bird Sanctuary





Want to get an exciting front-row view of waterfowl migrating for the winter? Wintergreen Lake is the place to be! On Sunday, November 8, from 1 p.m. to 4 p.m., the Kellogg Bird Sanctuary will be hosting the Fall Migration Celebration. The community is invited to join us and our feathered friends for peak migration season.

Wintergreen Lake is an ideal stopping point for birds migrating from their northern breeding grounds to the Southern US and beyond. Visitors will get the chance to grow in their waterfowl identification skills on the lakeshore. Special games and activities will be available along the trail, followed by a special treat -- warm cider at the end of the walk!

This is a special event that the whole family will enjoy. Admission is free to Bird Sanctuary Members, and for non-members is $3 for children, $4 for students and seniors and $5 for adults.
---
For More Information
Community Relations

: (269) 671-2015
communityrelations@kbs.msu.edu
KBS Conference Center

: (269) 671-2400
conference@kbs.msu.edu


Kellogg Bird Sanctuary

: (269) 671-2510
birdsanctuary@kbs.msu.edu
W.K. Kellogg Experimental Forest

: (269) 731-4597
kelloggforest@kbs.msu.edu
Kellogg Farm

: (269) 671-2402
kelloggfarm@kbs.msu.edu


W.K. Kellogg Manor House

: (269) 671-2160
manorhouse@kbs.msu.edu