KBS: 2015 in Review

We've had quite the year at KBS!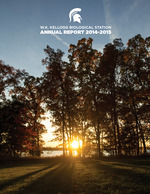 The Bird Sanctuary's Pollinator Garden received grant funding from the National Association of Interpreters.

Our Research Experiences for Undergraduates program received funding from the NSF for the next three years.

Teaching Science Outdoors, a KBS K-12 partnership program designed for elementary teachers, received funding for the next two years after being successfully piloted for two years.

Dr. Garry Mittelbach was named a 2015 Fellow of the Ecological Sciety of America

183 active volunteers gave their efforts to KBS this year, totaling to 5,360 hours and financially saving KBS $76,189.

Dr. Sarah Evans and a team of MSU colleagues received a $5 million grant from the US Department of Energy to study biofuel crops.
To learn more about what this year has been like at KBS, take a look at our full 2014-15 Annual Report online by clicking here (cover pictured above at right).

KBS's outstanding people have accomplished a great deal this year, much of which has been thanks to your generosity. As we approach the new year, there is still time to give to KBS and support the efforts of students, staff and faculty. Make your end-of-year gift online here.
---
Dr. Steve Hamilton collaborates on White House report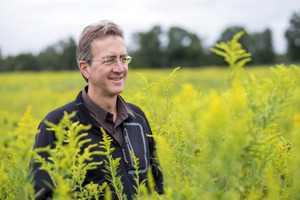 Dr. Steve Hamilton has contributed significantly to the cleanup of the Kalamazoo River oil spill from 2010 to now. This month, a report from the National Academy of the Sciences, with Hamilton's research contributions, made it to the White House.

The report examines the environmental impact of diluted bitumen oil spills, based on the Kalamazoo River oil spill and the 2013 spill in Mayflower, Arkansas. The report highlights key research findings regarding these oil spills and provides grounds for national changes to regulations governing diluted bitumen spill response plans, preparedness and cleanup. The cost of the Kalamazoo River cleanup has exceeded $1 billion financially, and may still have untold long-term environmental costs.

To read more on the report, click here.
---
KBS personnel changes in 2015

2015 has seen changes in staffing at KBS. Join us in welcoming our new KBSers and farewelling those who are retiring.

New post-docs: Simon Stump, Will West and Ben Roller
New staff: Bethany Bohlen, Shelley Hewitt, Kevin Dougherty
New research associate: Sarah Fitzpatrick

Retiring KBSers: Sharon Wolney and Steve Norris
---
For More Information
KBS Community Relations

: (269) 671-2015
communityrelations@kbs.msu.edu
KBS Conference Center

: (269) 671-2400
conference@kbs.msu.edu


W.K. Kellogg Bird Sanctuary

: (269) 671-2510
birdsanctuary@kbs.msu.edu
W.K. Kellogg Experimental Forest

: (269) 731-4597
kelloggforest@kbs.msu.edu
W.K. Kellogg Farm

: (269) 671-2402
kelloggfarm@kbs.msu.edu


W.K. Kellogg Manor House

: (269) 671-2160
manorhouse@kbs.msu.edu