Dear Friend,
First and foremost, our sincere apologies if your salutation was incorrect on our previous email. Please bear with us as we master this new e-blast system (thus entering into the third millennium...)

As Spring quickly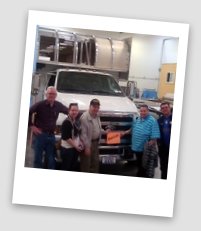 approaches, we've been busy over at St. John's Bread and Life. The most exciting news is that our Executive Director, Mr. Tony Butler, took a trip to Southern California this past weekend to check out our new Mobile Soup Kitchen!
The Mobile Soup Kitchen is a customized vehicle which includes both kitchen and office space and enables us to reach out to families who may not otherwise be able to access food and social services.
Mr. Butler's visit to California to meet with Jales (Charlie) Mello, the CEO of American Custom Coach, has left him excited! Our new vehicle will utilize space in an even fuller way, will allow us to serve more individuals with greater efficacy, and is

environmentally friendly (with solar panels!). The shell has been completed and, before long, the Mobile Soup Kitchen will be headed to New York! Kristina Drury of Tythe Design has been consistently collaborating with us and communicating with Mr. Mello to ensure that our entire design is as efficient and friendly as possible, from the overall layout to the choice of appropriate materials. Kristina and her company have been honored as one of the finalists for the Victor J Papanek Social Design Award 2011! They will be featured in exhibitions held at both the University of Applied Arts Vienna and the Museum of Arts and Design in New York. Congratulations, Kristina, and thank you for sharing your talent with St. John's Bread and Life!
Did you know that our Mobile Soup Kitchen serves hot meals and provides outreach services to SEVEN communities throughout Brooklyn and Queens?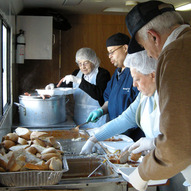 The Mobile Soup Kitchen serves within a number of New York City's most impoverished communities located in East New York, Brownsville, Woodside, Jackson Heights, Coney Island, and Williamsburg.
As a compact mobile extension of St. John's Bread and Life, it offers not only food but an array of social services that can provide information and referrals in response to such needs as housing, counseling, health, education, detoxification/rehabilitation programs, public assistance, legal issues and other programs..
To find out more, or to view the MSK schedule, please visit:
http://www.breadandlife.org/programs/mobile-soup-kitchen.html