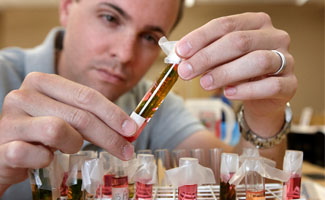 For a week in June, 60 elementary teachers came to campus for a crash course in life sciences. Project VISIONS, a partnership between UNLV and the Clark County School District, aims to boost student success in science by improving teacher content knowledge and confidence. The idea is that if teachers have a better understanding of core science concepts, they'll have the confidence to introduce more science in their classrooms in a way that will stick with their students.
Other Stories

Alumna Daliah (Zodieru) Wachs always knew she wanted to help people. And that is exactly what she is doing: helping hundreds of patients in her Las Vegas family practice and thousands more through her radio call-in show. More »


A new species of scorpion nearly squirmed past graduate students Matthew Graham and Michael Webber. The story behind the Death Valley arthropod's discovery. More »



Radiochemistry student Edward Mausolf took first place in a national U.S. Department of Energy student competition for his investigation into the behavior of a radioactive byproduct of nuclear energy. More »


The College of Sciences annually recognizes outstanding teachers and researchers. See who made a difference in the classroom, with their research, and with service. More »

News & Notes

New Sciences Website
The College of Sciences has a new, updated website. Check it out at: unlv.edu/sciences

UNLV Selected for DOE Nuclear Energy Program
Two UNLV research teams were awarded more than $1.6 million from the U.S. Department of Energy to investigate new ways to safely separate and store radioactive waste from nuclear fuel recycling. One team, led by radiochemistry professor Ken Czerwinski, will look at the potential effectiveness of metal alloy storage for technetium.

Simply Outstanding
Two College of Sciences students were honored as Outstanding Graduates at Spring 2012 commencement: Joseph Asante earned his Ph.D. in geoscience while Daniel Vincent Lacambacal received his bachelor's degree in biological sciences. Read what makes them truly outstanding.

Scientists Find New Genetic Path to Deadly Diarrheal Disease
Scientists have found new genetic information that shows how harmful bacteria cause the acute diarrheal disease shigellosis, which kills more than a million people worldwide each year.