LVC Volunteers of the Year
Loudoun Volunteer Caregivers is ending their Fiscal Year June 30 and they are pleased to announce their FY14 Volunteers of the Year Mr. Rex Jaeschke and Mr. Jim Galvin.
Rex joined LVC in September 2012 and he said then, that he would like to develop a friendship and help someone in an ongoing way. He was true to his word and he immediately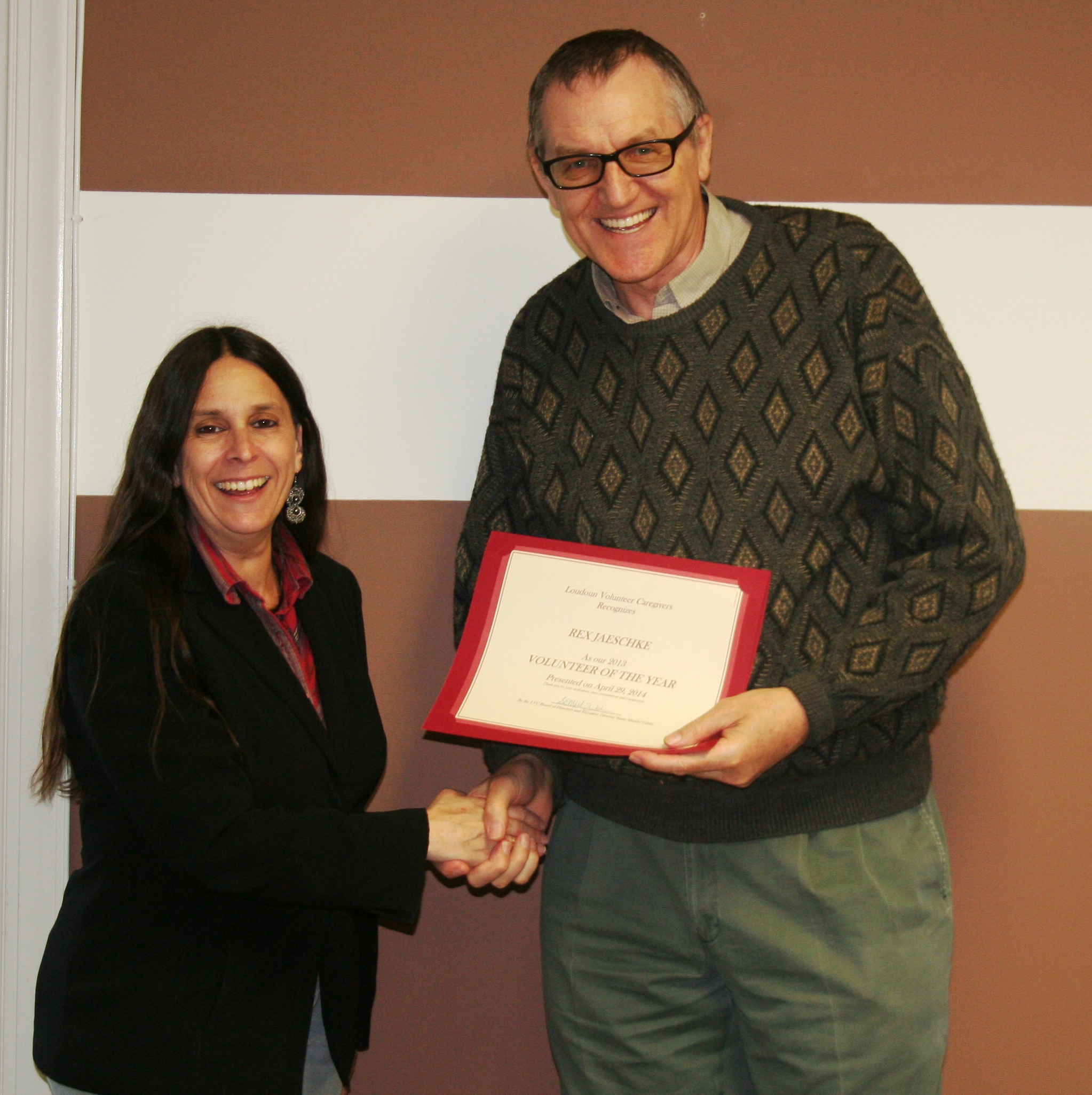 became a very special friend to a new care receiver who was really having trouble settling in after moving here from out of state. They became fast friends…..Rex took her to all her doctor's appointments and then they would explore the countryside taking in new restaurants and views while enjoying wonderful conversation. This care receiver told us that "he put the fun back into her day!"
"If you were to ask us what makes Rex the special volunteer he is, it would without a doubt be how he creates special bonds with those he helps," said Executive Director, Susan Mandel Giblin. As a Loudoun Volunteer Caregiver volunteer, he signed up to help the elderly, disabled adults, and those battling long term illness, maintain independence by providing them with rides to doctor's appointments, companionship and support. "He is certainly an example of what our community should be all about ….. A neighbor who takes helping out a step further……. to be a wonderful friend to the many he serves," said Susan.
Jim Galvin has been a faithful volunteer in the Money Management Program since its inception nearly 10 years ago. Over the last nine-plus years, he has shared his time and talent with many different care receivers, including the three people he helps today. Jim is a positive, consistent presence in the lives of his care receivers, assisting them in managing their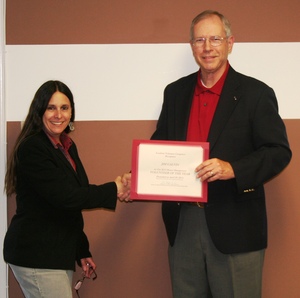 finances that allows them to remain independent for as long as possible. Supporting the same care receiver over an extended period of time allows Jim to develop relationships with them – one of his current care receivers has been with him since the program began. Jim genuinely cares about his care receivers – he watches out for them and their needs every single time he visits. Jim has become the eyes and ears of the Money Management Program for the people he helps, and it is not unusual for Program Coordinator Denise Forgione to receive an email update every time he visits someone.
Susan stated that Jim's gentle demeanor, coupled with his patience and compassion, encourages trust on the part of his care receivers who suffer from mental illness, physically debilitating conditions, and mental disabilities. "We would like to honor Jim not only for the time and effort he puts into helping those who are frail and challenged – but for the compassion, caring and respect with which he helps each and every Care Receiver," said Susan.
LVC Sponsors Two Separate Days of Service
On Saturday, May 10, rain and thunder didn't stop the LVC - Tim Duggan Day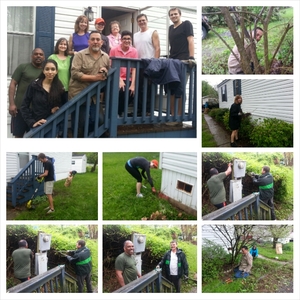 of Service. Volunteers from LVC joined Tim Duggan and his family to mow, trim bushes, clean out flower beds, spread mulch and gravel, and complete a variety of household chores for a local Hamilton LVC Receiver.

Long and Foster, Ashburn spent several hours power washing the house and deck, trimmed bushes, tilling the vegetable garden, and loaded four truckloads of lumber and branches to be recycled for a LVC Receiver in Round Hill on Wednesday, June 4.

LVC Holds Annual Fundraising Event at Tarara Winery
LVC raised approximately $5,000 during its Annual Fundraising event on Saturday May 31 at Tarara Winery in Luckett, Virgina.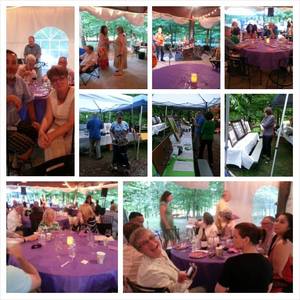 An evening of great food, wine, and friendship brought the community together to raise money to help our frail and elderly live independently.

Andrew McKnight and Beyond Boarders provided the wonderful music entertainment. There were more that 60 items from the various wines in the Board Wine Rack, jewlery, paintings, various gift certificates, wine baskets, and much more have been bidded on and sold during the Silent Auction.


One Live Auction item was a gourmet dinner won by Kathy Fetzer. The dinner will be prepared by our very own Susan, in either Kathy's own home or in Susan family's home in Philomont! In addition to dinner, Andrew McKnight will provide a private 1 hour concert!

What does LVC have planned for next year? Stay tuned for the details of our 20th Anniversary party!!

LVC Raises $2500 in 24 Hours x 2!
On May 6th, LVC donations came in during the CHOOSE to GIVE 24 hour fund raiser sponsored by Piedmont Community Foundation. Raising over $2,200 we also won a $500 prize from Middleburg Bank for the most donors during a certain time period! - Thank you to everyone who helped make GIVECHOOSE 2014 a great success - overall, local charities raised over $60,000!!

LVC received four donations for a total of $297 through Do More 24 on June 19. Do More 24™ is a local movement that brings together nonprofit organizations, companies, and people committed to making a difference. Do More 24 provides the opportunity for people to create solutions to our region's most difficult social challenges by determining which issues matter most to them and channeling their funding towards tackling those problems.

LVC Receives $32K in Grants from Local Organizations
While this past winter was a cold and hard one in so many ways, several foundations brought back the sunshine and warmed the folks who are helped by Loudoun Volunteer Caregivers (Caregivers), a private nonprofit whose volunteers work thousands of hours each year to help our elderly and disabled neighbors to remain living independently, with dignity and quality of life.

In March of this year, the Community Foundation for Northern Virginia continued its support of Caregivers' three programs of Assisted Transportation, Money Management and Supportive Services with a $10,000 grant.

In January the Cherry Blossom Breast Cancer Foundation continued its support of Caregivers' work with a $5,000 grant to help breast cancer and other cancer patients and survivors with transportation and supportive services, Also in January, the Albert and Ada Wibel Foundation granted $12,000 to Caregivers for general operating support.

And in November of 2013, Loudoun Volunteer Caregivers received two grants for $10,000 each. The John Edward Fowler Foundation provided a grant for general operating support of Caregivers' 3 programs, and the Bank of America Foundation provided a grant for assisted transportation to help with hunger relief, grocery delivery and help getting food from Loudoun Interfaith Relief, the local food pantry, to home bound people in need of food.

"It was incredible!" Loudoun Volunteer Caregivers Executive Director, Susan Mandel Giblin, said. "The support and caring that was shown to Caregivers and to the people we are helping by these foundations. We could not do the work we do without the support of these organizations."

"It takes a lot of funding to keep a nonprofit like Loudoun Volunteer Caregivers going, but we work hard to use those funds wisely," Susan continued. "Our overhead rate is under 11 percent and while we do fundraising, like our annual Evening of Music and Wine at Tarara on May 31, these grants allow us to help more of wonderful elderly and disabled care receivers."