Spring 2016
The Connection
"Neighbors Helping Neighbors in Need"

Loudoun Volunteer Caregivers - 1st Quarter Highlights
In the months of Janurary, February, and March, LVC's 175 adult volunteers and 45 student volunteers provided transportation and supportive services to 145 care receivers, money management services to 60 clients, drove 17,559 miles, and volunteered 1,105 hours! Thank you Volunteers!!

RideScheduler launching Monday, May 2!
On Monday, May 2, LVC will launch an interactive tool that wil make it easy for volunteers to get access to the the upcoming assignments at any time! RideScheduler is an innovative tool that provides real time appointments for our care receivers.

Volunteers will be able to log into the application from the LVC website to view open appointments, select appointments, and even view directions and print directly from the LVC web page. In addition, RideScheduler will remind all volunteers the evening before the ride is scheduled and can be sent as an email or as a telephone reminder.

LVC will launch a pilot program mid-April for selected volunteers to test out the program. Dave Douglas, Lori O'Connell, and Linda Bailey will be the first to log onto the system, and select assignments, and will report back any discrepancies to our RideScheduler expert, Michelle McKnight. "If any discrepancies are reported during the pilot program, I will work with the NV RideScheduler coordinator to fix any bugs to ensure there will be a smooth launch for all our volunteers on May 2," said Michelle.

All volunteers have been assigned a User Name and Password to log onto the system via our website at www.lvcaregivers.org. "The staff has been working hard importing all the Care Receiver and Volunteer information into the data base, assigning User Names and Passwords for our Volunteers, and creating User Guides and training material for the volunteers to make this transition as smooth as possible," said Susan Mandel Giblin, executive director.

Each volunteer will receive an email with their user name and password, along with the UserGuide the week of April 25. The staff will also be offering in-house training on Saturday, April 23 from 10 am - noon if you prefer a hands-on approach. We will also offer in-house training for those who would like to stop by during office hours, but would appreciate you make an appointment first by calling the office.

For more information regarding the new application, and to sign up for the training sessions, please contact Michelle at 703.779.8617 or email mmcknight@lvcaregivers.org.

Comi, Gill, and Davis named LVC's Volunteers of the Quarter
Melissa Comi has been chosen as the LVC Supportive Services Volunteer of the Quarter for the months of January, February, and March. Melissa has been an active volunteer for Loudoun Volunteer Caregivers since March of 2014. She is extremely active in the invaluable service of making sure that our care receivers have the food they need. "Through both ongoing shopping services and Loudoun Interfaith Relief food delivery, Melissa is extremely reliable, and has superior flexibility when needed. She demonstrates sincere care and concern for those she helps. She has also gone above and beyond her ongoing services to assist with shoveling during the massive snow storm this winter," said Betsy Johnson, Supportive Services coordinator.


Jim Gill has been selected as the Medical Transportation Volunteer of the Quarter. Jim has been a volunteer with LVC for nine months and has been a blessing to our medical transportation program by assisting with over 70 rides. He was assisting a sweet lady from her dialysis twice a week until her passing this winter. Jim donates his time helping with transportation to cancer treatments, medical appointments, and long distance travels. "The compassion Jim shows to the people we serve is an inspiration for us all," said Davanna Black, Transportation coordinator. "We all know how stressful it can be for the people who find themselves in need of the services we provide, and Jim's words and actions go a long way toward helping them keep their dignity. I just want you to know Jim, that your valuable time hasn't gone unnoticed."


Linda Davis has been selected as the Money Management Volunteer of the Quarter. A volunteer since November 2010, Linda has looked out for the finances of several clients, and has been with two of them from the very beginning. "Linda always works as part of the team with the Care Receiver's case managers and families to ensure that all of the financial obligations are more than taken care of, and most importantly, that the clients understand where their money is going to," said Barb Mendoza, Money Management coordinator. "Being new to the program, volunteers like Linda take that extra step to ensure that all information provided for her clients is accurate and has made my learning curve much easier, which allows me to focus on the emergent needs of the program."

"It is important to the staff at Loudoun Volunteer Caregivers to acknowledge and honor our volunteers who put forth great effort to serve our Care Receivers," said Betsy, who also serves as LVC's Volunteer coordinator. Thank you Melissa, Jim, and Linda for your dedication, love and caring nature for our Care Recievers!

LVC receives $19,500 in Grants
Loudoun Volunteer Caregivers thanks the Community Foundation for Northern Virginia for a $10,000 grant to support our Assisted Transportation and Supportive Services programs. Your faith and trust in LVC is so greatly appreciated.

Loudoun Volunteer Caregivers is deeply grateful to the Cherry Blossom Breast Cancer Foundation for a $7,000 grant for providing support (rides, grocery delivery, supportive services) to our care receivers with cancer. Last year, we were able to help six women with breast cancer, and another 16 care receivers, both men and women, who are in one stage or another with their battle with cancer. Thank you CBBCF!


Loudoun Volunteer Caregivers is most appreciative of the Wells Fargo Foundation for a $2,500 grant to provide critical aid to low-income seniors and disabled adults. We so appreciate the trust and support you are showing for our programs. Thank you!
LVC Calendar and Events
April 16 & 17: Leesburg Flower and Garden Show
April 23: NV RideScheduler Training
May 2: NV RideScheduler goes live
May 7: Student and Adult Clubs at Madison House
June 4: Student and Adult Clubs at Madison House
June 29: Volunteer Recruiting at Rust Library

For more information on the events, contact our office at 703.779.8617.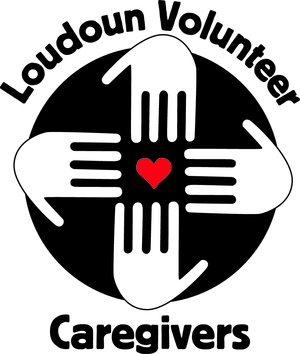 LVC Welcomes our Newest Volunteers
In Rememberance
Volunteer
Ornella Yashura

Care Receiver
Isabel McKimmey
Brenda Caldwell
Helen Casey
Lilly Campbell

Who We Are
Loudoun Volunteer Caregivers is a 501(c) (3) non-profit organization of more than 240 volunteers from Loudoun County who help frail elderly and disabled adults maintain independent living. Caregivers provides a wide range of support services including transportation to medical appointments, grocery shopping, errands, household chores, special outings and help with managing personal financial affairs.

LVC Mission
Loudoun Volunteer Caregivers is a community of volunteers helping frail elderly and adults with disabilities to maintain independence and quality of life.
Ways to Help
Volunteer - Choose how much time and what services you'd like to provide. Email
info@lvcaregivers.org
to learn more about volunteering or to RSVP for a volunteer orientation.
Refer elderly or disabled Loudoun residents to the LVC.

Make a donation

. Loudoun Volunteer Caregivers is a non-profit organization and all contributions are tax deductible.

Participate in your company's matching grant program and/or with the United Way campaigns. Loudoun Volunteer Caregivers' designation is #8497.

Offer in-kind donations of services or goods, from office help to office supplies, gas cards, and anything in between.

Host a Getting to Know LVC Event at your congregation, office, homeowners association or civic group. This hour-long presentation is informational only -- it is not a solicitation.

Include a gift to Loudoun Volunteer Caregivers in your will or estate plan.
LVC BOARD OF DIRECTORS
LVC STAFF
Susan Mandel Giblin, Executive Director

Davanna Black, Transportation and Youth Volunteer Coordinator

Betsy Johnson, Volunteer and Supportive Services Coordinator

Barbara Mendoza, Money Management Coordinator

Evie Manuel, Money Management Assistant

Michelle McKnight, Programs Assistant