Loudoun Volunteer Caregivers
The Connection
Fall 2016
"Neighbors Helping Neighbors in Need"

Loudoun Volunteer Caregivers - 3rd Quarter Highlights
During the months of July, August, and September, our volunteers completed 1,435 assignments, drove 20,819 miles, and volunteered 2959 hours.

LVC Volunteers to be honored at the LVC Volunteer Appreciation/Holiday Celebration
This year, LVC's Volunteer Appreciation / Holiday Celebration will be held on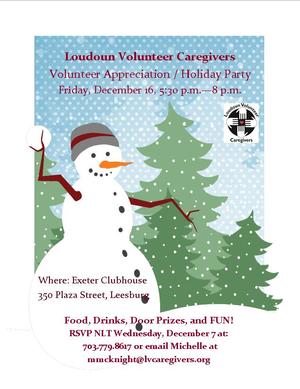 Friday, December 16 at the Exeter Clubhouse located at 350 Plaza Street, Leesburg from 5:30 pm - 8 p.m.

The following volunteers will be honored at the LVC Volunteer Recognization / Holiday Celebration on Friday, December 16. as a recipient of the President's Volunteer Service Award. The Presidential Volunteer Service Award (PVSA) is the premiere volunteer awards program, encouraging citizens to live a life of service through Presidential gratitude and National recognition. Loudoun Volunteer Caregivers is a member of the PSVA and recognizes the great work our volunteers have provided to our care receivers. Awardees are:

Silver Awardee: (250-499 Hours)
Steve Proulx
Bronze Awardees: (100-249 Hours)
Cecilia Alacbay
Jack Capurso
David Douglas
James Galvin
James Gill
Rex Jaeschke
Peggy Kopp
Barbara Mendoza
Allen Nissen
Erlin Paredes
Robert Wilkens

We look forward to celebrating all of our volunteers! There will be tasty food, beverages, door prizes and much fun and converstation! Please RSVP no later than Wednesday, December 7 to Michelle at mmcknight@lvcaregivers.org or call LVC at 703.779.8617.

Please Note: LVC asks volunteers to report back on their assignments because:

First, LVC compiles data on the hours and mileage in each assignment for a worthy goal: applying for the funding that keeps LVC operating. The data demonstrate the need for LVC services and the commitment of LVC's volunteers. Some data are used for insurance purposes.

Second, LVC asks volunteers to comment on their assignments in order to make appropriate volunteer-care receiver matches. This feedback is essential for LVC staff to offer assignments that volunteers enjoy and find meaningful.

Third, a LVC volunteer might be the only person a care receiver sees on a regular basis. That volunteer could notice worrisome changes in the care receiver's physical, mental, or emotional condition and in those cases the volunteer should notify LVC staff immediately.

LVC Celebrates our Care Receivers with a Fall Picnic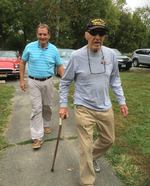 On Saturday, September 17

LVC held the annual Care Receiver Picnic at Algonkian Park in Sterling. We had approximately 80 people who attended, which included care receivers and volunteers that helped with the event. It was a beautiful day with perfect weather to honor our care receivers.

We received many compliments from our care receivers regarding the event: stating, "It is the highlight of my year" and "Really enjoyed getting to meet all the staff members." One volunteer wrote "Great job on the picnic.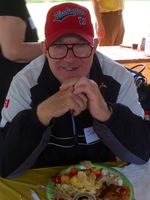 Kudos to the staff for putting this together"

We all had a great time, with good food and games with the students that attended. Student volunteers helped with serving food, games, set-up/clean-up. Staff created table centerpieces to give away as prizes for winning Bingo.

We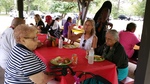 were so very thankful for the community support from

Wegman's,




Chantelle's Bakery, Costco, Red

Hot and Blue, and the Bahai Center in Sterling to

help make this event a success.

Volunteers of the Quarter: Kopp, Mendoza, and Murphy
LVC is pleased to award the LVC Volunteer of the Quarter for Transportation, Supporative Services, and Money Management.

For Transportation Services, Peggy Kopp has been with LVC since 2014 and during this time she has touched countless lives. She assists with Medical Transportation, Non Medical Transportation, Dialysis, Interfaith Food Delivery, even Veterinarian services! This quarter Peggy has generously volunteered with LVC for over 63 hours.

Dave Mendoza has been named LVC's Supportive Services Volunteer of the Quarter. Dave shares his valuable time and talents as an everyday hero for LVC. Whether he helps someone to their beauty appointment, trims trees so branches don't break windows, or is sometimes a "Can Do Man" for the LVC staff such as helping at Events, Taking Pictures of projects that need repair, or helping someone with moving, Dave is always willing and kind and has a ready smile. Thank you Dave for your continued contribution, we are proud to call you our Volunteer of the Quarter for Supportive Services.

Our Money Management Volunteer of the Quarter goes to Leslie Murphy. Leslie has been volunteering with LVC a little more than a year, volunteering more than 70 hours by eagerly taking on three clients, ensuring their bills are paid on time and that they stay within budget. Leslie also volunteers up to two days a week in the office assisting our Money Management coordinator with office work.



"The commitment it takes from all our volunteers goes without notice and we appreciate al the work that has been done to help those in need," said Michelle McKnight, Volunteer coordinator.



Student Caregiver Program Highlights
Mitesh Shrestha has been awarded the Student Caregiver Volunteer of the quarter.

Mitesh has been a student caregiver with LVC since 2013. Mitesh is very active in our Student Caregiver program as well as helping with Chore Corps, and Food Delivery.

Some individuals stand out for their great qualities, and Mitesh is one of these people. He is well known for his teamwork, can-do attitude, and compassion for those in need.

"Throughout the time I've known Mitesh he has shown me time and again that he is a positive, motivated leader with amazing potential. He reflects the potential of our young generation and what they can achieve," said Davanna Black, Student Caregiver coordinator.




Student Caregivers held a Back to School Luau on Sunday, August 21 at the Exeter Clubhouse in Leesburg. There were games,

pizza

, f

ace pain

ting and tie-dye t-shirt making for the whole fa

mily.




Halloween Party at the Madison House

| | | |
| --- | --- | --- |
| | | |


Get Involved!
If you have a teenager who is looking for community service hours for school, consider having them sign up to help out with our Student Caregiver activities! Contact Davanna at dblack@lvcaregivers.org.

LVC Events and Fundraising Committee
Calling all creative volunteers!

Are you the type of person who loves to throw a party? Raise funds for a great cause? Be involved in planning an event? Then we are looking for YOU!

The LVC Board of Directors is forming an Events & Fundraising Committee and is looking for a few good volunteers to help plan some exciting events to both raise awareness of what LVC does, and also to raise funds so that we may continue and expand the services we provide to the elderly and disabled.

Commitment: Meetings will probably be held once a month until shortly before an event. Help with planning and putting on events, from soup to nuts. Be as involved as you want to be. All your time counts as volunteer hours and helps LVC to keep doing what it does. Once we have a group of interested volunteers willing to participate, we'll start planning our spring events.
Interested?

Please contact Susan @ smandelgiblin@lvcaregivers.org to sign up, or call 703.779.8617.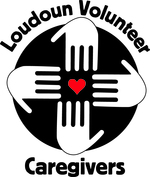 LVC Welcomes our Newest Volunteers
Mohamed Abdelfatah




Padma Banda




Carolyn Del Pilar




Ethan Diep




Seth Gillen


Kiran Goparaju


Richard Gutierrez




Kabas Abou Jahjah




Kural Kagalwala




Kara Kimber




Satip Kittikulchat


Raj Kosuri
Smriti Kosuri
Zachary Lynde


Matthew Martwinski


Sandy Moy
Shahid Sam Mustafa
Charles Payne
Penny Payne


Mark Ruiz


Mohamad Salous
Heather Strassle
Samantha Strassle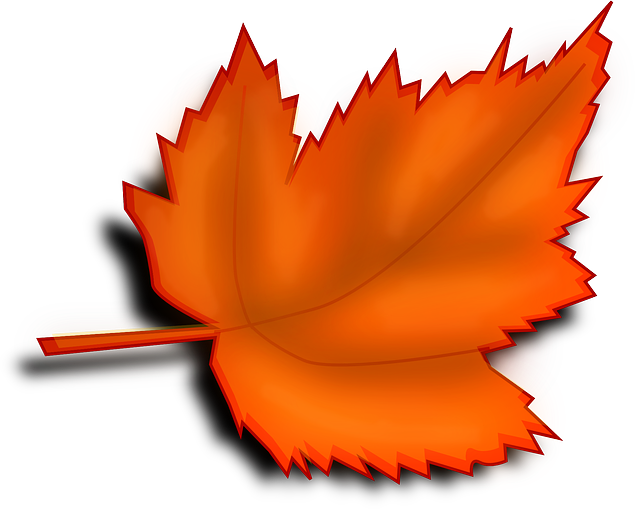 In Rememberance
Care Receiver - Molly Asch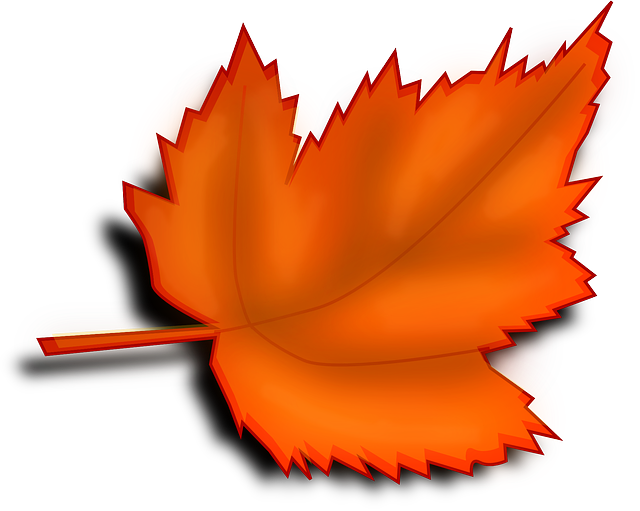 We would like to thank our Donors who supported
LVC during this last quarter. They are:

C Alacbay
AmazonSmile Foundation
M Asaro
J Auerbach
R Bemowski
J Boardman
Buffalo Wild Wings
BLEND Coffeehouse - Brambleton
Countryside Women's Club
M Cromwell
A Davis
N & N Dee
Exxon Mobil Foundation
Giblin Family
M Gigliotti
J Harrop
G Kolouas
Loudoun County
F Nolan
C Siebentritt
C Smith
The TJX Foundation
United Way of the National Capital Area
Valley of the Sun United Way
M Yoder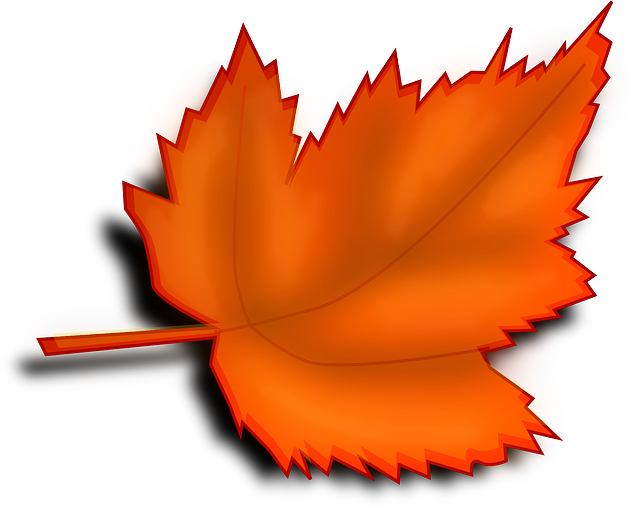 Loudoun Volunteer Caregivers is a 501(c) (3) non-profit organization of more than 240 volunteers from Loudoun County who help frail elderly and disabled adults maintain independent living. Caregivers provides a wide range of support services including transportation to medical appointments, grocery shopping, errands, household chores, special outings and help with managing personal financial affairs.

LVC Mission
Loudoun Volunteer Caregivers is a community of volunteers helping frail elderly and adults with disabilities to maintain independence and quality of life.
Ways to Help
Volunteer - Choose how much time and what services you'd like to provide. Email
info@lvcaregivers.org
to learn more about volunteering or to RSVP for a volunteer orientation.
Refer elderly or disabled Loudoun residents to the LVC.

Make a donation

. Loudoun Volunteer Caregivers is a non-profit organization and all contributions are tax deductible.

Participate in your company's matching grant program and/or with the United Way campaigns. Loudoun Volunteer Caregivers' designation is #8497.

Offer in-kind donations of services or goods, from office help to office supplies, gas cards, and anything in between.

Host a Getting to Know LVC Event at your congregation, office, homeowners association or civic group. This hour-long presentation is informational only -- it is not a solicitation.

Include a gift to Loudoun Volunteer Caregivers in your will or estate plan.
LVC BOARD OF DIRECTORS
LVC STAFF
Susan Mandel Giblin, Executive Director

Davanna Black, Transportation and Student Caregiver Program Coordinator

Barbara Mendoza, Money Management Program Coordinator

Michelle McKnight, Supportive Services Program Coordinator

Mercedeh Izadi, Programs Assistant